Is HoloLens the future of remote work-engagement and much more…?
Did Microsoft's HoloLens suddenly push us into the age of "Star Trek" and "Minority Report"?
If you have heard about Microsoft HoloLens, maybe you have also come across headlines like these. What is HoloLens? Is it really as revolutionary as it is being touted as? Let me break it down for you.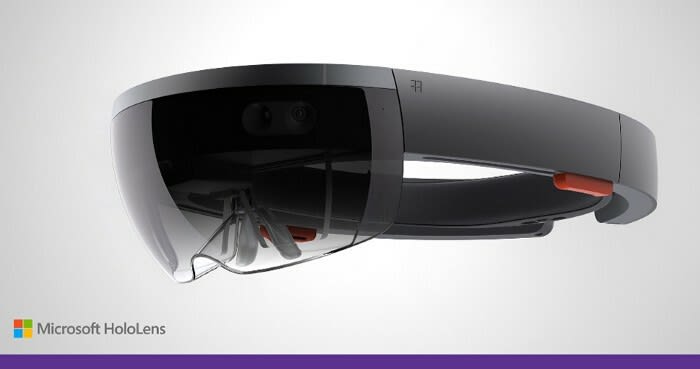 In this blog, we will take a look at the underlying principles and the construction of HoloLens. Then we will delve into how HoloLens is transforming the corporate and industrial work-culture. Big giants like NASA and Lockheed Martin have already discovered the strength of HoloLens and maybe its the right time for you to make your move.
First, let me tell a bit about myself.
I am Arun Ganessh. I started my career in VR one and half years ago in March 2017 as a Research Assistant in IIT Kharagpur and moved to Gridraster Inc. as a Virtual/Augmented Reality Development intern and continued as a full-time Software Development Engineer. My work involves the development and maintenance of proprietary AR/VR/MR solutions on a variety of platforms including Microsoft Hololens and Google DayDream.
This article is organised as follows:
Mixed Reality — An introduction
HoloLens — An Introduction
What's inside HoloLens?
Capabilities of HoloLens
Applications of HoloLens
A curated list of HoloLens resources
Mixed Reality — An Introduction
Mixed Reality refers to interaction with and manipulation of both physical and virtual objects at the same time in the same frame of reference using natural inputs from the user. Mixed Reality uses next-generation sensing and imaging technologies to blend the real and virtual environments where the user can immerse herself and interact seamlessly with both real and digital (virtual) elements without ever removing the headset.
A short demonstration on Mixed Reality
Mixed Reality is sometimes also termed as Hybrid Reality since it technically merges the results of both real and virtual world.
A bit of History — The first ever immersive mixed reality system was seen in the 1990s. The first MR system Virtual Fixtures platform developed at the U.S. Air Force's Armstrong Laboratories was developed to provide sight, sound and touch all at the same time. This project successfully demonstrated that human performance could be amplified by the introduction of spatially registered virtual objects overlaid on top of a person's direct view of a real physical environment.
Types of MR Devices: Over the past several decades human inputs and computer inputs have been surveyed and now this field of computer science is widely termed as HCI (Human-Computer-Interaction). Human give their inputs mostly through well-known input devices like keyboard, mouse, joystick, etc. The recent advancements in the technologies of sensors and data-processing have given birth to a new era where a computer is able to receive input directly from a real environment like capturing the position and motion the person's head position in the world coordinates, surfaces, boundaries or edges, ambient lighting, environmental sound, object recognition and location. As a result, the interaction between computer and human has become equivalent to environmental understanding or perception.
The following two videos give a demo of Holographic and Immersive MR devices:
First: Holographic MR devices
Second: Immersive MR devices
Some of the well-known mixed-reality devices in recent times are:
Microsoft HoloLens
Magic Leap
Google Glass
Acer Windows Mixed Reality Development Edition
Have a look at some pictorial demonstrations to understand MR better:-

HoloLens — An Introduction
HoloLens is nothing but a Windows computer with a holographic display built into a headset. Hololens lets a user see, hear, and interact with holograms within an environment such as a living room or an office space.
Microsoft has successfully built this adorable MR headset with great features integrated which is portable and can be used wirelessly. It has a total of 8 sensors on device, high-definition lenses and spatial sound technology to give that immersive, interactive holographic experience to the user.
What actually are Holograms?
HoloLens has the capability of letting you create holograms or objects which are made up of light and sound that appear in the world surrounding you, just as if they were real objects. Holograms are equipped with Spatial Understanding or Scene Understanding and have an interface that responds to your gaze, hand-gestures and voice commands and can interact with real-world surfaces around you.
HoloLens Hardware
Let me describe the hardware configuration of HoloLens that makes it surprisingly elegant in all dimensions. HoloLens was designed with the following goals in mind:
Comfort
Power and grace
Built-in speakers
Spatial sound
Sensor fusion
The custom holographic processing unit
Advanced optics
The most eye-catching property of HoloLens is that it requires no wires or phones to get it working — it's a standalone device.
The stars of the show are the holographic high-definition lenses that use a projection system to create multi-dimensional full-colour images with low latency. There are also a host of advanced sensors, like ambient light and four environment sensing cameras that can work together to figure out what you're doing and what environment you're in. All of this information is then processed by the custom HPU (holographic processing unit) mapping everything out in real time.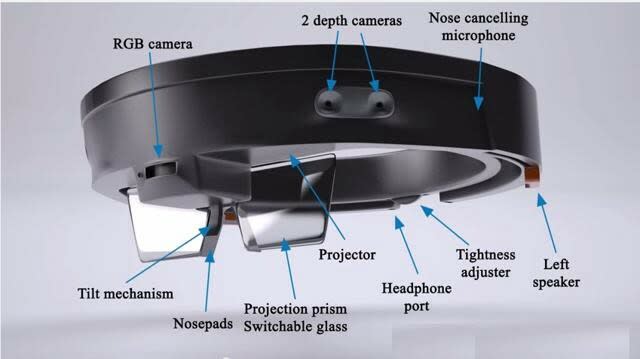 There are no fans to keep the headset cool, but there is a vent that allows all that heat to escape from. All of this is backed up by 2GB of RAM and 64GB of onboard storage. As for connectivity, it supports both Bluetooth and Wi-Fi. We also know that the processor uses an Intel 32-bit architecture and an unspecified GPU.
If you need to take photos or record mixed reality video, there's a 2-megapixel HD camera with audio capture, which uses an array of four microphones. Oh, and there are also speakers just above the ears. They use spatial audio, and Microsoft says they synthesize the audio so you can hear your holograms from anywhere in the room.