Swipeable full-screen web interfaces with Svelte
So yeah. Svelte is awesome. Here's a little component I cooked up over the weekend. It makes it really easy to create thumb-driven, Swipable interfaces like this one: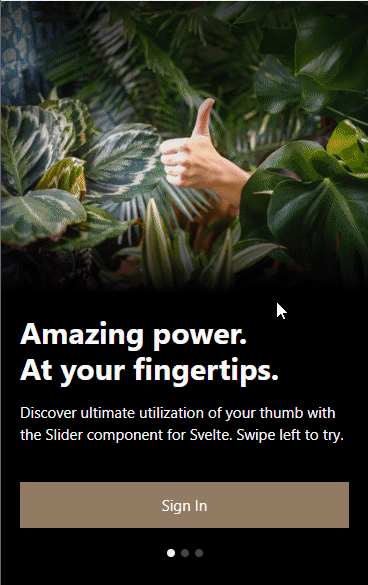 Go check it out in the REPL.
The basic idea behind it is the following:
Have a parent component that "injects" a progress value into the child scope via the let directive.
Listen to touch/drag events
Change the progress value based on the distance the user has dragged
Update inline CSS rules based on the progress value
"Snap" the progress value to a full integer value when the user stops touching. Use a tweened store to smoothly interpolate.
You can see all of that coming together in the Swipeable.svelte component and in the child elements that use the progress value.
I think it's an interesting concept to have a parent component that drives the UI state of child components through a value injected via the let directive. It might be worth exploring this idea a bit further and develop a small component library around it. But for now, it's just an idea. Let's see...
DISCUSS