During this lockdown period, most restaurant businesses are forced to close either earlier or completely. While this is not a suitable situation, they still need to find a way to keep working and continue to serve their loyal customers.
The way to achieve this is by having a WordPress website, to create an online presence and furthermore offer your service online. This collection has +17 WordPress themes you can use to create a restaurant website.
With the features of WordPress, you can easily create your restaurant website design yourself without hiring an expert. With the following Best WordPress themes for restaurant, you'll be able to :
Create your new site with a responsive and modern design, perfect for mobiles
Showcase your menu with the photos of your best dishes.
Allow your customers to make a reservation online or even order food to be delivered to their location.
This list group the best of the result found on Themeforest to avoid you wasting time looking for what would be the perfect fit for your business need.
Reon is a quite recent theme in line with restaurant needs. It comes with some interesting demos that will definitely give you some inspiration to get started. With the Elementor plugin supported, you'll be able to craft your website as you need.
With the responsive design, your visitors will be able to reach you from their mobiles. It's integrated with over 800 Google Fonts and over 675 Font Awesome icons. Additionally, the design is optimized for Retina displays and SEO friendly.
Key Features
Page Builder
Elementor and WPML support
SEO Optimized

Owl Carrousel

Revolution Slider Included

Contact Form 7 Supported

Event Manager

Elegant Fonts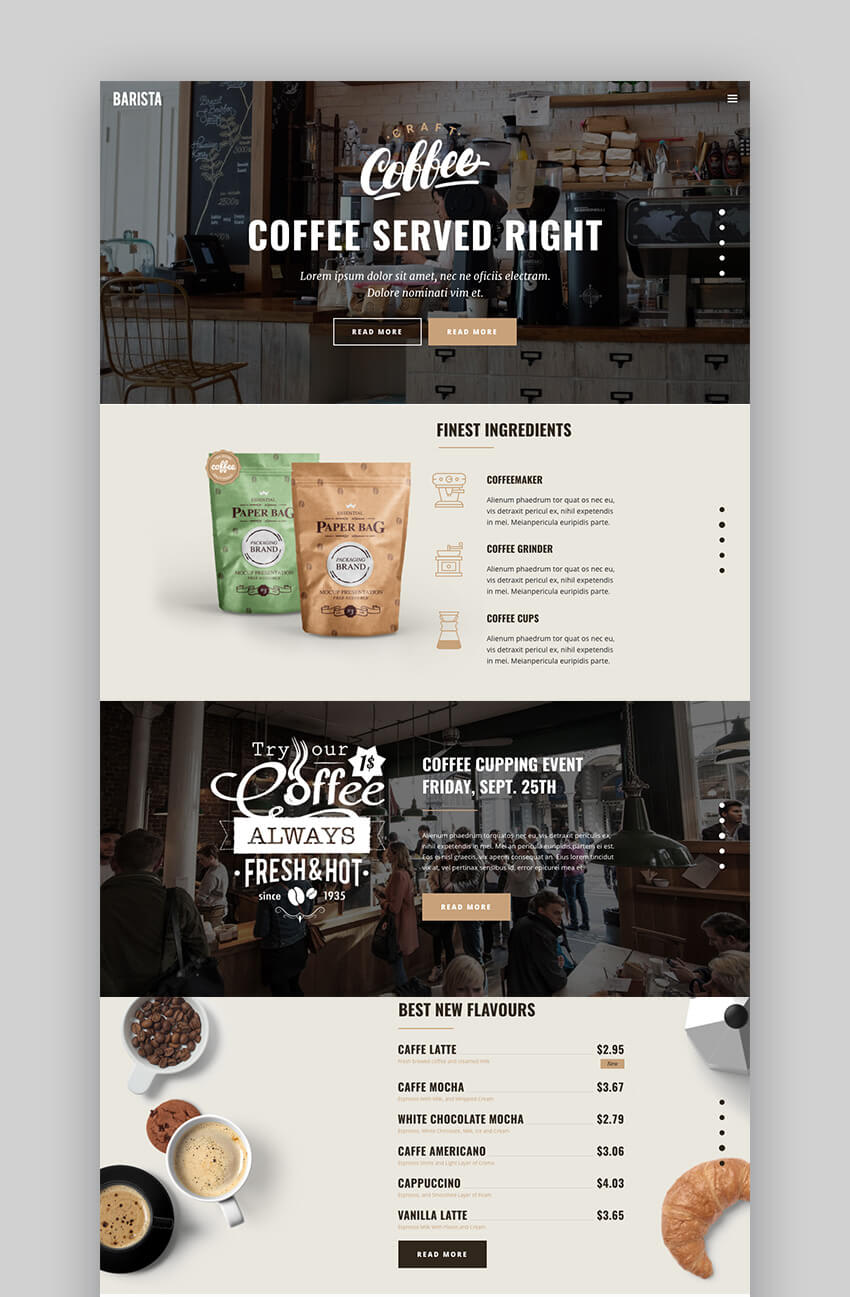 Barista is a very professional WordPress theme with a beautifully designed home page for your inspiration. It might sound to be crafted for Café or Bars, but you can perfectly use it for a restaurant as well. You can count on the Online Booking feature to receive online orders from your customers as Take Away or Delivery orders.
For a quite recent theme, it works well on mobile and the support is quite active. Here are the key feature you can count on:
Key Features
9 Homes Pages
WooCommerce supported
WPML Supported

Visual Composer Supported

Booking Feature

Cafe Menu

Multiple Shortcodes

Parallax Animation
"Frappé" is a beautiful WordPress theme with a quite funny name (which means "hit" in french). Besides the name which is attractive, we noticed the theme is colorful and spreads happiness. At first glance, we can say that the theme Frappé is crafted for candy shops, but with some adjustments possible with the settings, you can turn it into a bar theme.
One of the greatest and obvious support of this theme is WooCommerce. This is useful if you want to allow online orders. But it also comes with some interesting features you might like.
Key Features
Various Shortcodes
Visual Composer Supported
Revolution Slider included

Varous Social Network widgets

Responsive Layout

One-click import

Multiple Blog Layout

Powerful Panel
Are you an amateur of Japanese or Chinese food? Do you want to create a website that showcases your created meals or simply you want to be present online to offer your services? Nigiri, the well-chosen name will handle that for you. Right from the demo, we can already tell you it's creative and designed by an author which has already made his proofs. The minimalist design will keep your reader focused on your creation.
Nigara it's not only beautiful but it's handy as well. You can use the provided premium plugins to create your website as it looks like in your mind. But you can also use one of the following key features.
Key Features
Free Premium Plugins
Fully Responsive
Customizable Colors

Shortcodes

Fast Support

One Click import

Multiple Inner Pages

Outstanding Blog Layout
If you like the french cooking, then Vincent (which is a quite "Frenchy" name), will give you all you need to start a website for restaurant, butchery, cafe, bistro, pizzeria and even for food delivery restaurant. Who said darken colors don't match the restaurant niche? Vincent does it well to combine dark and yellow in a so proper way to keep the attention on the meals.
Despite the colors and the name which are granted to you, here is the list of the key features included, and that are also granted.
Key Features
6 Differents Home Pages
3 Food Menu layout
WooCommerce supported

3 differents contact pages

One Click Demo

2 Absoluted Unique About Pages

Showcase Your Team

Visual Composer Supported
Created with 12 professional demos, Restaurant Food is a very elegant WordPress theme that will make your visitors to taste your meal with their eyes, from their browser. Fortunately, you can count on the Table Reservation feature compatible with PayPal and Stripe to allow your customers to order directly online. But, that's not all. You can also count on very elegant table management, time schedule, calendar view and a Food Delivery service included (yes all that).
Restaurant Food is responsive, compatible with WooCommerce, Contact Form, Event Calendar 7, and many other interesting features. You can check the demo for further details. But, don't blame yourself if that makes you drool.
Key Features
One Click Demo Instlalation
WooCommerce Supported
Seo Friendly

Contact Form 7 Supported

Fully Responsive

Event Calendar Supported

Smooth Transitions

Visual Composer Supported
Grand Restaurant doesn't want to only be a big theme (in terms of features), but also the ultimate solution you'll need for your restaurant or whatever the purpose for which you would like to use it. Indeed, it can be used for cafes and restaurants. With his amazing fullscreen images support, your visitors will yet feel at your restaurant.
Yes, we've mentioned full-screen images, but also responsive design along with Menu Option, Professional demos, Online reservation, Google Map among others and that's not all.
Key Features
6 Full Demo examples
WooCommerce supported
Full screen images

Booking System

Menu Option

Parallax animation

Google Map Supported

Food Delivery Service
Are you a refined person or are you seeking simplicity? Will you believe us if we tell you that Giardino is the combination of both? Yes, you have a very elegant WordPress theme for a restaurant, but also with fonts and layout organization refined. Giardino can also just be used for a blog covering meal recipes.
Yes you can assume it's responsive (which WordPress theme is not nowadays ?), but it's not only the design which makes that theme attractive. You'll get Menu Management, Booking service, beautiful galleries but that's obviously not all.
Key Features
Visual Composer supported
WooCommerce supported
WPML Supported

Table Reservation Plugin

Contact Form 7

Flexible Layout Options

20+ different animations

Slider Revolution supported
Savory, is a name that makes drool (we did it), but it's also the name of a WordPress theme crafted for Restaurant or Chef. It comes with 12 demos available, that you can choose to start your new website. Based on what we've seen, that has various different ways to display meals.
One of the demo we checked shown without further scroll that Slider Revolution is supported, and it's well supported even on mobile because Savory is responsive. It has some immersive parallax animations and some enjoyable fonts. Here is what you'll get from the theme.
Key Features
12 homepages examples
Menu feature with shortcode
OpenTable integration

Reservation Form

Various Layouts for blog

WPBakery Page Builder

Revolution Slider

Awesome fonts options
Rosa, the parallax expert. That's what comes in our mind first when we think about this WordPress theme created for restaurants. But, only thinking like so is undermining the reputation this theme which is far to be contested. Rosa is popular and it's still trending. It comes with a bunch of interesting features such as a menu builder, style manager, online reservation, online ordering (yes there is a difference between both).
Rosa is the first WordPress theme we've seen supporting up to 4 plugins as a page builder (you read it well). It's also the only one from the list which has around 13.000 sales (🤯). There goes the list of the key features.
Key Features
Online Reservation
WooCommerce supported
Beaver Builder supported

WPBakery Page Builder

Awesome Parallax Effects

Food Menu

MotoPress supported

SEO Friendly
Do you like spices ? Well, if you do, then Ristora the WordPress theme for restaurant is spicy, but not too much. It's spicy enough to delight your visitors. With 10 different homepages and 2 "onepage" demo, you have something to get started with. It includes Food Layout, Reservation features and some integrated features such as support for exclusive plugins.
The theme is quite recent, and is on the right way. With his responsive and clear design, you don't need special skills to make it works on mobile devices. There is the key features we noted.
Key Features
10 Homepages
Compatible with Contact Form 7
Revolution Slider Included

WPBakery Included

WooCommerce Ready

Customizable Sidebars

CL Price Table

CL Testimonials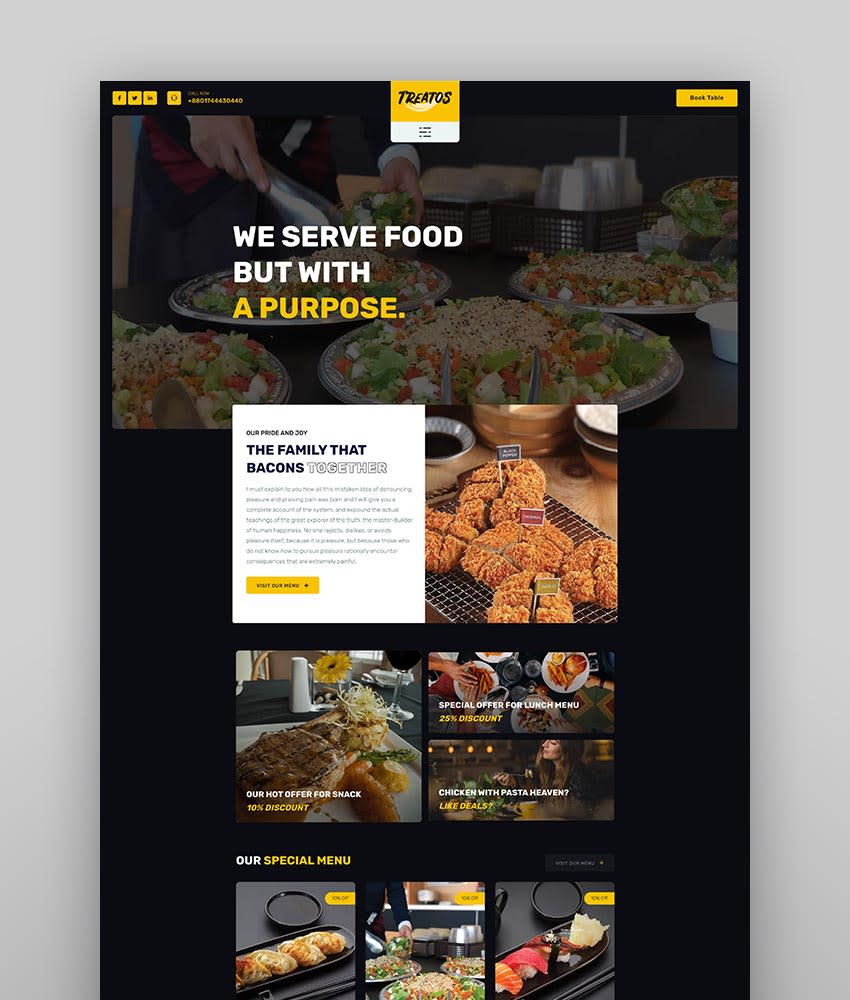 Treatos is a very recent theme which has been crafted for Restaurant & Cafe. Once again, the author bets on dark colors to make the users focuses on what is important : the meals. It has been build with Boostrap 4 and supports Elementor.
Unfortunately, since it's a quite recent theme, there is no support for WooCommerce, but there is a Booking and Reservation feature. We strongly believe over the time it will be improved with bunch of interesting features. However with $29 as selling price for a WordPress theme, it's a quite a good deal.
Key Features
Elementor Supported
Booking And Reservation
Google Font Supported

Background Slider

Parallax Effets

3 modern Home Pages

Responsive Design

Smooth Transitions
Restaurant - Cafe, while we believe the name should have been different (Gour-Meet), it's, however, a quite interesting crafted for restaurant and cafe (obviously). It has some interesting homepage headers which make it very unique. If you want to create awesome tables on your website you can count on the support of TablePress. As required features a Restaurant WordPress theme should have, we noted the reservation feature but also support for Revolution Slider, Mega Menu, Ninja Forms.
Well, beside of the features you have that will help you to broadcast your restaurant online, you got a very professional looking WordPress theme with a bunch of possibilities. Here are some extra features that you will definitely like.
Key Features
Various Premium Plugin Included
Parallax Builder
Reservation Feature

Vam Vam Page Builder

WooCommerce Supported

SEO Friendly

Responsive Design

Jetpack widget

Google Fonts Supported
Linguini is the WordPress theme for any restaurant, bistro, café, and winery that prides itself on homemade, organic ingredients. It has been sold 4k times which means the theme is quite popular. Mobile-Friendly, Seo Friendly, Menus Feature and Reservation are some of the features you'll get with Linuini.
We liked the way the homepage is designed with wide sections. We believe you can adjust it as per your needs thanks to WPBakery Page Builder which is supported. Here is the list of the key features we noted from this WordPress theme.
Key Features
3 Full Demos
WPBakery Supported
Restaurant menu

SlideShow feature

Reservation Feature

Elementor Supported

Events Manager

Responsive Design
Cristiano is an elegant WordPress theme which fit Restaurant, Bistro, Fast-Food and Pizzeria. It comes with some interesting features which makes it fairly customizable. It also includes shortcodes which will be very helpful with it will come to display theme component where ever you want. If it's true the theme has been created back 2016, it's still supported and it receives frequent update.
Beside what comes before, we noted some interesting features and we believe that might be good enough for you.
Key Features
Integrated Popup
Responsive Layout
Beautiful Restaurant Menu

Multiple Price Variations

Smooth Presentation

WooCommerce supported

SEO Friendly

Google Front
Try the Cristiano theme if you're looking for a design with a minimalistic look and an elegant video background. Aside from the standard features, the WP theme also has a nice section for testimonials from your guests as well as a section to display the daily special.
It also includes various shortcodes, which is perfect if you want to get your site up and running in 2020 without the need to touch any code.
Will you trust us if we tell you Attika is Elegant ? Yes ? That's obviouly what the author hightlight on the theme name and it's righly choosen. Attika seems to have been crafted for restaurant artist. Those who don't only cares about customer satisfaction, but also to blow sights, with impressive recipes.
Concretly, Attira support various plugins. WPBakery Page Builder and Visual Builder (Learn the difference), WooCommerce and WPML. The rest of the features are directly integrated on the theme and here is what we noted.
Key Features
Various header type
Multiple Shortcodes
8 Home pages examples
Responsive Design

Pricing Table

Parallax Animations

Google Fonts Supported

Multiple Blog Layout

Visual Composer Integrated

Portfolio with various layout
Your visitors (customers) will feel having a spoon on their hands while browsing your website. Spoon hasn't then been chosen randomly. This WordPress theme with a very attractive UI keeps it simple and essential. It can be used by restaurants, bars, coffee shops, clubs, catering, food trucks, juice bars, etc.
The theme is responsive, includes working hours modules, a menu module, and a bunch of other interesting and useful features for a restaurant. Here is what you'll get from it.
Key Features
Event Manager
WooCommerce supported
Image Lightbox

Contact Form 7

Slider Revolution

Translation Ready

9 template pages

Parallax Animation
Steps before buying a restaurant WordPress theme
At CodeWatchers, we do review WordPress themes and there are certain steps you should go through if you want to buy a WordPress theme. We'll also cover the needs for restaurants to make the list complete.
1 - Mobile-First & Mobile Friendly
This shouldn't be a surprise for you. Before buying a WordPress theme, make sure it works well on mobile devices. There is no need for a specific device since the one you use on a daily basis will fit. Testing a theme involves exploring the demo without the ThemeForest purchase bar (you'll need to close it). Go over all main feature and see if it fit correctly.
2 - Essentials features
Now, does the theme fit your requirement? That's the next question you should ask yourself. The answer should be pretty obvious. You're looking a WordPress theme for a restaurant :
Does that have Online Reservations ?
Does that support Booking ?
Can we create a store with WooCommerce ?
Does that include premium plugin such as Visual Composer ?
3 - Support is still essential
You might end on a WordPress theme with all that you need (features, mobile-friendly), but it's essential to know that the WordPress theme is still supported by the developer. How do check that? See how frequently this latest submit updates. You can also ask for a question on the comments section of the theme to see the delay of answering you can get with that author. If you're not a developer and aren't satisfied with the author's answer, don't buy the theme (there are plenty of others that will fit your needs).
4 - Well rated themes, sales count
If you have a quite old theme (created back 2016 for example), and it only has 1000 sales, something clearly is not okay. While not all themes must have the same numbers of sales, from 2016 to 2020 it makes 4 years and with 1000 sales that make an average of 250 sales by year which is not enough. The sales count matters and it's a strong indicator the theme satisfies the customers (not every customer rate a theme).
Final Words
We hope you'll find your match on this list of Best Premium Restaurant WordPress theme. If you believe there is theme which is missing, please let us know via our contact form. Don't forget to explore our eCommerce WordPress themes to find a perfect match for your next eCommerce website.