Developers have been using JS for years, the language is everywhere. It's versatility is in part one of the reasons for its success. It's a language that can be used in the browser, server and mobile devices.
Javascript is the most popular web language, standalone applications using NodeJs and Electron are also another example of the possibilities, it can support object-oriented programming making the possibilities endless.
Some of the advantages of Javcascript:
Interactivity.
Speed and Flexibility.
Server load reduction.
You need to know the basics of programming before getting into Javascript, some of the books listed below will teach you from scratch while others are for people who knows how to program.
JavaScript for impatient programmers
This book makes JavaScript less challenging to learn for newcomers, by offering a modern view that is as consistent as possible.
Highlights:
Get started quickly, by initially focusing on modern features.
Test-driven exercises and quizzes available for most chapters (sold separately).
Covers all essential features of JavaScript, up to and including ES2019.
Optional advanced sections let you dig deeper.

No prior knowledge of JavaScript is required, but you should know how to program.
Up to Speed with Javascript in 59 minutes
Javascript Essentials in 8 Chapters !! The easiest and fastest way to get around Javascript.
Highlights:
The easiest and fastest way to develop an understanding of Javascript which will allow you to grasp more advanced concepts. This book is ideal for beginners and also people coming from other programming languages who already know some of the programming concepts.
This book covers:
Variables.
Data Types.
Conditions.
Functions.
Classes.
Promises.
Modules.
Explore modern JavaScript in this volume containing hundreds of source code examples. Visual diagrams designed to accurately describe difficult concepts such as Prototype, Event Loop and Object Oriented Programming. JavaScript Grammar covers all important features of modern JavaScript (ES6-ES10) from simple to advanced. Each feature is explained with simple examples, so the book is easy to follow. As you progress through the book you will be faced with increasingly advanced examples with several programming techniques clearly explained and with clean code.
A Smarter Way to Learn JavaScript. The new tech-assisted approach that requires half the effort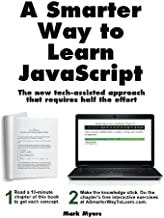 Learning JavaScript is hell because of two problems.
I remove the problems, and you start having fun.
The first problem is retention. You remember only ten or twenty percent of what you read. That spells failure. To become fluent in a computer language, you have to retain pretty much everything.
How can you retain everything? Only by constantly being asked to play everything back. That's why people use flashcards. But my system does flashcards one better. After reading a short chapter, you go to my website and complete twenty interactive exercises. Algorithms check your work to make sure you know what you think you know. When you stumble, you do the exercise again. You keep trying until you know the chapter cold. The exercises are free.
Secret Code Snippets used by Powerful Developers to create Innovative Apps.
This book serves as a reference guide providing code snippets written in an efficient way, by studying each of them, and even customizing some of the snippets to better suit your project you will get in the habit of writing code like a god.
Eloquent JavaScript, 3rd Edition: A Modern Introduction to Programming
JavaScript lies at the heart of almost every modern web application, from social apps like Twitter to browser-based game frameworks like Phaser and Babylon. Though simple for beginners to pick up and play with, JavaScript is a flexible, complex language that you can use to build full-scale applications.
This much anticipated and thoroughly revised third edition of Eloquent JavaScript dives deep into the JavaScript language to show you how to write beautiful, effective code. It has been updated to reflect the current state of Java¬Script and web browsers and includes brand-new material on features like class notation, arrow functions, iterators, async functions, template strings, and block scope. A host of new exercises have also been added to test your skills and keep you on track.
JavaScript Everywhere: Building Cross-Platform Applications with GraphQL, React, React Native, and Electron
JavaScript is the little scripting language that could. Once used chiefly to add interactivity to web browser windows, JavaScript is now a primary building block of powerful and robust applications. In this practical book, new and experienced JavaScript developers will learn how to use this language to create APIs as well as web, mobile, and desktop applications.
Author and engineering leader Adam D. Scott covers technologies such as Node.js, GraphQL, React, React Native, and Electron. Ideal for developers who want to build full stack applications and ambitious web development beginners looking to bootstrap a startup, this book shows you how to create a single CRUD-style application that will work across several platforms.
JavaScript: The Definitive Guide: Master the World's Most-Used Programming Language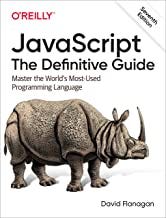 For web developers and other programmers interested in using JavaScript, this bestselling book provides the most comprehensive JavaScript material on the market. The seventh edition represents a significant update, with new information for ECMAScript 2020, and new chapters on language-specific features.
JavaScript: The Definitive Guide is ideal for experienced programmers who want to learn the programming language of the web, and for current JavaScript programmers who want to master it.
You Don't Know JS Yet: Get Started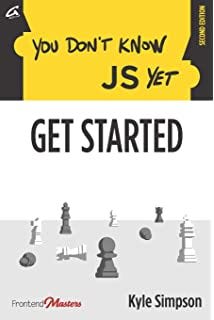 It seems like there's never been as much widespread desire before for a better way to deeply learn the fundamentals of JavaScript. But with a million blogs, books, and videos out there, just where do you START? Look no further!The worldwide best selling "You Don't Know JS" book series is back for a 2nd edition: "You Don't Know JS Yet". All 6 books are brand new, rewritten to cover all sides of JS for 2020 and beyond."Get Started" prepares you for the journey ahead, first surveying the language then detailing how the rest of the You Don't Know JS Yet book series guides you to knowing JS more deeply.
If you are looking to get a job as a fullstack web developer, then I recommend to also check:
Your First Tech Interview: The Questions and Unique Formula to get the Job you want