Hi everybody! Welcome to another exciting post about CSS.
First of all, check out the live demo: https://zombie-css.netlify.com/
In this video, I recorded the process from 0 to zombie. Made with vue.js and stylus preprocesor for the CSS.

Subscribe if you liked it. It's a newly released channel.
On the occasion of the halloween party 🎃 I made this super awesome 🧟‍♀️ Zombie 🧟‍♂️ in CSS, from scratch. 100% CSS, 0% images.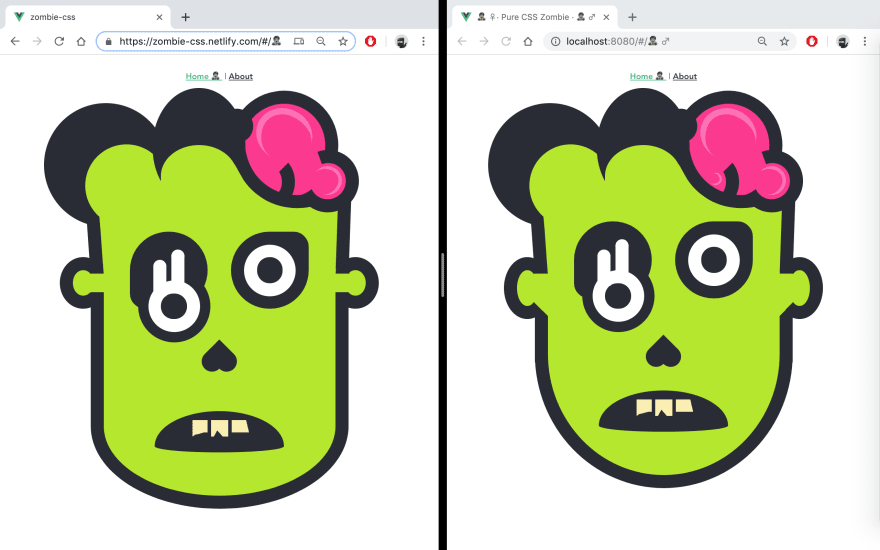 On the left (👈) you can see the first version of the zombie, which was developed while the screen was being recorded.
On the right (👉) you can see the second version of the zombie, which was created during a refactoring process and without being recorded 😅. This one is the final version.
---
🔥 You can check the source code here and follow me if you want.
I usually create open source repos with ~interesting~ funny stuff like this.
🧟‍♀️ Pure CSS Zombie 🧟‍♂️ - Happy Halloween 🎃
---
Check out the color palette here: https://coolors.co/292c34-ffffff-b4e900-fe338f-ff70b5
---
Let me know what you think in the comments below. 👻
🎃 Happy Halloween! 🎃