Continued education, regular training, and skill development are of the highest importance for healthcare professionals. To provide the best possible service, keep up to date with the latest and most effective approaches to treatment, healthcare organizations leverage various methods of training, and one of the most effective means is a learning management system.
An LMS in healthcare facilitates companies in a number of ways, streamlining hospital staff and medical professionals, helping learners to study anywhere, at any anytime, allowing them to quickly respond to new training trends and demands, and offering a number of tools that help professionals to evaluate their own effectiveness.
Over the last few decades, healthcare learning has made giant steps in how nurses, doctors, counselors, and healthcare workers use technology to maintain their certifications and stay current on best practices in their field.
But that's not the only thing that's innovative in healthcare learning. It's also the release of courses that bridge the learning-doing gap, the ability to personalize learning to a specific person's educational needs, and methods to improve the retention of course materials.
In this article, we will look at the most successful use cases of LMS in healthcare to see how it changes the industry and prepares it for the future.
LMS System Evaluation Criteria#
There is a myriad of LMS available, and each one has different features which cater to different needs. But how to choose the right Learning Management System? Here are some common metrics by which you can evaluate an LMS.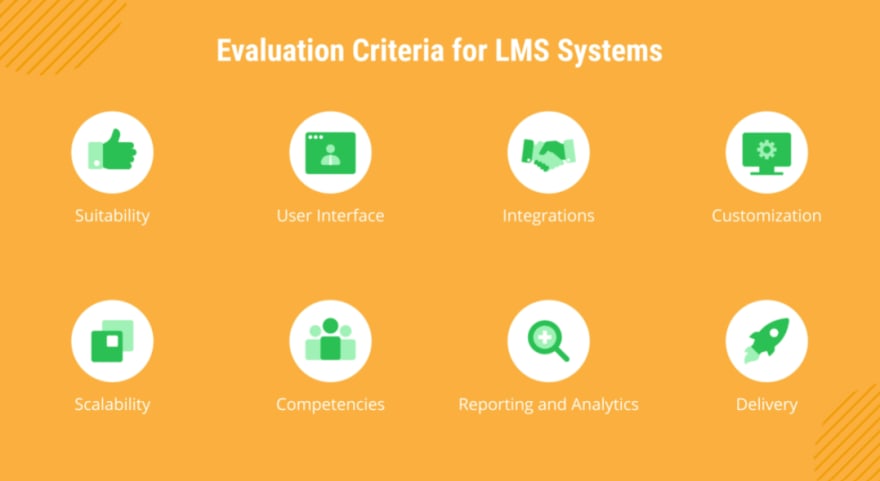 Criteria for suitability
It is important for any LMS to be easy to use so that all learners can effectively and efficiently use eLearning. This is particularly relevant to large organizations with many learners, such as healthcare organizations, as training each learner to use the LMS can impact the efficiency of e-learning as a training method.
User Interface (UI)
An important factor in an LMS being easy to use is the user interface (UI). The UI determines firstly what the LMS looks like and secondly how the user interacts with the LMS.
Integration
The ability of the LMS to integrate with other systems which are already being used in healthcare organizations is important. For example, these could be patient and medical databases. Technologies that enable integration to take place, such as APIs, are therefore something we look at closely.
Customization
The operational workflows modeled onto the LMS, as well as the integration of other systems must be customizable so that data can be moved around seamlessly.
Scalability
The ability to scale easily is a necessity. Because healthcare organizations can be extremely large, a suitable LMS will be able to scale to the number of learners without any compromise on training efficiency or other function.
Competencies
The ability of the learner to evidence the competency and the ability of the LMS to offer smart assessments are vital. This can be applied to face-to-face training events or online learning opportunities provided.
Reporting and analytics
The ability of the LMS to offer real-time audits and alerts of training and competency issues to the organization is a key requirement. Next-generation LMS needs to be proactive and highlight potential compliance issues or up-and-coming skills shortages based on evaluating data sets from other systems using predictive analytics.
Delivery
Another obvious requirement is the ability to deliver learning materials in all formats, from any device, whether it is tablet or mobile.
What Features Should an LMS Have?
Except for the ability to integrate with other systems and offer a highly intuitive and pleasant looking design, tools for flexible reporting and analytics, and mobile accessibility, there are other crucial features to look for in an LMS.


Data tracking
Data tracking allows users to keep track of their learning progress and get insights into their performance metrics.
Personalized user experience
LMS that offers learners content on the basis of their history attracts more attention and leads to better learning outcomes.
Offline learning trackers
This can be done through electronic record creation and the ability to edit and personalize assessment checklists that suit specific capabilities or skills requiring evaluation.
Automated alerts and notifications
Whether these are auto-messages sent to learners that inform them of the coming deadlines, or those sent to trainers to inform them of completion rates, auto-alerts allow ensuring that everyone involved in the process can provide feedback in a timely manner.
Centralized learning materials
LMS must also be capable of storing different types of materials, including text documents, video files, slides, and presentations in a centralized location.
Compliance
It's highly important for healthcare companies to remain compliant with government regulations and ensure that their staff is trained at the right time and is properly assessed.
Assessment tools
When it comes to assessment, LMS can offer tools like exam engines, simulations, or branching scenarios. Also, it's important to provide trainers with the ability for immediate feedback.
Smart scheduling tools
To make the process of learning flexible and adjusted to the learners' working schedules, it's important to ensure that your system can offer multiple dates and times for training sessions.
Hosting options
In healthcare, data security is of higher importance. So it's vital to use data security protocols that will protect the sensitive information of your company.
Learning Management Systems in Healthcare
With all this considered, let's take a look at the best LMS for healthcare professionals we have on the market today. So, here are the top 3 systems you can consider as an example of a sound solution.
iSpring Learn


iSpring Learn is an easy-to-use cloud-based LMS, which promises that you can start training your employees immediately after registration. Users appreciate iSpring Learn for its simple interface. It's easy for learners to understand how to log in, complete a course or a test, and see the results without special training. Also, the platform can be managed by an HR manager, a training coordinator, or even a doctor without IT skills. iSpring Learn comes with a built-in editor to create articles with illustrations, quotes, videos, and quizzes right in the LMS. Again, no technical skills are required. Plus, the LMS is integrated with a powerful authoring toolkit — iSpring Suite — that allows building PowerPoint-based interactive courses, quizzes, and conversation simulations.
Docebo


Docebo is a flexible customizable LMS with numerous options. It allows you to organize not only formal but also informal training in a virtual collaborative environment and combine it with skills management.
What differentiates Docebo from its competitors is the modular system. The LMS includes four modules: Learn, Coach & Share, Extended Enterprise, and Perform.
Learn is a module for formal learning through e-courses and other training materials.
Coach & Share is a module for informal learning. It lets learners ask questions and get answers from subject matter experts.
Extended Enterprise is a module for training external users.
Perform is a skill management module. It allows you to detect skill gaps and assign courses to close each of them.
EthosCE


EthosCE is a full-featured hosted learning management system created to automate the delivery of continuing education in nursing, pharmacy, and other healthcare-related professions. The system allows you to create different credit types (CE, CME, CNE, and others) and apply them to one course or a full program on various disciplines.
A great advantage for healthcare organizations is the integration with ACCME web services, including ABA, ABIM, ABP, and MOC 2 programs. All external credits stored in third-party systems can be united with credits earned in the medical LMS. In this way, a user can make EthosCE a single repository of credits. All data is automatically reported to boards and other external systems, including ACCME PARS, CE Broker, CPE Monitor, and others.
The Bottom Line
Offering wide functionality, automating certain tasks, and providing a range of benefits, LMS became a powerful tool for healthcare companies. Nevertheless, a broad range of opportunities such systems have on offer can sometimes be confusing, especially when it comes to the development stage. So in addition to creating a clear picture of what needs to be done, companies should also pay a lot of attention to choosing a vendor.
At Emerline, we generally start cooperation with consulting services that include a deep analysis of your business for the definition of its key goals, perspectives, and desired outcomes. On the basis of the analysis, our specialists provide you with a comprehensive picture of the solution that will work for your business success and, after agreeing with you on all the details, we assemble a team of specialists who will make it all come true.
We take advantage of the latest tools and technologies, deliver on time and within a predefined budget, and take every step needed to ensure fruitful cooperation. So if you're planning to build an LMS, feel free to contact us for a free consultation.
Originally published at https://emerline.com.