Top 6 open source project management board to streamline your business
Emily Lynch

Updated on
・4 min read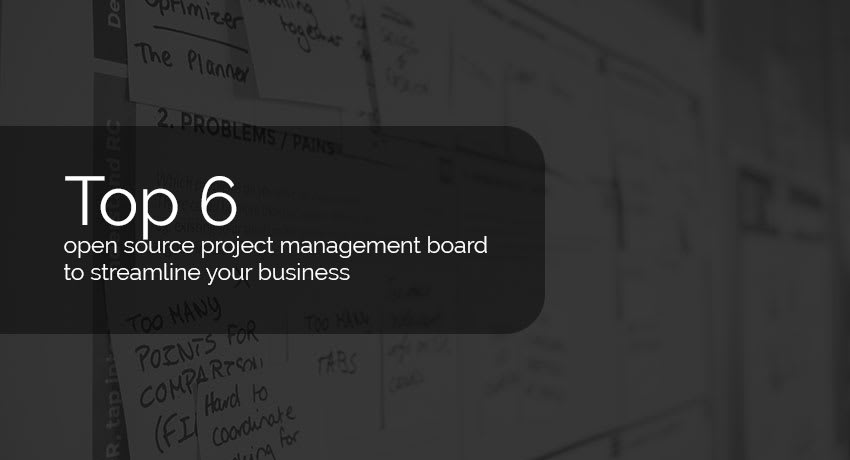 The term project management denotes a specific set of applications, methods, knowledge, and skills to achieve the project objectives. In a world that only favors the best, the significance of this concept of administering a project and steering the same to reach its full potential is inevitable. The early history of Project management points back to 1920's. Developed and interpreted by Henry Gantt, it gained worldwide recognition. However, the new-age digital set up has changed the way we manage our projects. We now have access to the best software solutions that can support your project management efforts. In this document, we list out the best open source project management software to help you find the right tool that suits your purpose.
Best Free Project Management Software for your Business
A project management software fundamentally handles a series of functions which includes project planning and scheduling, resource allocation and change management. Besides, it helps develop an active communication within the team, hence promotes collaboration as well.
Bitrix24- Highly Secure, Intranet Solution
The primary focus of Bitrix24 rests on collaboration, communication, social networking and knowledge management. It moves data from network silos to the repository and thus allows better knowledge continuity. Blogs, wikis, and forum are incorporated to ensure better teamwork. Extra attributes like brainstorming, contact management, content management, chats/messages, document management etc are also integrated into this project management board.
Freedcamp- Manage Numerous Projects and Users
The major attraction factor in Freedcamp is the unlimited users and projects. And their main objective is to provide all the possible features in the software for free. However, even though the free version is available for users, access to certain attributes can only be availed by premium users. Anyhow, NGOs, educational institutions and similar kind of organizations are an exception. They can employ the full version of Freedcamp free of charge. One can create tasks and milestones, initiate discussions and track the same accordingly.
Redbooth- Easy and Flexible Task Management System
A present-day task and project management software which solely focuses on team collaboration, file sharing, and discussions. Since the new-age work culture fundamentally depends on efficient team collaboration, Redbooth gives prior attention to the attributes that promote teamwork and association. However, this open source project management board is only free up to 10 users and 2 workspaces. You can visit the website to know more information on the software and the pricing options.
Airtable- The Multipurpose Project Management System
Airtable is an all-in-one collaborative software portal that comprises a wide range of features such as task and milestone creation, Kanban card stacks, file attachments, reporting, chats and so much more. More advanced option like budget management, cost-to-completion tracking, resource management, etc are also incorporated within the script. Moreover, it integrates spreadsheet interface to drive more flexibility and convenience to the process of project management. Apart from the free version, user can upgrade to the premium version with regards to their demands.
KanbanFlow- Built for Large Projects and Consultants
The distinctive factor in KanbanFlow is its ability to accommodate and handle large teams. The work visualization, time tracking, real-time team collaboration, and even analytical insights are included in this in-depth project management board. Also, the attributes like expense and status tracking, Kanban board, etc will add more value to it. Since the priority has been fixed on the visualization, it enables you to visually manage any process. Hence, by getting more clarity on the ongoing process, you can optimize the project management efforts according to the requirements.
Restyaboard- Efficient Project Management and Tracking
Restyaboard, an all-inclusive project management board developed by Restya has secured its name at the top of the list, all because of its potential ability to streamline every aspect of your project development process.
With being packed with features, Restyaboard delivers an end-to-end assistance, throughout the process of development. One can create a board, add members, assign tasks and track those tasks real-time. Moreover, the options to collaborate with the team helps you bring the best out of the process.And since it is an open source, it can be downloaded for free as well.
Final Words
The notion of project management has become a matter of necessity for the smooth handling of a project. As a transparent approach to monitor, track and optimize any project management process, it ensures successful and timely completion of a project. Moreover, it benefits the members of the project by allowing them to communicate, share their ideas and transfer the files without any hassles. We presume that the aforementioned information helps you find the right solution for your upcoming project development scenario.
Classic DEV Post from Sep 2 '18