React Native vs React JS: What to Choose for your App Development?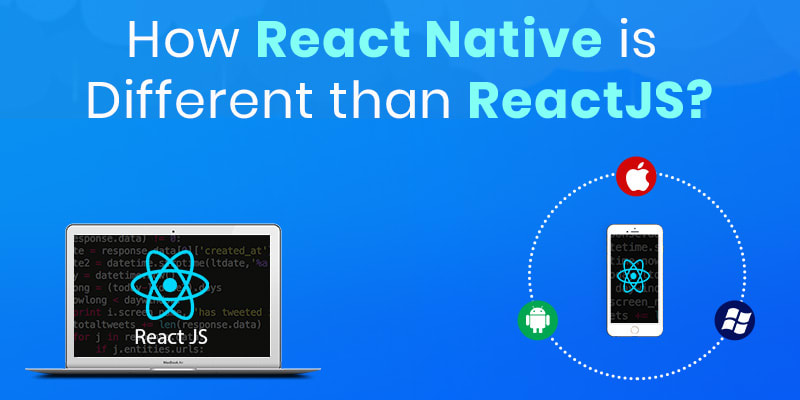 React native has been with us for the last five years. And the growth we are seeing is extraordinary. It has become developers first choice for building a mobile app for both iOS and Android.
React-native is mostly confused with React JS but there is a difference lies between them. React Js is a library that you can use to create a website.
In this article, we are going to find other dissimilarities between React native vs React Js.
SEE ALSO: Flutter Vs React Native
Let's cut to the chase and begin our journey to choose better.
Setup and Bundling
As stated earlier, ReactJs is the Javascript library that is useful for building a website. Whereas, react native is a framework.
When you commence your journey for a new project with React JS, You will choose bundler like web pack and try to figure out which bundling module you need for the project.
On the other hand, If you are setting up for your new project react native is a cakewalk. It's fast and takes few command lines to run in the terminal and you will be ready to start.
By using ES6 and some ES7 features and even a Polyfills, you can code your first native app immediately. You just need Xcode in case of iOS app and Android studio in case of Android installed in your PC.
DOM and Styling
React native doesn't use HTML to provide you the app but gives you alternative components that work the same as HTML. Those components map the main react native iOS or Android UI components which get rendered on the app.
In the React native, almost all the components given can be translated to something similar to HTML. View components are similar to a div tag. And text components work as P tag.
Just because your code doesn't get rendered In an HTML it means you will not be able to reuse libraries yo have used earlier with ReactJS which gives any kind of HTML.
So if you want to style your React -native components, you will have to create stylesheets in JavaScript.
Animations & Gestures
With React native you have to learn a way to animate a components of your app with JavaScript. So to animate components mostly recommended way is to utilize the animated API.
Not only these but React native has other Layout animations which are actually very cool and simple to use for transition but it only works for the IOS only and does not work on Android.
Navigator components is a bit complicated to use at first will provide you everything you need to provide the transition between scenes.
Platform Specific Code
If you are designing an app for a various platform with the same set of code, your code will start to look messy.
Hence when you are creating a native app its imperative to know the User interface and experience for iOS and Android might need to be different.
You have two choices on how your app will look like and how will it perform:
1.You can define universal design for your application to make exactly the same for all the platforms as long as it stays intuitive and doesn't confuse either platform.
2.You can even define sets of code for every platform which means you have different DOM. Style-sheets and even different logic and animations in order to follow the UI and UX.
Now if you decide to go with the second point, react native can detect which platform you are running the code from and load the right code for the right platform.
Developer Tools
When you start a latest Native project, you get a few developers tools out of the box from React without the need of installing anything. Which is great. One of the main thing available is Hot reloading is available and is the best to use when you need to make small changes to the styles of your app.
In addition, its fun to work with react native because of its ability to use most developers tools you use with Reactjs.
You can even utilize great Redux Devtools to inspect the state of your Redux store. However, there is one feature that you may lack through is the ability to inspect the DOM like you.
Conclusion
Using React native for the app development is really fast and efficient. Moreover, the community around React naive is getting bigger day by day. Hence, it is being recommended any web developer or business who wants to make their Hybrid app. Even businesses should Hire React Native Developers without a second thought for their hybrid app development.
In addition, the learning curve from React JS to React native is not that steep. You will be easily accustomed to the syntax and the components.
---
DISCUSS
Classic DEV Post from Dec 13 '18