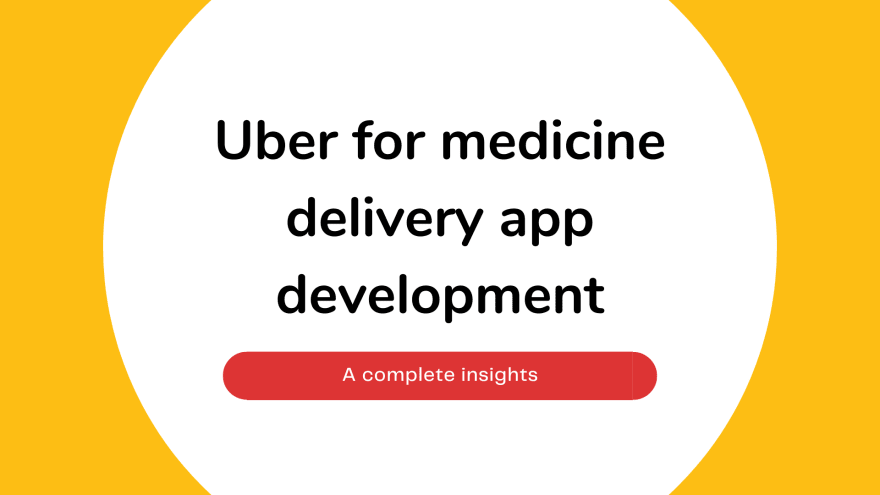 On-demand apps have changed in many aspects and allow customers to book a variety of services including taxis, restaurants, and salons. Now, people can order medicines online and have them delivered right at their location using the Uber for medicine delivery app.
Willing to create a medicine delivery app for your on-demand business? But confused about taking the first step?
If so, then this blog is right for you.
This blog provides you all the essential insights that you must know before creating your uber for medicine delivery app.
How does it work?
Customers can register their accounts by using the mobile number and can add some basic information like name, mail address, and so on.

Customers select the medicine that they want to purchase and add them to the cart.

Choose their preferred payment mode and place the order.

The medical shop receives the notifications and starts packing the medicine as per the prescription.

Drivers will be assigned to deliver the medicine to the customer's location after it has been packed.

Customers and the medical shop both can rate and review their experience after the successful delivery.
Why investing in a medicine delivery app will benefit your business?
The online medicine delivery market reached USD 42.32 billion in 2018 and is expected to reach USD 107.53 billion by 2025.
The statistic proves that the market for Uber for medicine delivery will grow over time as it satisfies the needs of the customers.
Features to be must be included in the on-demand medicine delivery app:
Track orders:
Customers can track their orders with the driver's exact location and estimated time of delivery with the Google map navigation integrated on the app.
Multi payment options:
Customers can easily pay for their orders using multiple payment options like card, cash, or wallet. It helps the customers to pay based on their convenience.
Notifications:
Customers get real-time notifications regarding the complete update of their orders along with the ETA.
Driver online/offline status:
The driver can change their status as online or offline based on their availability and convenience.
Earnings:
The driver can view their earnings made on the platform on a weekly or monthly basis.
Add payout:
The driver can add an 'n' number of payouts and can set any one of them as default.
Medicine shop:
Transaction management:
Shop owners can manage the transactions done on the platform along with necessary details like customer's name, driver's name, email address, mobile number, and so on.
Shop status:
Shop owners can also make their status online/offline completely based upon their choices. The shop receives the order only they make the status online.
How Uber for medicine delivery app generates revenue?
The platform owner collects a certain percentage of commission from customers, medicine shops, and drivers for every transaction that happens on the platform. The fee might be either a flat fee or a distance-based fee.
In flat fee, you collect a delivery fee, booking fee, shop service fee, and driver service fee.
In distance-based fees, you collect pickup fare, drop fare, distance fare (per km), booking fee, shop service fee, and driver service fee.
Tech stack that suits to build on-demand medicine delivery app:
Are you looking for the ideal tech stack in the market? If so, Flutter is the ideal tech stack for creating Uber for medicine delivery apps.
Do you know what Flutter is?
Google's Flutter is an open-source user interface software development kit.
It's used to build applications for Linux, Android, iOS, Windows, and other platforms by using a single code base.
Why choose Flutter over other technologies?
With the availability of widgets, you can build a versatile and impressive user interface.
With a variety of tools and technologies, the app becomes more user-friendly.
Assist you in deploying and launching the app into the market more quickly.
It's scalable and improves the app's speed.
It simplifies the testing procedure due to the single codebase.
Looking for the best solution to use Flutter to launch your Uber for medicine delivery app?
If that's the case, we have the finest solution for you: WooberlyEats.
What WooberlyEats is all about?
WooberlyEats is a completely customizable on-demand medicine delivery app that helps entrepreneurs in launching their on-demand business with Flutter.
Why choose WooberlyEats?
Completely customized.
The cost of setup is reasonable.
Scalable to any size.
Saves more development time, resulting in a faster time to market.
Use of cutting-edge technology.
Conclusion:
By seeing the above guide, it is clear that the medicine delivery business is expanding and has a lot of potentials.
Hence, this is an excellent time to launch your on-demand medicine delivery business in the market.