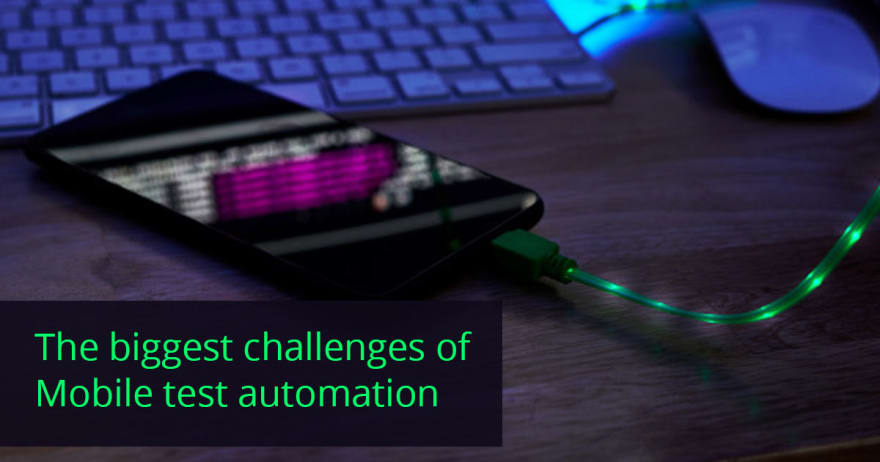 Organizations are releasing mobile apps in quick succession to leverage the growing appetite of tech-savvy customers. However, not every app receives user acceptance owing to a range of issues. These include functional defects, below-par performance, device incompatibility, and poor user experience. As users become more critical of such issues and are deluged with a range of alternatives, mobile application testing has become important. Surprisingly, most organizations are yet to embrace mobile test automation even as they slug it out to release newer variants of apps. So, what challenges do enterprises face when they go about conducting mobile test automation? Let us describe some of the biggest ones:
Biggest challenges for testing mobile applications
The list of challenges bedevilling the mobile test exercise is -
Quick release schedules: With customers rooting for mobile apps in greater numbers, enterprises don't want to be a late entrant and miss the bus. They go for quick build and release cycles where a thorough round of testing often becomes a casualty. Also, due to the pressing schedules, enterprises neither integrate new tests into their test cycles nor have the time to write test scripts. With DevOps and Agile being the methodologies to develop glitch-free applications, the need has arisen to develop a test suite. The suite should be underpinned on continuous innovation to address the dynamics of a complex mobile environment. However, this makes the test cycle lengthy with the release of new devices, operating systems and their variants, features, and functionalities.

Choosing the right mobile app test automation tool: Every mobile app comes with different test challenges where no two are similar. Although the market is flush with many automation tools, the challenge is to find the right one that addresses the specific test requirement. So, to choose the right mobile application QA testing tool, enterprises should meet certain standards:

Ease of use and the ability to create a script
Ought to run on native and object web properties for better identification of the components
Ability to connect to the cloud
Enable more than functional testing

Security: Given its growing ramifications on brand equity and user experience, security testing has become a challenging exercise. The reason being the umpteen vulnerabilities that hackers can exploit to steal data or information. When it comes to the cloud, it is better to rely on a private cloud, for it provides better encryption. Also, preventing data breach on a public cloud platform should be given serious consideration by implementing mobile testing. Further, DevOps should be changed to DevSecOps for better security compliance and accountability across the organization.

Diversity in devices: The mobile ecosystem has numerous mobile devices with different configurations. Such device diversity makes mobile app testing a challenging task, especially for native, hybrid, and web apps. Moreover, the type of testing differs as well vis-a-vis compatibility, performance, stress, conformance, and security. Even though native apps have a limited scope of testing, their hybrid and web counterparts are needed to be tested for on and off platforms. This can create knotty back-end issues. Both native and hybrid apps should be tested on various device platforms to ensure outcomes like quick and seamless download, performance, platform interaction, and updates.

Diversity in OS platforms: One of the most challenging scenarios in mobile test automation is to account for the fast-changing operating systems and their variants. With devices operating on different variants of Android, iOS or Windows operating systems at any point in time, mobile testing can become complicated. These mainly relate to the compatibility issues when apps are deployed across operating environments. However, these can be addressed by following solutions -

Putting emulators into use to identify glitches and security issues
Testing on a set of popularly used devices and target users.
Using a mix of both in-house mobile lab and cloud based mobile QA testing
Conclusion
The widespread usage of mobile apps and their interfaces with myriad thirty party sites have meant vulnerabilities can creep into the system, anytime and anywhere. Also, since a significant number of mobile apps carry critical financial and personal information, they should be guarded against all kinds of cyber threats. A thorough mobile application testing framework can help identify such glitches and deliver great user experiences.