ONE DAY or DAY 1 (4 Part Series)
this post is 5 days late but no worries. also, it's not properly code related but some cool things on it are happening next month 👀
1 Month overview
September was a ___ month:
1. exciting: started off by getting a casual job as an Exhibition Booth Assistant by helping in the booth, answering questions from prospective investors and guests at the Health and Care Innovation Expo 2019, the biggest NHS-led event of the year, at Manchester Central. Assisted Emily Low, CEO & Co-Founder of Pillpresso - an award-winning company who through a digital medicine cabinet, empowers patients to take their own medicines in the hospital by reminding them to take meds at the right time, at the same time as the device saves time for the nurses, reducing time spent on drug rounds by >50%.
This event made me aware of different things that can happen at an event:
if you have a booth, have a CTA element as visitors will be drawn to it. A brilliant example I found was GE Healthcare (who happened to be exhibiting right next to us). They literally only had 6 screens and managed to attract a great flow of intrigued people. Also, the dynamism of their representatives who were standing, walking and talking through what happened in those screens created a nice atmosphere. There I met Stephen Verdi, a really nice American who answered all my questions and talked me through the latest control management innovation.
a lot of business cards were exchanged, but there was also possible to notice a great adherence to the paperless movement as people would prefer to take pictures or take notes on their phones rather than taking brochures home.

networking is extremely important. And so random at times. During my time at the booth I came across an enthusiastic Canadian who had businesses in Poland (first time I spoke to a Canadian); a Portuguese girl from Porto who was a carer of a funny and outspoken Jamaican woman; a woman whose husband was HIV positive and showed a lot of interest in Pillpresso since her husband pills are too big for the normal pillboxes and two graduates who worked in Data Analysis at NHS (and yes I kinda bombarded them with some questions, got their LinkedIn also).

food- bring some snacks with you as breaks are not predictable.

99% of people were formally dressed (including me) but came to realise that it doesn't really matter in the end, as people will want to relate to you through stories and personal events, so being yourself is key above all.
And as all jobs have its perks...
I sneaked up to the AWS Stand and had a quite long chat with one of the Amazonians. Simon Russel, who I wished I had been able to recommend somehow as he besides offering me my first stickers (which I didn't know was a cultural(?) thing in tech), was so passioned about his job that he talked me through Amazon and its culture and Amazon Web Services, which is much more than a cloud service. The conversation touched on so many helpful topics as programming languages, job opportunities, future developments and ended up with silicon chips. One interesting thing was that I mentioned to him about the lack of a platform/youth support that helps you find a job according to your real-situation and he added with a gap in matching the right people to the right jobs according to both their skills and aspirations. -(note: make more research on this)-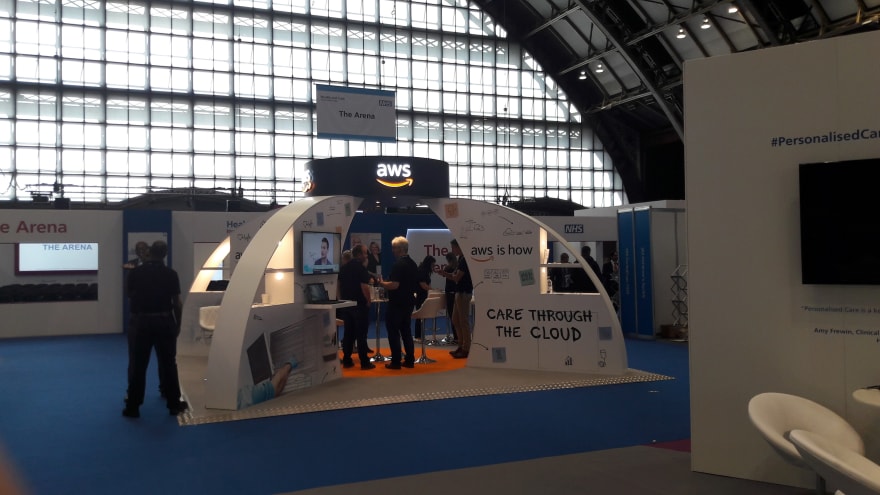 2. depressing: after all that first-week hype with the Expo, the following weeks were a bit eh as I got very nauseous because of my period, didn't' get as many shifts from the temporary agencies as expected and my room was a mess. A good thing was I went paperless as I only own now 2 A5 folders where I keep important documents such as my passport or health notes and a notebook for drawings. Somehow this was done and I know had a little more space to breathe. Another thing I felt and have been feeling is the end of the school cycle. I remember my Philosophy teacher once saying that we are born, put in a kind of greenhouse (school) and then released to the outside (world), and I feel that has been hitting me quite negatively as I see new students going to classes when I'm going to wash dishes; as I don't have any more excuses 'I'm tired, just came from school, cannot even cook' and in one hand I regret my average performance at my degree but on the other, if I haven't made those bad decisions, I wouldn't have found what I really want to do and focus on now. So, I believe I should be thankful and not complain. Just keep focusing.
3. In short, a reflective month.
Inês Reis

@inesreisx

01/09- ONE DAY or DAY ONE
a monthly set of personal challenges

💆‍♀️ try a yoga/meditation routine
🎨 create a sketch portfolio
📊 Google Academy & Microsoft AI
💻 create a website
🐙 learn how to use GitHub
📚 read at least 3 books
💰 learn about Finances
👩‍💻 get a full-time job

10:00 AM - 01 Sep 2019
In regards to the challenges:
❌. The yoga didn't continue after 3 days, also was in the first weeks where I was nauseous, so that helped me to have given up quickly. HOWEVER, I found Radio calisthenics - a traditional set of short-warm-up exercised practiced by the Oriental culture for a long time. They take from 3 to 6 minutes, are simple and give you the ability to stretch. So I've been doing it till now.
This one is nice.

✔️. Sketch Portfolio: welcome to my DeviantArt!. Tbh, I have no idea how I didn't sign up for this a long time ago as the platform is perfect to keep archives, engage with artists and discover new art styles. I've been super happy with this (it took me 2 days to upload the 700 archived drawings), and now I'm pledging to draw daily.
❌. Still finishing Google Academy, 1 book left, still washing dishes and started to use a pre-paid card to best monitor my expenses -(note: Finance topic coming out one day, some graphs and formulas would be cool)-.
✔️. Created a simple website template.
For a newbie like me, I felt very happy to have seen some results and understood the HTML logic behind it, even though I had precisely followed the tutorial. I found this channel of Jake Wright very helpful as he shows the very first start from a draft -> code editor -> website page (also I'm lerda/slow and need to embrace that thinking on the abstract plan can be hard sometimes, so the draft methodology was really really helpful for me).
✔️. Managed to create a simple presentable GitHub account and add that previous website to a GitHub page. I'm still learning about Git and GitHub, but overall felt this was a step towards something.
Learning how to create simple websites through tutorials and explorations.
inesreisx.github.io
Learning how to create websites through tutorials and explorations. The objective is to keep updating the website with the lessons learned and make a record of its versions through the below screenshots.

thanks for reading this far. (:
ONE DAY or DAY 1 (4 Part Series)
DISCUSS
Classic DEV Post from Jun 15 '19