What is the first thing that comes to your mind when developing an app? Programming isn't it?
But there are millions of programming tools out there. Which one is the right framework? How do you plan to use it?
All these questions bug our minds while developing a high end app that is both unique and marketable.
Now, each programming tool is used for developing an app for a particular operating system e.g. Android, iOS, Windows, etc to name a few.
You have to choose different developers to design your app for the respective operating system. But what if there existed a solution which could provide us with a customized framework to build an app for both Android and iOS?
Well, the answer is yes!
The solution is called "React Native".
But Why React Native?
With Facebook being the developer, it is highly regarded as one of the best open source programming platforms ever to be invented. It had an initial launch in 2015, with the stable one released on March, 2019.
It allows a developer, as previously mentioned, to create a high end app for both Android and iOS, and that too, with optimum quality and sustainability.
It employs JavaScript as its programming language, enabling developers to avail React [a JavaScript library platform] in constructing user interfaces.
Quoting Zuckerberg Himself
With rise in preference for native apps, the demand for this tool is only increasing with time. Zuckerberg himself once admitted
"The biggest mistake we made as a company was betting too much on HTML as opposed to native".
His statement clearly portrays the significant scope React Native offers when designing an app for multiple operating systems.
Not only it reduces cost, but trims down the development time by a significant scale, thus catalyzing faster deployment in the market.
When comparing React Native with other tools like Swift, Ionic, etc, you should always bear in mind their performances in individual parameters. Identify which parameter you need to fulfill. And then compare and select the tool that delivers highest quality performance in that parameter and which has the respective track record for being the potential framework for your app.
Also, like every entrepreneur, you must explore the profitability that comes with it. In this report, we'll go through comprehensive market research materials, comparisons and statistics, that will help you in determining whether React Native is still profitable in 2019, and how you can design your app's compatibility with the right framework, while banking on future opportunities at the same time.
React Native In Trend
Over the past couple of years, the react Native usage has increased exponentially.
source:https://recro.io/blog/wp-content/uploads/2017/07/Javascript-Native-Google-Trends.png
When compared with Xamarin:
source:http://www.lowelllist.com/2018/01/24/react-native-vs-xamarin/
When compared with Ionic:
source:https://www.simform.com/wp-content/uploads/2018/02/Battery-usage-for-Addition-and-Deletion-React-Native-vs-Ionic.png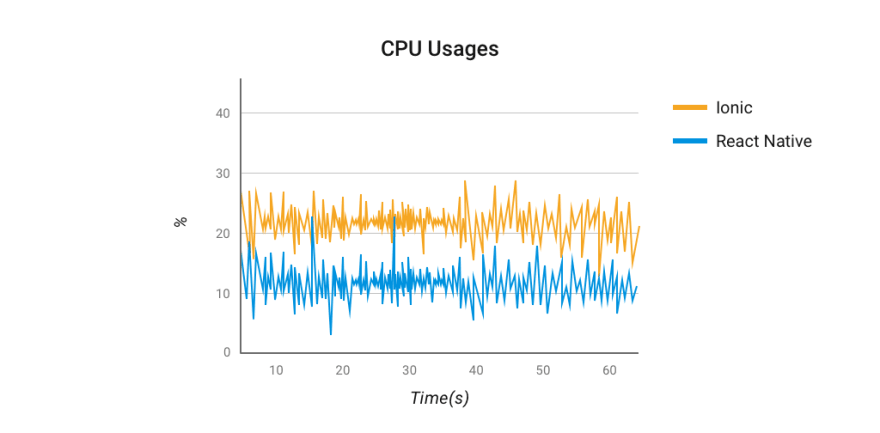 source:https://www.simform.com/wp-content/uploads/2018/02/CPU-usage-on-startup-and-Idle-for-React-native-vs-ionic.png
When compared with Swift:
source:https://www.simform.com/wp-content/uploads/2018/02/CPU-usage-when-Scrolling-down-the-list-1.png
When compared with iOS and Android Development Trends:
source:https://eluminoustechnologies.com/blog/wp-content/uploads/2017/05/React-Native1.png
n this chart, you can  see how the numbers have gradually turned towards React Native development within just a year. A ray of hope for all the entrepreneurs who want to employ this innovative tool in their native app development process.
As of 2015, it was ranked the fastest growing open source platform with over 30,000 stars on GitHub. Also a year later, Microsoft and Facebook formed a partnership, thereby adding Windows support to React Native platform.
When Drawing Comparisons
The major differences between React Native and most of the other tools (in this case we've taken Ionic) can be laid in a pattern if certain criteria are taken into account. Have a look: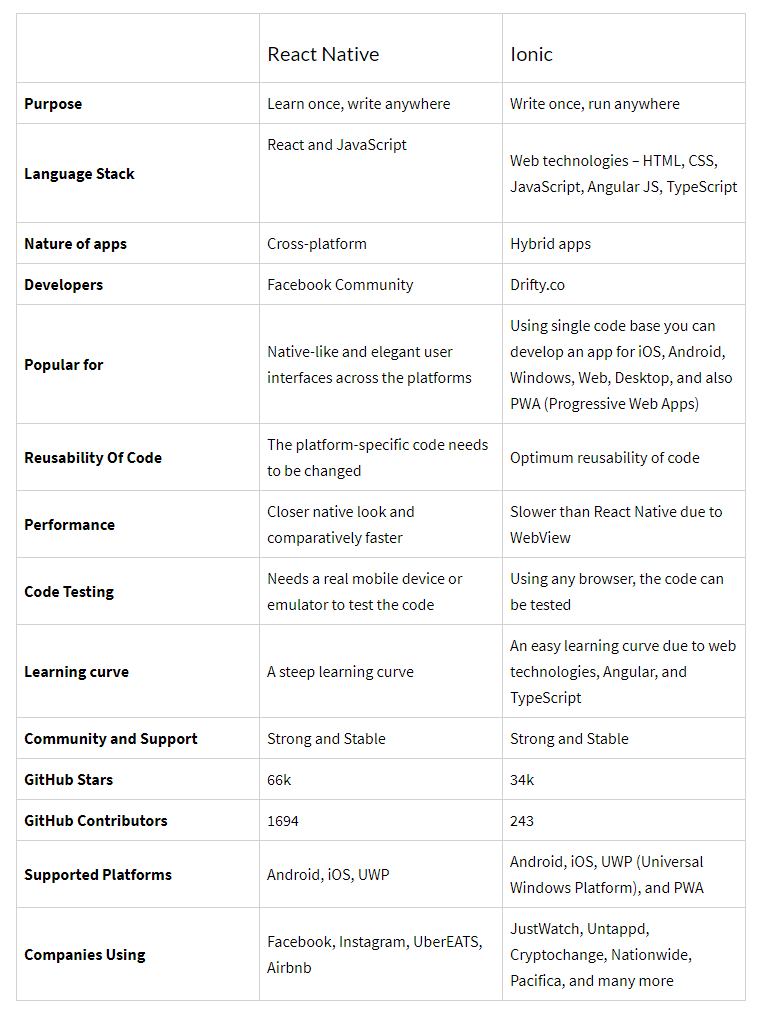 source:https://codeburst.io/react-native-vs-ionic-explained-a-step-by-step-evaluation-23975999887
So Why Go For React Native?
You must be asking yourself "Why React native"? "What's the point in investing time and money on something that is so complex?" Let us answer that:
It is known for best performance in the industry. It connects the native components of both iOS and Android, and generates the respective code

It allows customized code reusability. You can 90% of your native framework for reutilisation.

Provides a community driven technology, where you can freely contribute to the existing framework.

It is a cost effective solution for all developers. The reusability reduces the expense, where a developer can build both iOS and Android apps using a single framework.

The JavaScript enables a developer to build a friendly, easy to use UI/UX.
Similarly, countless reasons can be pointed out that encourages us to go for React Native.
What Does React Native Solve?
Advocating "learn once, write everywhere" method, RN has successfully solved some core issues that has been prevalent prior to its launch. This includes:
Iteration period

Imperative Programming

DIfferences In Codebase
Infact, a lot of developers across the world have reported that since the advent of React Native, "it has become much easier and faster to develop a good app that is customized for mobile phones". Offering instant reload and development cost reduction, it expands very JS developer's playground to a significant scale. According to many, React Native is "the only way to create a successful content based application"
Who Else Uses React Native?
A lot of entrepreneurs have followed this innovative footstep into developing world class applications that are both trending and unique. To name a few:
Facebook

Instagram

Bloomberg

Pinterest

Skype

Uber

Walmart

Tesla

Vogue

Wix
So What Are You Waiting For?
Where corporate giants like Tesla, Walmart, Bloomberg, etc trust React Native as the new age programming tool, there is no doubt that it has become the underlying framework, instrumental in delivering cutting edge solutions to the tech industry.
Also, when drawing individual comparisons with other tools, we saw React Native clearly gaining the upper hand in almost every aspect. It is the future of all upcoming applications, and you are on the right track in considering this as the preferred tool for your app.