Hi Again,
Feels like it's been a long time since I sat down to write! If you don't know me already, I'm Laura, a career changer at 29 who has just quit her job to attend General Assembly's immersive Software Engineering course.
I feel like there are a lot of unanswered questions and a bit of controversy around bootcamps so, with the permission of General Assembly (GA) I am going to share a detailed account of my journey through bootcamp, in the hope of giving you insight and help you decide whether or not bootcamp is for you.
So, Laura, what actually is a bootcamp?
Generally speaking, a "coding bootcamp" is an 8-16 week intensive full-time course that aims to teach you the skills required to be a Full Stack developer. There are also courses that focus on Front End, Back End, UI/UX too if that's something that interests you.
At the moment the majority of bootcamps are done remotely, you log into a zoom call everyday 9am – 5pm with your cohort and your tutor. There are more and more going back to in person classes if you'd prefer that structure.
But, how can you possibly learn Full Stack in 8-16 weeks?
It's important to note that almost all bootcamps reiterate that they won't be able to teach you the ins and outs of a language and that really you are undertaking the course to learn enough to break into the industry but also build a "growth mindset" for further learning on your own.
As we all know, a developer never stops learning, no one (no matter what they tell you) can know everything. A bootcamp sets you up with the right mindset, confidence and a process for picking up new languages/frameworks/libraries in the future.
Do I have to quit my job to attend a bootcamp?
No, most bootcamps offer a part time or flexible pathway but I personally chose a full-time course because I'm an impatient Irene and wanted to switch careers ASAP.
What will I actually learn at bootcamp?!
Bootcamps vary in what they teach but here is a summary of the subjects covered at some of the bootcamps I considered.
But, if I don't learn things fully, what's the point?
• You learn what's needed in industry and get a structured syllabus for your learning.
• You start to build a professional/support network
• You can see what pair programming is like without fear of judgement
• You build projects to boost your portfolio
• Bootcamps also offer career support, meaning alongside your academic program you work with a careers or outcomes team that help you with things like writing a CV, building your online presence, salary negotiation, acing the coding tests etc.
Ok, and how much are they going to fleece me for?
Bootcamp prices vary and I can't seem to find a rhyme or reason for it so here's a breakdown of the 5 I considered.
Please note these are just cost conversions from £ with rounding to show you equivalence to your currency and not necessarily how much a bootcamp would actually cost in these locations (except where indicated).
WOAH, that's a lot of money, do you get any help with funding?
Yes, different bootcamps have different funding options, these come in the form of:
Scholarships
Most offer a discount for groups that are currently underrepresented in the tech industry. I found scholarships by googling the school and "scholarship".
It's important to note that most scholarships offer a discount of around £1000 so they don't cover the total cost and they have eligibility criteria like having an annual salary below a certain level before joining bootcamp.
Loan
Almost all bootcamps offer a loan option, although be aware that if you're applying to a school in another country you are unlikely to be eligible for the loan that they accept.
In the UK a lot of the bootcamps use FutureFinance but the maximum loan value is £5000 and there are strict eligibility criteria and a credit check.
ISA/Pay it Forward
An increasingly popular option, especially in the USA & Canada, you enter into a payment agreement with the school where you pay nothing until you get your first job in tech and then you pay a portion of your salary back each pay period until a total is reached.
Well, Laura, you've clearly done your research and you picked GA, should I just do the same?
In short, no. I'd love to see you follow in my footsteps and help you out in any way I could, but you really need to pick the bootcamp that is going to be the best for you personally. I chose GA based on:
Syllabus
I like that GA syllabus aims to go beyond full-stack and teaches you ways of working within a tech team so you can really hit the ground running when you get your first job.
Cost
The GA course was middle of the range, I was ineligible for the finance and the scholarship and it was at the very top end of my budget, had a been in a less fortunate position, I may have struggled to undertake the GA course.
Next course start date
After months of umming and arring, I made my decision and I wanted to get onto a course starting ASAP, GA had the earliest start date and were still accepting applications to their September cohort.
Entry challenges
I'll go into this in more detail below, but GA was only of the only entry challenges that really expected zero knowledge and took you through HTML/CSS/JQuery/JS basics in a fun an interactive way to pass.
Location/Time Zone
I was accepted into Flatiron School originally, but their London branch has closed due COVID and their lessons are now all on New York time which I didn't think would be manageable even for a relatively short period.
Delivery option
I really like learning remotely and if I had been attending a full time bootcamp I would have had to factor accommodation costs in so in the end I felt like remote was the only way to go but I know other people who can't stand the remote model.
Ok, I'll do some research 🙄 so, tell me about the application process…
Almost all bootcamps have the same application process, you submit an application form or make an enquiry, you have a telephone chat with the admissions team, complete some entry challenges, have an interview and then you're in!
With GA I organised a call on the 16th August with the "Admissions Producer" for London Beverly Matomene (her contact details are included below in case you have any GA specific questions). During the 30-minute call Beverly asked about my motivations for applying, about my background and where I was at with my learning.
At this point I still wasn't sure bootcamp was the right step for me so I told Beverly I would have a think and get back to her. On the 25th August, I emailed Beverly to tell her I was still unsure and decided not to proceed.
Then on the 1st September I emailed Beverly to say I'd changed my mind and would love to be included in the next cohort, luckily there was still space on the cohort starting 21st September as long as I could complete my entry challenges by Thursday 3rd in order to interview on Friday 4th.
The Entry Challenge
The entry tasks consisted of 3 parts:
An application form
Don't sleep on your application form, it's an opportunity to tell the school why you will be good a student, why you are passionate about programming/development and how you plan to use your education in the future (hint – they prefer it if you actually want to go into the tech industry).
4 coding challenges
See more information below
An "outcomes" questionnaire
An opportunity for you to explain in more detail what you hope to gain out of the careers side of the program. The first question asks for you "dream" role, you then break it down into things you are looking for. You are also tasked with finding jobs currently advertised in your city of choice and that you think you will be capable of once you complete the bootcamp, finding relevant jobs boards and finding tech meetups in your area to attend during/after the course.
The Coding Challenge for GA
GA use a web app called Dash for 3 out of the 4 coding challenges and CodePen for the final challenge. They've given me permission to share some screenshots with you – as long as you promise not to peak at my answers 🤫 👀
So, when you first get into Dash you are presented with 5 challenges. You have to complete the first 3 in order to get into GA.
Here's a closer look at the first challenge:
Once you click on a green numbered section, you are taken to an online code editor with instructions and a viewing pane.
You work your way through the lesson slide show in the top left. In this particular lesson you go through HTML basics before moving onto a little CSS. Every so often you reach "checkpoint" panes that look like this:
By the end of the lesson you build a mock webpage, in this instance, you build this a profile for Anna.
It's then your turn to wow and create your own version of what you have been building.
You also have to ensure the page is responsive and can toggle between desktop and mobile views using the button in the top-right hand corner.
As you work through the lessons you learn more complex HTML, CSS and then they introduce JQuery/JavaScript. The two other exercises are:
A Blog Site
A Business Website
Originally, I submitted 3 pages that looked very similar to those that I had built in the lessons just with different fonts, colours and images but then I reread Beverly's email which said:
"…Be creative & daring with your submission. We want to see evidence of your current ability and learning."
I ended up redoing challenges 2 & 3 to be more creative, I made sure to include CSS Grid, Flexbox and some CSS art. If you are applying to GA or indeed any bootcamp, don't just do the bare minimum, show 'em what you got!
Also, important to note, at interview, you are expected to explain your code and why you chose to do things in a certain way so make sure you don't just throw it together and hope for the best.
Challenge number 4 was a little different, you are asked to fork this CodePen:
You then have to amend the JavaScript so that when the "slow" button is clicked, the light turns yellow instead of purple and also add in the JavaScript required to make the Go button and light function.
The CodePen already has the majority of code you need. If you've followed the Dash lessons closely and have a small understanding of JavaScript you should have no problem in completing this challenge.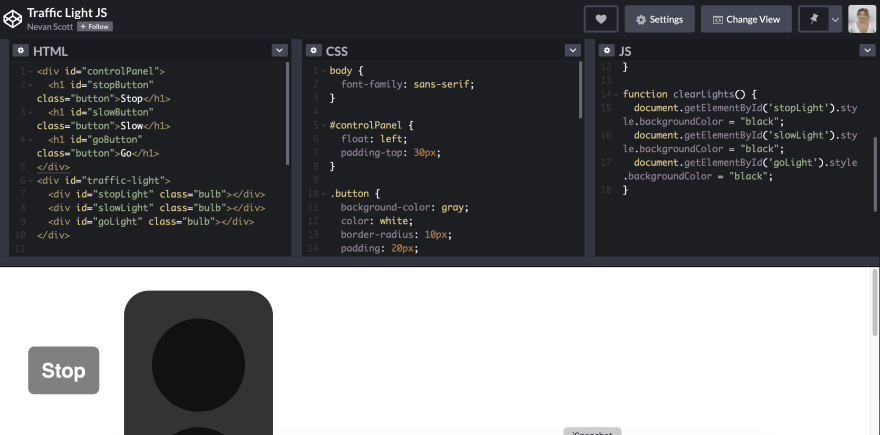 The Interview
Once you've submitted your work and it's been reviewed you are invited to a 1-hour interview with the admissions teams.
In the interview they ask you to "present" your solutions, I was terrible at this! I had never reviewed my own code, I started explaining the design elements and then had to be reminded to focus on the code itself.
There are a few simple questions about HTML & CSS and what you picked up from the challenges but other than that, it's a relatively stress-free process.
So, what makes GA different?
GA and Flatiron are the only two schools that seemed to assume zero knowledge and not require a lot of challenging work just to gain entry. Here's what you have to do for other schools…
Makers
Application Form
Phone Call
Complete lessons 1-10 of the "Ruby Track" on Codecademy
Complete a "Learn Ruby in 15 Minutes" guide
Reach 100 points on CodeWars using Ruby
An interview pair programming session in Ruby to test your knowledge There are 4-5 Ruby challenges to complete during this session
Flatiron
Application Form
Use a platform like Dash called Learn IDE to work through HTML, CSS and JavaScript basics, you can access this course without enrolling with the school once you get to a certain point it flashes up to tell you you'd be a good candidate for bootcamp (I think it's when you get past the first couple of JavaScript lessons).
Interview with Admissions Team
Note: the Flatiron course is actually really good for learning JavaScript concepts and is completely free, you can try it out here: https://flatironschool.com/free-courses/coding-bootcamp-prep
Northcoders
Application Form
Sign up to freeCodeCamp
Work through the JavaScript Basics section on FCC
Work through the Debugging & Basic Data Structures sections on FCC
Sign up to CodeWars
Complete 20 JavaScript Katas on CodeWars
Complete 5 slightly harder JavaScript Katas
Coding Test & Interview
DevelopMe
Sorry, can't remember but you obviously have to work through some coding material.
In the instances where I was expected to learn a language in order to partake in an entry challenge, I felt kind of cheated, like I was teaching myself the things I wanted the bootcamp to teach me which I found a little bit off putting.
I understand why they do it, obviously to prove you are committed and have the ability to learn but imagine being someone who had never written a line of code being asked to look at JavaScript basics – the poor sod!
Conclusion
Applying to bootcamp doesn't need to be a daunting process. My advice for getting started:
Write a list of what you want to get out of bootcamp and also a list of things you don't want in a bootcamp i.e. remote or teaches Python.

Check Course Report for the best coding bootcamps in your country
https://www.coursereport.com/best-coding-bootcamps

Make an excel spreadsheet to compare between 3 & 5 options – remember you might not get into your first choice so up to you whether you'd like to try another school or try again to the same school at a later date.

From your 3-5 choices look for their alumni on Twitter & LinkedIn to see where they are at now. Also connect with current students, ask how they're enjoying it.

If you've got any questions, pick up the phone and speak to the admissions team, they are there to help you make the right choice not just get your money.

Make sure you apply within plenty of time (yeah…I didn't do this but it's definitely the sensible option). Some entry work can take 100s of hours to get through so just make sure you give yourself the time to learn and prepare.
I will update this series as I go through my course which I hope will give you some idea of what bootcamp is actually like. If you have any questions that aren't covered, reach out to me on Twitter - @lauracharvey .
Or if you have any GA related questions you can contact Beverly Matomene beverly.matomene@generalassemb.ly.