Does starting a community help me become a better developer?
The simple answer is yes.
A lot.
I learn to program by becoming part of a community.
Back in 2015, I started a local Ruby on Rails meetup to learn about web development.
I knew that the best way to become a developer was by surrounding myself with like-minded people. And since there was no Ruby on Rails meetup in my city, I decided to start one.
I launch a Meetup page, set a date and invited local devs to give lightning talks.
Boom! The meetup grew after a couple of reunions. It excited my expectations by far.
After 14 monthly meetups, 346 members, and 41 pizzas my initial thesis was correct. That by building a community and creating value for others, I could also benefit from it.
It helped me to become a developer.
Having a community like-minded people would keep me motivated when I felt frustrated. It helped me to fast-track my education by having access to mentors and resources. And of course, I also made lots of friends. 🤗
Can this be applied to other things you want to learn?
Yes.
Forward to today, I have decided to start working remotely.
Figuring out remote work is a challenge. I still have a lot of things to figure out, like:
How can I start, or join a startup working remotely?
How can I get freelance jobs remotely?
How can standout as a remote developer?
How can I get more done throughout my day, as a remote worker?
Or how can I meet other people who work remotely?
But I have decided, that I don't have to be alone in my journey to learn how to work remotely. So, once again I'm putting my thesis to the test!
That the best way to learn anything is by becoming or starting a community.
So, I have taken the decision to start RemoteEngineers.IO.
What's RemoteEngineers.IO?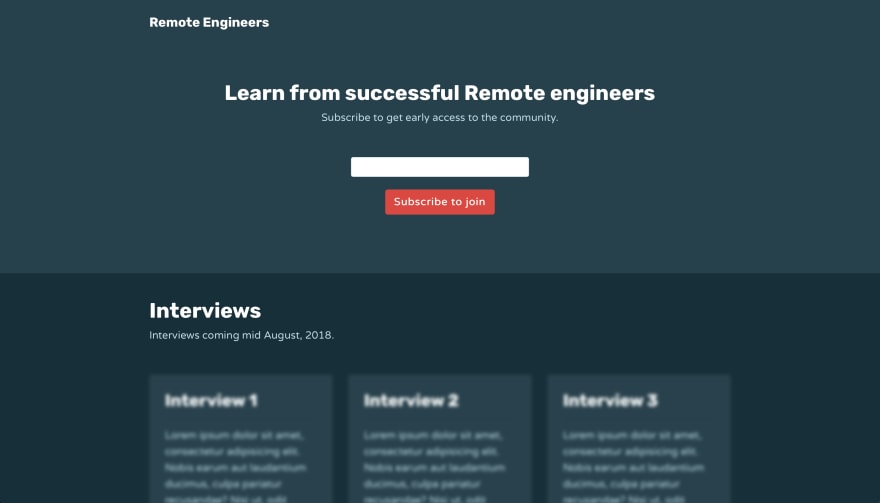 RemoteEngineers.IO is a place where developers learn and share insights of remote work.
We will start by publishing weekly interviews with successful remote engineers.
What's the goal of RemoteEngineer.IO?
My goal is for RemoteEngineers.IO to be a source of inspiration, education, and community for remote developers.
How can join RemoteEngineer.io?
For now, we have set up a newsletter. Don't worry, we will only send you the interviews that we will be publishing.
Hopefully, in the future, we will have other ways to talk and collaborate. As I have learned, community engagement will bring value to everyone.
Let me know what you think.
And hopefully you can join me in building this community. 😄🤓
Did you find this post useful? Show some love!
DISCUSSION (6)
Classic DEV Post from Jul 30
Follow
@aershov24
to see more of their posts in your feed.