Even if you are a freelancer, employee or have your own business, we all know the struggles of having to look for good quality images that you can find online for free.
I've done a bit of research and compiled a list of great websites out there where you can get free images. Some of them have nice tools such as the option to search based on a color that you'd like to have on your image or a search based on current events that happened recently.
On some others you can subscribe to their paid membership and get exclusive stock or subscribe to the free newsletter and every week you'll get the newest stocks added to the website. And on most of them you'll be able to contact a photographer if you have a project that needs 100% exclusivity.
Either way I believe that the following websites will make your life easier without hurting your wallet.
---
1. Pexels

Link: https://www.pexels.com/
"The best free stock photos & videos shared by talented creators" – as they describe themselves, pexels.com is a website full of high quality and free stocks for you to use for your own purpose.
It has a search button where you can type in what you're looking for and you'll get a series of photos related to that key word. The download process is simple and fast. When you found something that you like you just click on the download button placed on the bottom right of the image.
Also a cool feature they have implemented is that you can see more images uploaded by the same person, so if you like someone's style you can just browse more based on that persons uploads. Just move your mouse on the image that you like and you'll see the name of the artist, click on their name and you'll find all the images they uploaded it as well as some collections that they have created.
There is no attribution required and they encourage the users to edit the pictures however they like as long as they don't make it in an offensive way. Although all images are free after you download something, you have the possibility to donate some money to the artist that took the picture.
---
2. Unsplash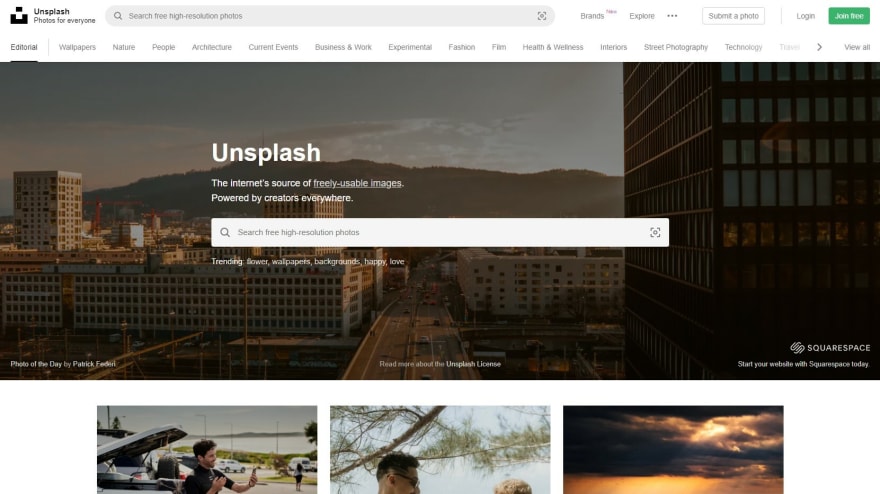 Link: https://unsplash.com/
"The internet's source of freely-usable images" - Unsplash is a great website for downloading high-resolution photos.
You have the option to search based on a keyword or just browse through the categories that they have provided in case you don't know exactly what you're looking for. Also they give you a few words that are trending at the moment.
Just under the search bar you'll find all the categories that they have and the "Current Events" category catch my eye. If you're looking for images from events that happened recently you might find them here and you can use them without worries.
If you like the work of some of the photographers, you can find more of their art by clicking on the name of the artist. Some of them might have written underneath "available for hire" so if you want some specific images from that person you can contact him and start a collaboration.
---
3. Burst by Shopify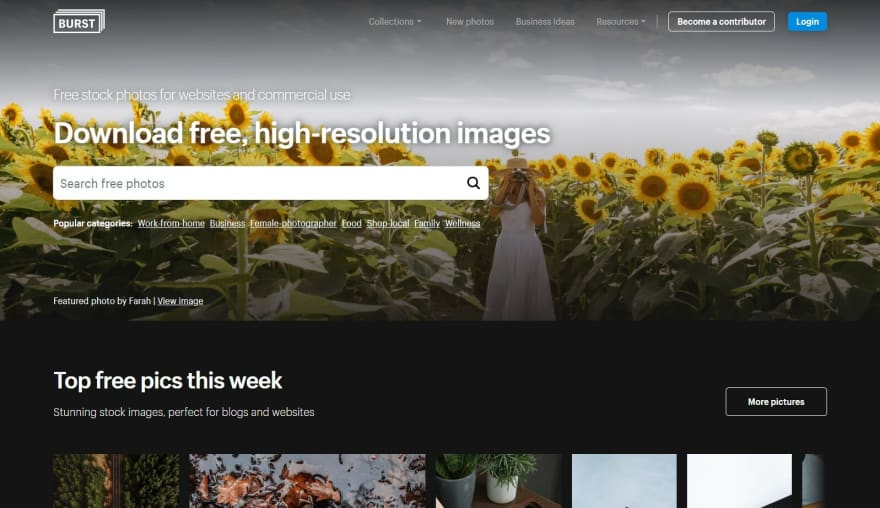 Link: https://burst.shopify.com/
Burst is a platform made by Shopify in order to help entrepreneurs, developers, designers and bloggers with free stock photos for just about anything.
You have different ways to search for the desired image. You have a search bar where you can type in what you're looking for, you have a "popular categories" button where you'll see all the categories in trending at the moment and you have a collections button where you get a wide range of categories from animals to technology to education.
There are two options available when you download your free stock – high resolution and low resolution. Depending on what you need you can choose what suites you best.
Because Burst is created by Shopify, they have a "Business idea" category where you can find a top of online businesses in trending. If you're lucky to find the specific category you're looking for you'll get an article with various info about the business but as well a photo kit that you can download only by introducing your email.
---
4. Pixabay

Link: https://pixabay.com/
"Stunning free images & royalty free stocks" - Pixabay is yet another website with stunning images for you to use.
The download process is simple, you just click on the image that you like and when you press the download button, you'll get to choose what kind of resolution you'd like. On Pixabay you can also find free videos, illustrations, vectors and music.
When you search for a certain category, the first line of images will be the sponsored ones where you can either pay per pictures or get a monthly subscription. Depending on what you need, you'll get plenty of high quality free stocks as well as paid ones.
Their license is simple, you can use the free stocks and modify them as you like, as long as you don't redistribute or sell them and you don't use it in an offensive way.
---
5. Freepik

Link: https://www.freepik.com/
Freepik.com is a great website where you can get free photos, vectors and icons.
It is easy and intuitive to download a picture. You can search for the photo you want through the search bar or through their collections. In order to download your desired picture just click on it and then you'll find the download button.
Freepik.com offers a variety of photos free of charge but it requires attribution in order to use them for a commercial or noncommercial purpose. You can also choose the premium subscription which for 7.50€/month gives you access to millions of premium stocks as well as no attribution required.
Depending on what you need freepick.com can be a great free resource for your projects.
---
6. Kaboompics

Link: https://kaboompics.com/
"Let's find the perfect photo for you" - kaboompics is a very nicely done website. It's super easy to use and very clean and it gives you a nice feeling that everything is organized and in place.
You have a search bar where you can type in what you're looking for and the coolest thing, you can select a color. So if you want it to be more with green or black or a few more colors, you can select one and you'll get the images that have that main color.
You can also search by orientation – horizontal or vertical and you can choose if you want to see all photos or just the photoshoots regarding that keyword that you need. You can see what are the most or least downloaded photos, the newest and the oldest. Depending on what you're going for I'm pretty sure you'll find these tools useful.
All images can be used for commercial and noncommercial use with no attribution required.
---
7. Stocksnap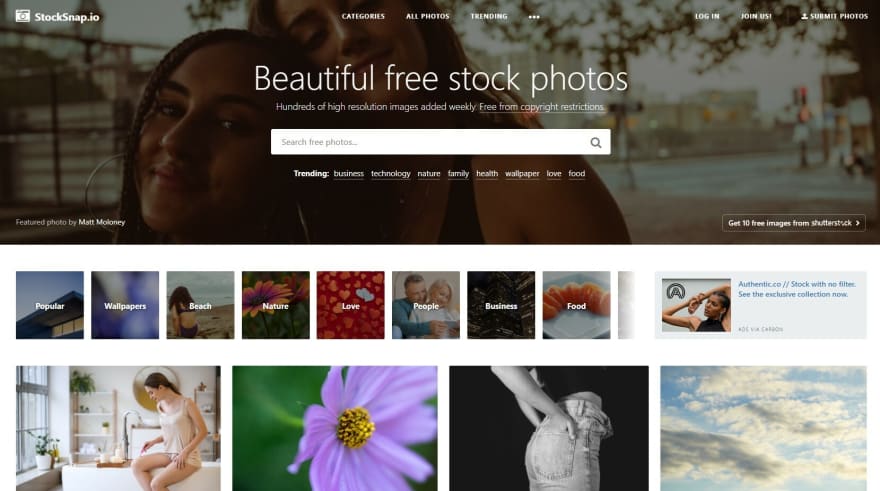 Link: https://stocksnap.io/
"Hundreds of high resolution images added weekly" - stocksnap is a great website to look for nice looking colorful images.
They have images from business to nature to anything you can think of. They have a large variety and you can see what are the trending words at that moment. You can also search by categories or just by typing your word in the search bar.
When you choose a category, let's say "City", beside the option to look for images related to the city category, you can go even deeper and check for urban, architecture or buildings within the city category which I think will give you more specific results to what you're looking for.
As for the license, you can use the images for your personal and commercial use free of any charge.
---
8. Life Of Pix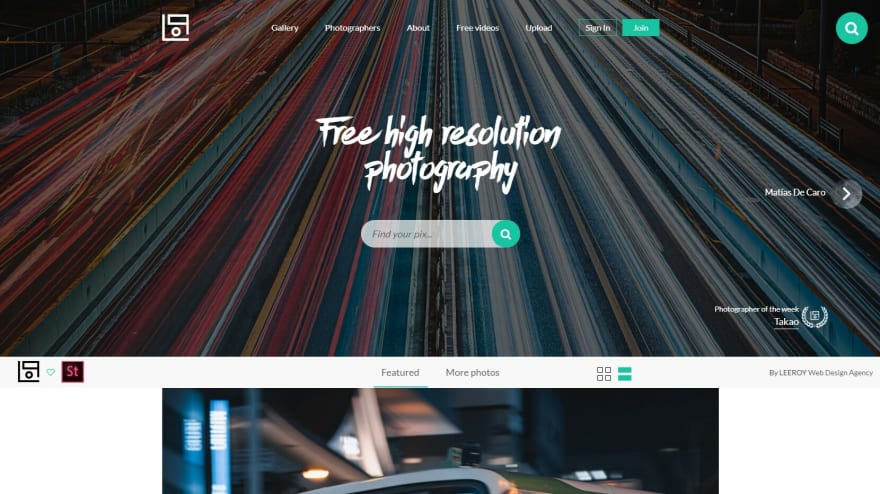 Link: https://www.lifeofpix.com/
"Free high resolution photography" – Life of Pix is a free website where you can find images as well as free videos, clips and loops.
The website has a bit of a futuristic look and it's easy to navigate and download the images. No need to log in or do anything else except to press the download button when you found the right image for you.
They have a button where you can search photos based on the photographer so if you have a favorite one you can just look it up on the "Photographers" section. Although it has quite a few images, there are websites that have a greater variety than Life of pix.
---
9. Picjumbo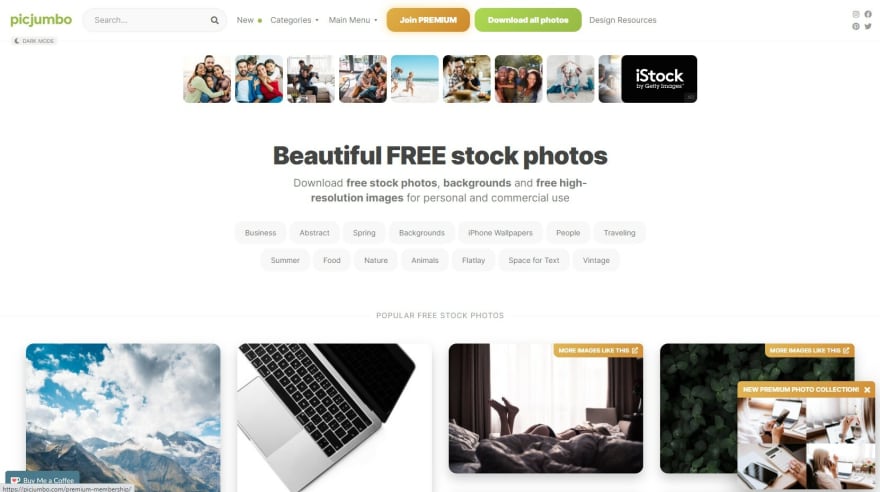 Link: https://picjumbo.com/
"Download free stock photos, backgrounds and free high-resolution images for personal and commercial use" – Picjumbo is a great website for free and as well for paid images.
On Picjumbo you have two options for the free stock. You can either search the picture that you need and downloaded it or you could subscribe to their newsletter and every week you'll get the new stocks added in your mailbox.
Depending on what you're looking for, you can also join the premium membership, where for 49$/month you can access thousands of exclusive stocks with more added every month.
They also have an affiliate program so if you have a place where you can put your affiliate link you'll get 40% of both the initial sale and the recurring payments.
---
10. Freeimages

Link: https://www.freeimages.com/
"Find free stock images, ready for your projects", Freeimages is a nice intuitive website for well, free images.
Here you will find easy to download images with various resolutions that you can use without worry for your personal or commercial use. You have a search bar where you can type in the keyword you're interested in or you can look at the newest photos added or the popular ones. You also have a wide range of collections or if you're interested you can take a look at "Editor's picks".
Freeimages has a section called "camera" where you can see what kind of photos have been taken with different cameras. Just click on the camera button and see what pictures have been taken with it.
On this website as well as on the other ones you can see more work of a certain photographer if you're interested in. You can click on their profile where they'll have a little description and more of their work and also a place to message them in case you want to contact/thank them.
Do you use a good free images website that should be on the list? Please leave your recommendation in the comments below. Thanks!
---
Conclusion
Overall I find these websites very useful. If you are just starting a business or a side hustle such as a blog or you are already in the market for quite some time, I am sure you'll find what you're looking for.
If you want exclusivity you can contact photographers on most of the websites and work on separate projects with them or you can just subscribe to the premium memberships offered by some of these websites and get more exclusive images than you'd get with the free ones.