During these times, wouldn't it be nice to improve your skills while simply taking an online course?
But do these courses actually work?
I've asked Reddit and it turns out that they do surprisingly
well.
So today you'll find the best web development course for 2021, according to Reddit.
---
Where to find online courses
From the first view, it seems like udemy is the way to go if you want to improve your programming skills.
Udemy offers a pretty big range of online courses for almost anything. The web development courses however are especially good.
Some instructors offer web development courses on their own platform. We will go into that later on.
First, here are the winners upfront:
Web Developer Bootcamp
While searching for the best web developer courses in 2021 I've found this pretty useful answer.
Just look at the upvotes.
So as it seems there is this Web Developer Bootcamp course which is recommended by almost every post on Reddit.
I mean it's crazy. You'll find it everywhere. You can open up a random post about web development courses and most of the time you'll see something like this: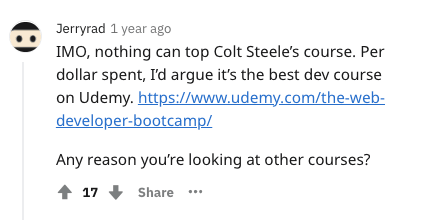 or this:
So let's take a look at this course. (I've actually done it myself so you can read my opinion in the end).
This web dev course is actually insane when you look at the stats.
60 hours of video-on-demand.
It was last updated in March 2021.
Over half a million students are enrolled.
This course has an overall rating of 4.7.
So as it seems, people really enjoy this course.
The reason is simple.
As you can see when looking at the hours, this course is TREMENDOUSLY big. Which means you'll get a lot for your money.
And that's not it. You'll also going to learn quite a bit.
Colt has a great style of teaching. Every time you think you stuck, he suddenly takes the weird parts and explains them very well.
There were a few users that said this course doesn't get enough updates, however as of now, the course was updated in March 2021.
I had a lot of fun doing that course.
No matter if an older Bootstrap version is being used, the concepts doesn't change and I think it's a great resource for everyone who wants to get into web development.
Best Web Dev Course for beginners
Number two is a course by Angela Yu.
This course is also recommended by Reddit's web development community.
How do the stats look like for this course?
Pretty good as well.
Over 380 thousand students enrolled.
54.5 hours of video-on-demand.
It also has a total rating of 4,7.
No matter if you check Reddit, quora, or another web development community. These two courses are HUGE.
People in the comments say that this course is pretty much for everyone. No matter if it's your first course or if you want to refresh some stuff.
Web Development can be tricky but Angela explains it very well.
Look at this Reddit review:
Wes Bos
Now if you check out Reddit for web development courses you'll inevitably come across courses from Web Bos.
Look at this:
The reason is simple. Wes does a lot of Web Development courses and he's one of the funniest guys doing this.
His courses include projects, but he also goes through the basics step by step.
Which is awesome, because you can use these videos as a reference later on when you might need to refresh your memory.
Wes offers a lot of different courses, some of them free. Here are the current courses by Wes Bos:
A total recommendation!
My review?
Since I am completely self-learned I did these courses myself.
And I can tell you they are SURPRISINGLY easy to follow.
Even if you already develop pages, it's simply fun to recreate these projects on your own.
BTW, if you want to read an in-depth review, check out my post about Reddit's web development courses right here.
Also, make sure to check out Reddit's current VPN recommendations
That's it!
Let me know if you have any questions.