In this article, I'll walk you through the comparison of OTT platforms in terms of features, business models, customization, pricing strategy, industry sector and customer reviews. It will be helpful to short list OTT platform providers for your business.
The rise of over-the-top platform development has proved to be a greater boon for all of us than ever before. The significant emergence of OTT streaming platform trends have been welcomed by people & have astonishing results, specially at the time of lockdown series & during new normalcy.
Thanks to the best OTT providers who bring immersive videos to content-hungry audiences, especially in the virtual world where internet connectivity binds everyone together via a single unified platform.
It is said that in next 4 to 5 years the OTT landscape is projected to get highly competitive & every kind of OTT solutions would emerge as a preferable choice strongly opted amongst customers.
Furthermore, to understand if there is a lucrative scope for elevating your over-the-top or OTT business this fact would help you:
"OTT users who are based in the US have been observed with the increased video consumption per day in 2021 & they wish to replace it over traditional media entertainment like television."
Moreover, along with consumers even the advertisers who tie up with top OTT platforms find it very convenient & satisfied. "
Source: Statista
With these insights, you can get a fair idea that the best OTT platforms have begun to create a susceptible difference in the entertainment & video business market. And, they have come here to stay with the emerging trendsetters..
Of course there are a huge number of platform providers in this fashionable market.. Therefore you can have a little bit of difficulty in choosing your right video streaming platform and its added content management needs.
To answer that,
This article consisting of 12 finest OTT video platforms will give you an overview with best streaks offered in each of them, for you to choose white label streaming solution.
Table of Content:
Check out the list of top OTT platforms with its features
1. VPlayed - OTT Platform Provider
VPlayed's OTT platform is completely customizable & has varied capability to handle any live or video on demand needs. It enables media promoters, entertainment services, cable operators, production houses, content owners, and others to build a whitelabel OTT video monetization platform that extends the reach for millions of users. They can have crystal-quality video content delivery that can be accessed across many devices like Web, Android, SmartTV, etc
Here are some other striking features:
The streaming providers of OTT can build your online video platform in a personalized way under your brand's objectives, logo, features, etc to completely self host it.

Now easily handle your complete content library management with functionalities like bulk upload, video scheduling, subtitling, and much more.

Transcode with compressed video files after encoding process which is created with multiple renditions, differently-sized for quality streams using OTT solution

Strengthen your every content by consistently equipping your top-ranked Over-The-Top serviced platform with multiple monetization models like SVOD, TVOD, AVOD, Catchup TV, etc.
VPlayed takes care of your pivotal section of your content, i.e. security. You can furnish best practices of streaming content with OTT software having authorized protocols.
Some of the popular industry niches expertise who could leverage via VPlayed are:
Media Owners, Broadcasters
Filmmakers, Production houses
Curriculum experts, E Learning tutors
Fitness Professionals, Yoga Practitioners
Spiritual Leaders, Faith Followers
Sports Spokesperson, Active Athlete Fans
Kids Edutainers, Youtubers
Enterprise businesses, Corporators
These are just a few examples who can create their own OTT platform having nil barriers...
IBM Watson Media is a strong OTT app development provider that allows you to manage and monetize your platform while simultaneously streaming content across all devices. This fantastic OTT TV platform can be used by a wide spectrum of producers, marketers, and enterprises. While it is suitable for enterprise use, it is also suitable for most creators and small SaaS enterprises.
Take a look at some more superlative features for you to truly create an OTT app in future
Manages the distribution of OTT video delivery and live TV programming
Infrastructure that is reliable for delivering OTT content all around the world
Polling in real time & clickable video overlays
Password protection protocol and channel customization
HD transcoding via a variety of bandwidth connections
3. Contus VPlay - OTT Solution Provider
Contus VPlay is a leading white label OTT solution that you can use to start your very own Over-The-Top based app platform on any medium if you're a business owner. It is an ideal single point for many of them who want to take your content originals to the next level, having a larger customer base worldwide. Contus VPlay OTT solution providers facilitate you with 150+ streaming features & 6+ monetization models and give end-to-end content protection
Here are some noteworthy features:
Explore vivid revenue shaping methods such as SVOD, AVOD, TVOD, Catch Up TV, Coupons & Promotions, etc for maintaining a consistent cash flow month after month.

Some of the embedded tools for active video promotions assist you with appropriate popularization of your content paired with articles, lead capture forms, social publishing, etc.

Contus VPlay's OTT video solution allows you to keep a safe watch on your streaming material inputs with AES Encryption, Dynamic Watermarks, Paywall Integration, MultiDRM, etc.

PWA technology allows you to target customers on the web and in native apps. The whitelabel OTT solution provides you with the power of your streaming content instantly.

With an array of viewing formats you can flexibly stream your videos and make it compatible in MPEG-2, AV1, H.264 etc.
Contus VPlay can be used to harness the expertise of some well-known industrial specialties, such as:
Education Tutors
Corporate leaders
Sport Entities
Content Marketers
Media Houses
Channel Distributors
Religious Spokesperson
4. JW Player - OTT App Development
JW Player is another powerful OTT platform that allows you to distribute high-quality video content to your audience faster and in a smaller size to any device. An essential aspect of JW Player's recommendation engine not to be forgotten is its fine-tuned tool presents the most entertaining and relevant material to your viewers in real-time.
The following are major and write-down features:
JW Player facilitates its users with advanced CDN streaming globally
It distributes videos using multi bitrate & adaptive streaming technologies
It's easy-to-use platform that highlights comprehensiveness via self-navigation
Stays supportive with regards to any technical guidance & grievances
They provide Video API access which is likely supportive to all plans
5. Dacast - White label OTT Platform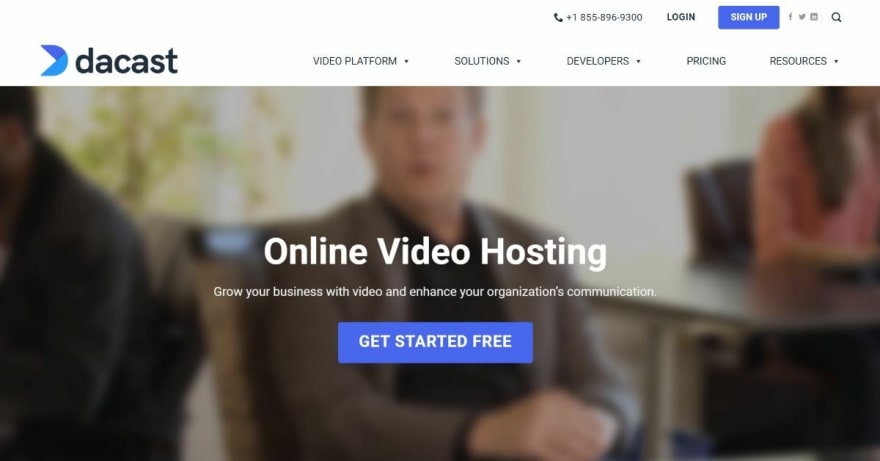 Dacast is a multi-OTT app platform builder that supports both VOD and live streaming. It has a wide range of powerful capabilities that are ideal for professional broadcasters. This password-protected video streaming platform makes it simple to safely transmit video material to several audiences & broadcast it flexibly all over the world. If you are planning to build an OTT streaming app then, Dacast has many choices for you.
Significant & picture perfect breakdown features are:
Get the liberty of monetization tools like SVOD, AVOD, & TVOD (Pay-Per-View)
Take complete charge over your streaming brand and whitelabel your content
Bring-in zonn live streaming integration for premium business collaboration
Provide live encoding support system within your OTT video software
Use HTML5 video player for streaming videos with low latency
6. Wowza - OTT Video Platform

Wowza is a full-featured OTT streaming solution that enables you to create dependable, scalable, and adaptable solutions for a variety of industries. It provides an interactive live streaming experience with technologies having third-party integrations, APIs & advanced capabilities. The platform's drawback is that it doesn't permit video monetization, which makes it ideal for internal business use.
Some of its noteworthy features that you could facilitate your audience with:
Cloud video streaming services with closed caption integration
Whitelabel player with multilevel security
Ultra HD (4K) streams with adaptive streaming technology
Instant live OTT app streaming powered with high quality
Virtual Reality & 360 degree streaming
7. Vimeo OTT - OTT Software Solution

Vimeo is one among the persistent OVP industry players who has been around since 2004. Vimeo has its offering in OTT too & will be the appropriate choice if you're seeking for a dynamic industry name. This platform is popular for subscription-based services and its user-friendly CMS makes the process even easier.
Simulcasting & multicasting support
Centralized dashboard to manage your content
Real-time analytics with engagement tools
Free Migration with no downtime
Various set of monetization options
8. Brightcove - Scalable Video Streaming Solution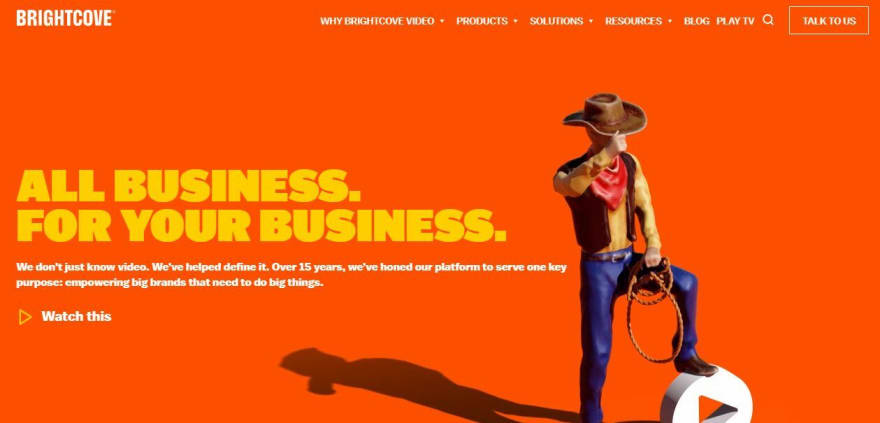 Brightcove, was founded in Boston, is regarded as one of the first OTT solution providers, specializing in cloud encoding, live streaming, and VOD (video on demand) hosting. With the most comprehensive video tool set available, Brightcove makes video transmission to any destination and device simple. You'll be able to launch more quickly, deliver better experiences, and grow more quickly.
Take a look at these reasons to use Brightcove's video streaming platform.
Video toolkit that assists you to stream in its entirety
Video content management that is precisely organized
Analytic reports for understanding user-preferences in-depth
Marketing automation with unmatched video marketing suite
Customer service personnel with CRM integration
Top-tier Frameworks for advanced security
Various Monetization Options for every industry
Industries supported by Brighcove:
Media and Broadcasters
Marketers
Arts & Entertainment
Publishers
Internal Comms
Retail & Ecommerce
Sports
Brightcove Pricing:
Brightcove offers video solutions for your business for general and specific categories. Platform prices are split into two divisions which are further broken into Starter, Professional and Enterprise types. You can get a quote for marketing and enterprise solutions by contacting them via Brightcove Pricing.
9. Vidmind - Innovative OTT Video Platform

Vidmind makes it simple to start a white-labeled online video and TV service with targeted markets, at any device and stream controls. All of these can be bought with bundled video subscription packages inclusive of video advertising. Vidmind believes in delivering the kind of best online video platforms that is essentially managed all in one, taking your upscaling worries & lets you to focus on business development.
Let's see some of its result-driven features:
One stop shop for all your streaming needs
You can create own whitelabel OTT service
Flexibility given for various business models
Streamed across multi-devices like Web, Android, iOS
Advanced personalization for TV functionality
DRM for premium streaming content, service packaging
Industries supported by Vidmind:
Entertainment (Showbiz)
Education Sector
Sports
Telecommunications
Advertising
Vidmind Pricing:
Vidmind pricing factors are provided country-based. For the most up-to-date pricing. please contact Vidmind
10. Streann - Award-winning digital OTT broadcasting platform

Streann facilitates you to stream live broadcasts at multiple destinations using its robust and efficient streann's software. They are catered to multiple destinations at the same time such as Facebook-live, Periscope, Twitter and more. With a wide range of features they help broadcasters to engage your audience with real-time chat apps and foster effective communication in chats while viewers watch any content of yours.
Here are some of its enticing features:
Over-The-Top Video Streaming
Live & on-demand video hosting
High Engagement via creation of polls
Gamify HQ content through trivia games
Create & Schedule Notifications
Best revenue-generating models
Industries supported by Streann:
Media Broadcasting
Radio Industry
Cable Television
Sports
Religious
Streann Pricing:
Streann offers two variations of OTT broadcasting pricing plans, which are as follows:
Professional: Starting at $1,995 per month.
Premium: Premium plans are taylor-made according to TV-quality streaming and then prices are set accordingly.
11. Yondo - Turnkey Solutions For Live & On Demand Videos

Yondo is a one-stop streaming solution for selling million+ on demand videos online, content monetization through webinars, personalized online group classes, and live 1-on-1 video consultations. They help you to instantly create and monetize your valuable content with your very own digital streaming marketplace platform, were you get a chance to collaborate with vendors to sell their media services.
Grab some of its top-watched high tech features:
Deliver plans like free watch or pay-to-view VODs
Book & Perform live 1-to-1 sessions all by yourself
Offer paid or free webinars upto 1000 attendees
Prebuilt online store to skyhigh revenue scale
Automated payment gateway with integrations

Integrate custom templates to your website

Industries supported by Yondo:*

Teaching

Fitness

Consulting

Medical

Video Industry
Yondo Pricing:
Yondo offers its customers with selective monetization plans to kickstart your streaming journey. They are:
Premium plans: $349 Per Month (Paid Annually)
Professional plans: $139 Per Month (Paid Annually)
Starter plans: $69 Per Month (Paid Annually)
12. Vodlix - An Ultimate Streaming & Monetization Solution

Vodlix was founded in the year 2019 and assists its clients with super-grade television video streaming. It has integrated pioneer verticals like enterprise video solution, encoding with transcoding technology and lot's more. They fuel your monetization ventures by building customized on-brand streaming experience in the real-time for large audiences and empower content owners, service providers, mobile operators, etc.
Some of the striking features are as follows:
White-label video streaming
Mobile streaming app development
A powerful video content management system
Customizable video player
Secure Video encryption
Metadata administration
Subtitles with paywall integration
Industries supported by Vodlix:
Vodlix Pricing
Vodlix offers several pricing options, including:
Regular: $411.55 per month
$1650.34/month for professionals
$4127.91/month for Enterprise
Vodlix bills are denominated in British pounds, but the rates shown above reflect conversions to USD in July 2021.
To Sum Up:
On a worldwide scale, OTT platforms can help you reach a larger target audience. So, if you're a professional marketer, a fitness trainer, or a business owner looking to use the best OTT platforms to reach your objectives, this list should come in handy.
Based on all of the OTT platforms on this list you can provide some fundamental capabilities as well as a few unique features that you'll need to create your own content.
PS: We'll be releasing a variety of techy sound updates, industry review pieces, and other fascinating content in the near future, so stay tuned!
Frequently Asked Questions (FAQs)
1. What is an OTT Platform?
OTT acronym stands for Over-the-Top and it explains the new delivery method of film & TV content over wireless internet through video platforms. The major aspect of this streamline is there is no need to depend on traditional broadcast media which is provided via cable operators or satellite pay-tv providers as your users can stream across multiple devices/platforms at any time.
2. How OTT Platform Works?
The web-based technologies that are leveraged from an OTT solution make use of securely to broadcast video files stored on a server over an unpredictable network with fluctuating bandwidth. Content that has been pre-recorded is kept on Content Delivery Networks (CDNs) spread online. When a user chooses a video to watch, a request is sent to the local CDN for a manifest file.
3. Difference between VOD & OTT Platform?
This is due to the fact that OTT refers to the distribution model (video content provided over the internet), while VOD refers to the consumption paradigm (video content that can be played back on demand). Additionally, OTT video solutions are concerned with consumer-facing media services, whereas VOD is concerned with all industries and sectors. Finally, VOD is never live, but can be converted though.
4. How to Create White label OTT Platform For the Video Business?
Create a completely tailor-made white label OTT solution and grow your brand exposure at your own cost instead of hiring an in-house development team with a constant support system. By adding unique feature-rich functionalities, branded video player, owning monetization models in the streaming world, you can broadcast your content without removing your brand's logo or links that lead back to provider's page.
5. What are the Benefits of OTT Streaming Platform/App?
Consumers can choose to watch between prospective subscriptions or advertising during an imminent content break through several OTT solution providers. As a result, the consumer feels more engaged, and gives the opportunity to video businesses to communicate their message which has a better chance of landing. Content producers can earn quick ROI by using data-driven targeting in the internet realm.
6. How to generate revenue from the OTT video platform?
To earn more established revenue models with popular alternatives for OTT streaming solutions, you can have the best of all or a combination of monetization models. OTT models with many tiers, such as SVOD, AVOD, TVOD, SSAI, Coupons & Promotions, and so on, can provide you with a few fresh possibilities that are becoming increasingly popular.
7. What are ways to find the best OTT platform providers?
You need to make sure to have a complete customizable streaming solution for developing high returns from OTT video business. Therefore, see to it that platform providers who offer you with flexible hosting options, content white labelling, robust marketing tools, guarded digital encryption & lifelong platform ownership is the apt platform provider who can develop these according to your preferences.