NFT is without a doubt the new big thing introducing blockchain into the entertainment space. SoRare is currently the biggest Fantasy Football Platform. They recently raised 50m$ via Benchmark, a venture capital firm that was an early backer of Uber Technologies Inc., Twitter Inc. and EBay Inc.
So first of all what is NFT (non fungible token)?
A NFT is a digital asset that represent real-world objects like art, music, in-game items and videos. They are bought and sold online frequently with cryptocurrency, and they are generally encoded with the same underlying software as many cryptos. At any points of time a NFT can only be owned by one person.
SoRare: What is it ?
SoRare is an online Soccer fantasy game paired with NFT card ownership. Like traditional fantasy football game, it's all about building your lineup each week using professional soccer stars, and their respective on-the-pitch stats such as goals and assists translate into in-game points. Your goal is to compete against other players in open leagues by amassing the most points. If you do so you win new players card and digital currency rewards.
They have licensed players from more than 100 international teams across various leagues worldwide allowing you to purchase the top stars from Juventus, AC Milan, Liverpool FC, Paris Saint-Germain, Real Madrid and many more.
SoRare: How to get started?
Like other free-to-play games, crypto-infused or otherwise, you can start playing SoRare without spending a cent. Simply sign up at the Sorare website and follow the prompts to unlock some free "Common" players cards.
Upon sign up you will be asked to select you favorite team, make sure to pick licensed teams as your free cards will be selected based on your choices.
The rest of the on-boarding process is pretty straight forward that helps you learn the basics and then drops you into the Market to consider buying NFT cards (Rare, Super Rare, Unique) that are minted onto the Ethereum blockchain. The "New Signings" tab lets you bid on new cards introduced to the game, while the "Transfer Market" lets users resell their own cards at a fixed price or by sending offers.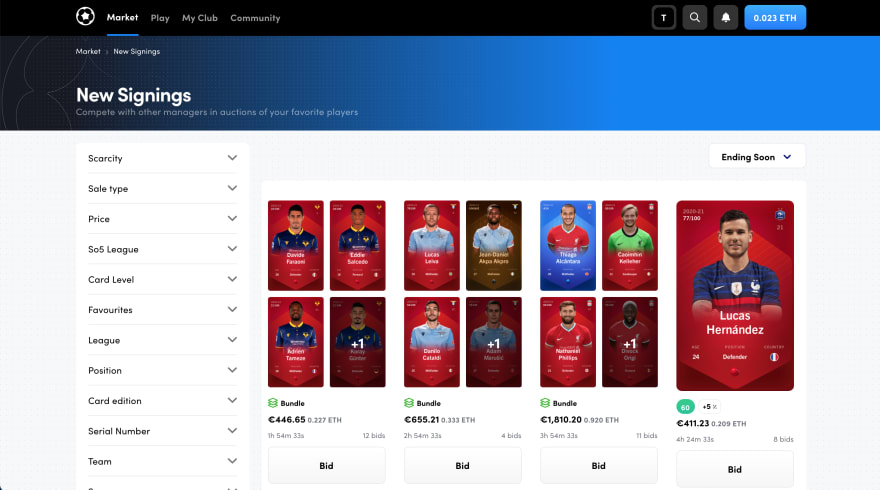 Why to Play SoRare? Can I make money?
SoRare is currently used by different player types. Some are playing for the fantasy game purposes when some others use the platform marketplace to buy low, sell high and make a profit.
A few strategy can be set to achieve the latest. You can collect a few cards to line up teams during week games and try to get cryptocurrency and card rewards that you can resell on the market.
Another strategy is to purchase raising star players that will perform well in the upcoming months or years and hold them until their price increases.
A "must" tip is to make sure to follow an Affiliation link when you sign up, which will guarantee you a Rare NFT card that could be valuable. If you are lucky enough, you might get a Goalkeeper which are worth a lot in the game as they are hard to get.
How to get powerful insight
To help you better investigate what players to buy, users are using a side website called SoRareData.com. You will need an account on SoRare to fully access it. SoRarareData provides you full insight on the players past performance and price history.