Soshace
Oksana Tripolskaja: I Don't Know Any Person, Who After Working Remotely, Returned to the Office
Oksana Tripolskaja
We talked to Oksana Tripolskaja,a co-founder of HR House, a small recruiting agency in Ukraine. Oksana has visited the Running Remote conference this year and shares her thoughts about the event in this interview. Soshace, as a media partner, has helped Running Remote in interviewing the speakers and attendees of the event.
Oksana Tripolskaja discovered her passion for recruitment at her first job in one of the biggest banks in Ukraine. However, she always wanted to be her own boss. With the help of her dearest friend, Olena, a brilliant recruiter, Oksana co-founded their own recruitment agency, HR House. In this interview, she talks about the difficulties she faced in starting her own business, why she thinks remote work is the future of work, as well as relates her impressions from Running Remote, the largest remote work event that she was lucky to attend.
_ Hello Oksana, and welcome to the interview with Running Remote and Soshace! Please, share your story. _
In the university, I studied Ukrainian language and literature. By the end of my studies, I realized that I didn't want to become a teacher, but I also didn't know exactly what I'd like to do. I looked around for jobs and stumbled upon an HR vacancy in one of the biggest banks in Ukraine. I thought it could be a great start. And I honestly loved my job. After a couple of years, I moved to IT. I found people working in the IT industry to be extremely smart and, surprisingly, laid-back people with a wide range of interests and hobbies. In three years, I and my colleague, Olena, decided to do something of our own — that was how our startup recruitment agency, called HR House, was born. Moreover, we've also started a project called School HR IT, where we teach recruiters about IT recruitment.
_ Was it difficult to start your own business? _
That was not an easy thing to do. But I was lucky to have a wonderful companion who supported me through this and helped me on this thorny path. Olena Tykhnova is a brilliant recruiter and a nice person. After I finished one of the business trainings, I wrote back to her suggesting we found a business together, on which she replied that she was about to do the same.
Oksana and Olena
_ What is your area of expertise at the moment? _
I'm good at recruitment. I know the Ukrainian market. Our developers are highly skilled and not so expensive as in Europe or the USA, for example.
_ Please, describe what HR-house does and how it's different from similar recruitment agencies. _
HR house is a small recruitment team. We are different because we work 100% remotely (most agencies work from the office). We are not just hiring, we also teach others how to do it. We share our knowledge.
_ What's the future of recruitment? _
Remote work is working for us. https://t.co/H8K085uR2H

— Inc. (@Inc) July 25, 2019
For me, the future is remote work. I didn't meet any person who after remote work went back to the office. What matters in freelancing is the ability to deliver good results, no matter where you work from: Bali or Ukraine.
Some people suggest that robots and AI will substitute recruiters, but I don't think so. I believe AI will help recruiters with routine tasks but will not eradicate the profession per se.
_ In your opinion, what's the most challenging part of managing remote teams? _
At first, I was worried about communication. See, when you're in the office, you talk to people around, you see them on a daily basis, you feel like you can spot their moods, guess their thoughts. And I was really afraid to lose it. But I made everything possible to communicate with each and everyone on our team: I organized weekly one-on-one meetings, became friends with each recruiter, and arranged extracurricular activities with people whom we lived close by, where we could talk about family stuff and children.
Oksana and her little son
_ What advice can you give managers when they consider hiring remote employees? _
The most important things for me are responsibility, self-discipline, organization, and an ability to provide constructive criticism or feedback in case something goes wrong. Remote work is about flexibility and freedom. I try to figure out why a person needs that kind of freedom and if they are able to organize themselves. If the answer to both questions is yes, then this person is a great fit.
_ In your opinion, what's the concept of remote workplace discipline? _
Speaking of teams, all participants should have the same goal. Speaking of individuals, each person should be able to make decisions on their own.
_ What's the best book on recruitment you have ever read and why? _
Metaprograms for Business Practitioners by Ekaterina Gaiduchenko is my favorite — it's not only about recruitment but how people think and talk and behave.
_ How do you think remote work impacts your work-life balance? _
Oksana and her family
Remote work is ideal for me. I can finally regulate my schedule and spend more time with my family.
_ Do you have any hobbies? What are they? _
I've been practicing yoga for more than 10 years. When I switched to remote work, I signed up for singing classes as well, which was my childhood dream I never had time for.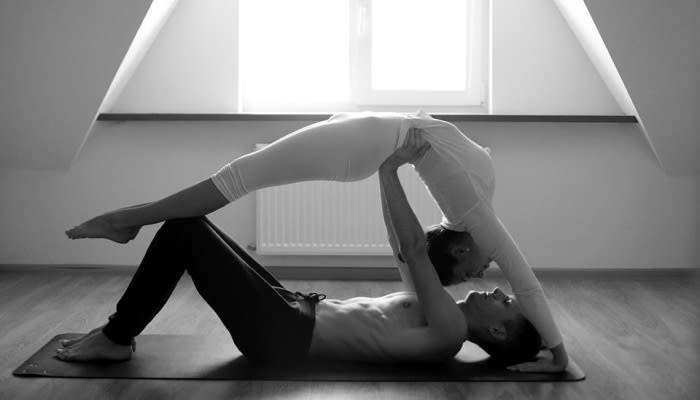 Oksana and yoga
_ What are your impressions from visiting Running Remote this year? _
It was an amazing event. I'd met people from all over the world. The management and organization were super professional. The guys organized networking opportunities before the conference and that was really smart. I've made new friends and found new customers. Speakers were super experienced in remote work. I liked the way they organized the QA session, where speakers answered even the toughest questions. The place was fantastic. It's an amazing feeling when you make just a few steps from the conference and sink your feet in the Indian Ocean!
Running Remote Scene
The post Oksana Tripolskaja: I Don't Know Any Person, Who After Working Remotely, Returned to the Office appeared first on Soshace.
We provide professional Angular.js, React.js, Node.js, Python, Java developers that will work remotely for your team on a full-time basis.
Classic DEV Post from Feb 25