3 Ways Software Entrepreneurship Is Like Poker
Professional poker is like software entrepreneurship on hard mode.
In the world of poker, every player is equipped with the same set of tools. It's impossible to develop a large, durable competitive advantage. The metagame updates rapidly. Everything gets competed down to the slimmest of margins.
Today, the best way to escape this competitive trap is to build a brand, and get invited to high stakes games with whales. These whales might be Hollywood movie stars, Chinese billionaires, or the owner of Cirque du Soleil.
Today, trying to excel as a professional poker player is like trying to be an influencer marketer. Or a restauranteur. Certainly possible, but extremely difficult to build the necessary competitive advantage.
Back in 2006 things were much easier.

Online poker match, circa 2006
Before the online games became festooned with savvy players (and bots), you could actually make a reliable living online as a poker player. On the tailwinds of poker's TV-driven popularity, lots of people were logging on to play poker, assuming that they had learned the game correctly from watching lots of televised poker tournaments.
I played poker all day, every day for three years. I didn't realize it at the time, but it was extremely useful conditioning for the world of software entrepreneurship.
Here are some lessons.
1. Most people are lying to you.
Whether you are in a poker match or talking to another poker player, nobody is as they seem.
As a poker player, I socialized all the time on the 2+2 forums. It is only in retrospect that I realize how much of my psychological state I was giving away by chatting with my opponents as if they were my friends. Now I think back to strategic discussions I had, and I wonder if any of these players were giving me bad advice to create a false impression of how they thought about the game.

Poker's first social network
From DEV to Indie Hackers to Hacker News: every community has a gap between perception and reality. People will present themselves one way, but their actions will often tell a very different story. The true story is always the one being told by their actions, not by their words.
It's easy to let this make you cynical, but it's just human nature.
University computer science professors will tell you that there is a difference between "theory and practice" and try to teach you abstruse, impossible concepts. Tech companies will give you a terrible offer and tell you that it is just the market rate. Venture capitalists will portray themselves as independent risk takers right before they ask you who else is investing.
The preponderance of liars is an opportunity for you to build a durable competitive advantage by reliably telling the truth.
2. You Must Escape The Competition.
Back when I played poker, there were plentiful in-game competitive advantages to be found.
In 2006, the "LAG" (loose-aggressive) style was not yet well-understood. If you were on the button or in the cutoff and you had Q5s, and someone in middle position opened for a 3x raise, you could raise it to 10x every time and have a good outcome. People simply didn't know how to respond to being reraised all the time.
This strategy was pioneered by hilariously named Party Poker regulars such as loloTRICKEDu, durrrr, and BLDsWttRs. These players had win rates that were dramatically higher than the professionals who were still operating in a TAG (tight-aggressive) modality, or with primitive Super System-based versions of LAG.

This was what you were competing against as a high-stakes poker professional in 2006
Eventually, everybody figured out a modern LAG strategy (as well as how to defend against it), and it was no longer a way to escape from the competition.
One analogy to software is the ICO. Ethereum pioneered the ICO. Successful followers included many dubious coins such as TRON. This was once a good strategy for getting rich quickly. Now it is frowned upon, and legally risky.
The beautiful thing about software entrepreneurship is how easy it is to escape the competition.
In software, the markets are so deep, and the space is so new that you can often build a company by cloning an existing business and offering slightly different pricing or user experience. Look at all the web hosting companies. They do the same thing, slightly differently.
It's a great business because web hosting has no churn.
Starting a new software company can be like creating a new game. Or like starting a casino, rather than visiting Las Vegas to play in the games with whales.
It's better to own the casino than to play the games that someone else designed.
3. Incentives are everything.
Every bet in poker must be thought of in terms of reverse implied odds.
When you make a bet, you are making a proposal to your opponent. If you bet the size of the pot, your opponent is getting 2:1 odds. They only have to be correct ⅓ times in order for it to make sense for them to call your bet.
Poker presents an incentive structure that is strongly quantitative. This can be applied to software entrepreneurship, to give a mathematical framework to an otherwise fuzzy endeavor.

As we think about customers, we can assign probabilities to the elements of our software product. Imagine you are creating a banner ad. Are the reverse implied odds of clicking on your call to action going to be profitable enough to the user?
Gig economy platforms are a beautiful study of incentive alignment. Everyone loves Uber and Airbnb, but my favorite gig economy platform is Fiverr.
Fiverr is a gig economy for knowledge work.
Fiverr allows you to work productively with highly creative people by aligning incentives through a reputation system. The reputation system works as well as, or in some cases better than equity incentives within a company. It may not align incentives over a long time horizon, but it does so over a short time horizon, in quite a beautiful way.
Fiverr combines a reputation system with a paid hiring marketplace, creating a wonderful community of creativity and entrepreneurship.
But what if you subtracted the paid hiring marketplace? What if the rating and review system was the main motivation for people to work productively together across the platform?
This is a question I am trying to answer with FindCollabs.
FindCollabs is a place to build software projects with other people.
Imagine if Airbnb was an entirely advertising-driven company, and hosts captured all of the value that their guests paid them for a stay. What would be the penalty for a host's bad behavior? The reputation system. Reputation could still incentivize proper behavior, and without reputation, there would be no trust across the platform, and the business wouldn't work.
If you do good work, you will develop a positive reputation and more people will work with you. You can find developers to work on side projects productively with, and entrepreneurs to start a business with.
If you do bad work, your reputation will suffer and it will be difficult for you to find collaborators. FindCollabs has strong norms around meeting the expectations that you set for your collaborators.
If you are not reliable, you will be called out for it.
I hope you check out FindCollabs, and post your own projects there.
Reinforcing my first point, now of course you see that I was not as I seemed at the beginning of the article. This is not just friendly advice about poker and software entrepreneurship. I'm writing this article because I am promoting myself, and promoting my software platform.
But I'm doing so because I think you will get value from it. If you churn, it does nothing for me.
So I hope our incentives are aligned, and that you will check out FindCollabs.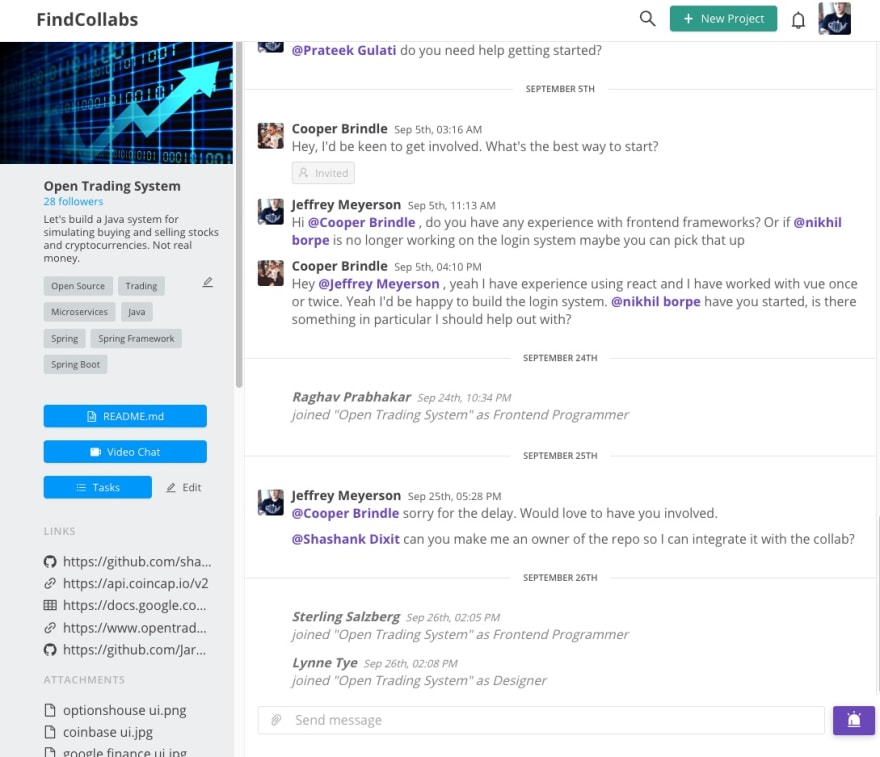 DISCUSS
Classic DEV Post from Nov 21 '19