The Good and the Bad: What iOS 11 has in store for you?
The much-awaited iOS 11 is finally here. After going through so many rumours, and leaks speculations, iOS users will be getting a plenty of compelling features with this updated version. Well, the speculations surrounding the OS are still not over, it is being said that the new iOS might confound even the long-time users but will make both the iPhone and iPad easy-to-use and more productive. Let's look at the features of iOS 11 some of which are super interesting and some of which we could have lived without.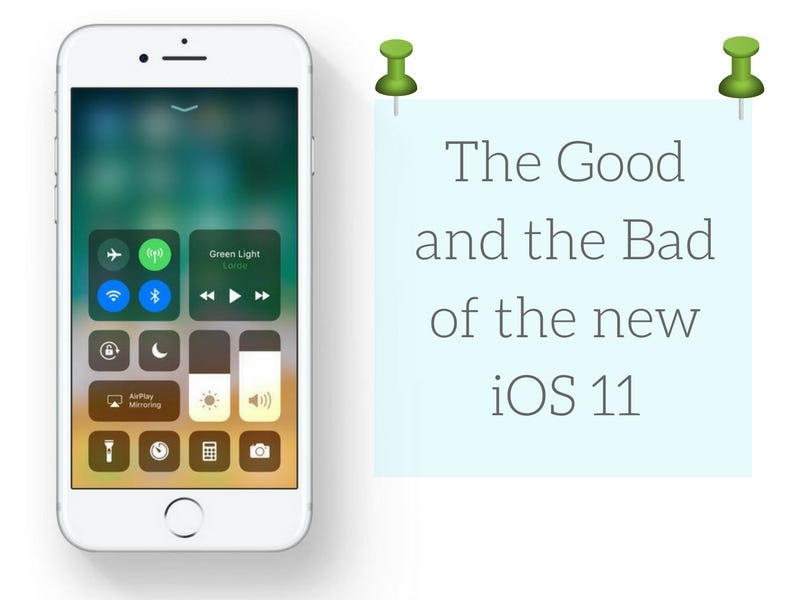 The #Good
Animated Emojis:
The new iOS 11 includes an interesting feature of customized emoji which uses facial tracking and your voice to create emojis matching your facial expressions. The TrueDepth camera captures and analyzes more than 50 different muscle movements of your face and lets you create the same expressions as yours in any of 12 different Animoji.
Apple Pay:
iOS 11 will make the payment transaction easier and convenient as the user will be able to send and receive payments within their iMessage.
Automatic Setup for new iPhone or iPad:
With the launch of iPhone X, iPhone 8, people are obviously going to buy it. And, for the new iPhone users, it might be quite complicated to set up these new devices. But iOS 11 will make the set up of your new iPhone X, iPhone 8 super easy with its new Automatic Setup option which lets you transfer your data given that both the devices are running iOS 11.
Improved Camera & Picture Quality:
Using iOS 11, users can click better pictures with the upgraded Camera as well as use many new professional-quality filters to make the pictures more dramatic. Users can edit the live pictures to make them more expressive including long exposure, looping, and rewind. One can even send live pictures in the MP4 format (by MMS) to Android users. iOS 11 also includes a new compression technique that retains the picture quality even at half the size.
Revamped Siri:
One of the major updates Apple made in their iOS 11 is revamping Siri. Siri is now smarter and friendlier and will sound more natural. It can now translate what you say in a number of different languages.
Augmented Reality:
The addition of ARKit in the new iOS 11 is indeed the most interesting feature which enables users to experience AR on iDevices by making use of sensors, cameras, and other hardware.
Do Not Disturb while Driving:
With the key purpose of preventing accidents,the new do not disturb while driving feature of iOS 11 would block the incoming calls, texts, and notifications while a user is driving.
Customizable Control Centre:
iOS 11 allows users to customise the shortcuts so that they can have quick access to the features and tools they often use. In comparison to the iOS 10 version, this update will feature all the options in a single screen.
iPad Improvements:
With iOS 11 a new set of features has been added to the iPad including a new "dock", new "Files", new "app switcher", easy multitasking by drag and drop, an upgraded Apple Pencil for Instant Markup, notes and drawing.
Messages:
With iOS 11, users will be able to back up their messages to iCloud given that they update to iOS 11. In addition, iOS also help make space for new messages through auto conversion management which deletes old conversations (1 year or longer) and recommends to delete old conversations.
Lock Screen & Notifications:
iOS 11 gives you the ease of checking all your notifications from the lock screen only. You no longer have to check your notification one by one and can even activate the Do Not Disturb mode while driving which would altogether mute the notifications from popping up on the screen.
Optimized Storage:
iOS users have generally faced the issue of insufficient storage whereas in iOS 11 this issue has been resolved as it includes a new way of storing photos and videos with half the storage space. This means that when you will upgrade to iOS 11 your new pictures and videos will take up less storage space.
Apple Music:
Apple music in iOS 11 will make the streaming service more functional where users can explore new songs and playlists and even their friend's playlists. They can even share their playlists with the public.
New App Store:
Users will find an entirely newly designed App store in iOS 11. This redesigned App Store would help the users to find new apps easily sans the less popular apps.
New Files App:
iOS 11 will be introducing a new finder app– "Files" a sort of central hub for all your files (on iDevice or iCloud) where you can find, open, delete and organize your files. Moreover, it also supports all the latest multitasking features such as drag-n-drop on iOS 11.
Updated Maps:
iOS 11 will include smarter maps where the 3D map feature will help the users to navigate easily. The users will be able to get information about the turns, speed limits, and guidance warnings.
Screen Recording:
Where the previous version of iOS required plugging the iDevice into a Mac for screen recording the new iOS 11 will record the screen right from the control center using the feature "screen recorder".
Password AutoFill for Apps:
Passwords are something that is quite difficult to remember. And the iOS 11 brings you a new feature where you would never have to remember any password again. With "Password AutoFill for Apps" you can easily access your passwords through the iOS keyboard and can easily login to the site you want.
Auto app deletion:
Previously, iOS 10 provided the feature to delete built-in apps but in iOS 11 this feature would automatically delete the apps which users seldom use. This will free up more storage on your phone enabling it to run smoothly.
One-handed Keyboard:
Where the large iPhone model users were having the trouble of typing or tapping with one hand the latest iOS version introduces an easy way to switch between one-handed and two-handed keyboards where users can choose according to their convenience.
Low-power mode:
iOS 11 includes a new and intelligent low power mode which learns your battery usage patterns and then automatically switches it into the low-power mode when necessary.
The #Bad
64 Bit Apps Only
This is one of the most shocking updates for the iOS users as 32-bit apps would not be supported in iOS 11. Only 64-bit apps would be supported and when users will try to open any 32-bit app they will be notified with "This app needs to be updated". Also, you wouldn't find any 32-bit apps in the new app store. This means that users who want to continue using their favorite 32-bit apps shouldn't upgrade to iOS 11.
iOS 11 — not compatible with older models
Where iOS 10 supported iDevices starting from iPhone 5 and didn't support the models prior to iPhone 5, the iOS 11 has shelved iPhone 5, 5C and the fourth-gen iPad. This means that iOS 11 is only compatible with devices with 64-bit chipsets.
No App Switching feature
iOS 11 doesn't have the feature of app switcher anymore as the 3D touch power-user cannot be used to open the app switcher to get back to the previous app promptly. The user has to double tap the home button and drag to move to previous application.
DISCUSS
Go deeper
Open source
Free forever
Level up every day
🔥
Classic DEV Post from Aug 6 '19