Web design trends are changing yearly, but in 2021, the trends seem endless, with web designers constantly playing and reinventing styles, using new techniques. Some styles won't easily go away, including minimalism and colorful flat illustrations. So, what web design trends will you choose in 2021? It doesn't come as a surprise that web designs continue to get sleeker and with a lot more personality. Is 2021 the year of some hot web design elements? We already know that most of them are being used in design projects. We might see an injection of complexity and color into the minimalist concept. Here are some top trends in web design in 2021.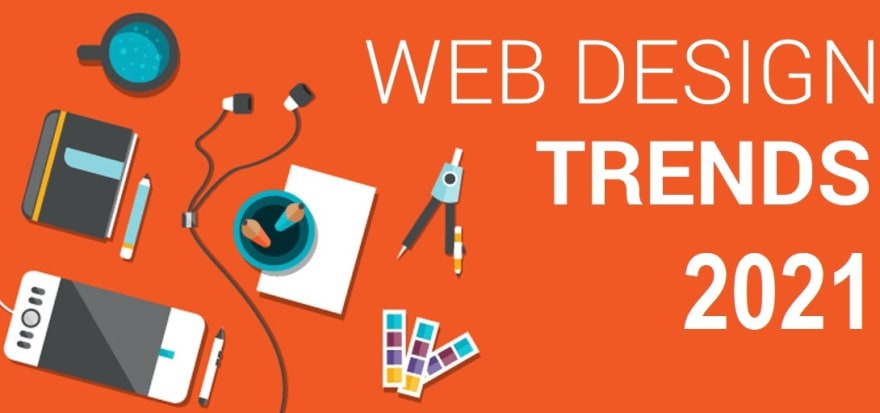 1. Dark mode design aesthetic
One of the popular trends of 2021 is dark mode design, giving users the option of enabling dark themes for their web projects. Operating systems like Apple, Google, laptops, smartphones, or any other devices we use nowadays have some dark mode design aesthetic integrated into the UI. The common advantage of dark mode background is that it saves a lot of energy consumption on devices displays. When you use a white background, the pixels are turned on, forcing the display to use more power. But if the pixels are in dark mode, the display's power is naturally lowered. One important utility that dark mode has is that it cuts destructive blue light.
According to studies, too much exposure to the natural source of blue light (sun) can overwhelm melatonin's secretion, affecting your sleep at night. But that's not something you should be worried about. It is said that dark mode improves your visibility, making it easier for you to use a device. That's not always the case. Many people feel relaxed using dark mode design, while others are naturally skillful to see things clearly in the day time. So, it all stands in how comfortable you are in using both designs. Dark mode not only looks sleeker, but it can help you see colors and design elements easily. Dark themes are most suited for OLED screens, reduces battery consumption, and extends your device's screen life. Web design and development couldn't be more impressive and stylish in 2021.
2. 3D technology in graphic design
The technology is exciting these days, and people are likely to see more 3D in graphic design. Designers have a wide variety of options when it comes to creating 3D technology. 3D always has thrilled people, but the price tag made this trend back up a bit. Until VR (virtual reality) becomes more cost-effective, the best way to create a better user experience is to use 3D illustrations. It looks eccentric, adding energy to the user experience. It gains attention and even increases online traffic. However, not all people have the budget for 3D technology to use in their graphic design. So, what can you do? Well, similar to 3D, you can have good results using floating elements and optical illusions with 2D technology.
3. Photography mixed with graphics
As you have probably noticed in the past several years, the web design and development has been conquered by colors, sophisticated, and futuristic compositions. This combination is visually memorable and also a good way to explain a complex concept. Usually, this trend is most adopted by tech and finance websites. People are kind of sensitive when it comes to awkward imagery. That's why it is important to keep in mind that taking your own photos for your website is well worth it. Simply because the photos should fit your businesses' purpose, you'll rarely find something that matches your products 100%. Generally, it's recommended to hire a professional photographer so that you can fit the photos of your company's visual identity. It'll make it reach a better look and feel, and you'll connect better with users.
4. Neumorphism
Whenever Apple introduces something new to its software, it crosses the world and becomes a new standard for people. This year, Apple released the new version of macOS: macOS 11 with loads of new topographies inspired by iPhones and iPads, but with a bit of a change in its UI design. It's called Neumorphism, the new web design wave in 2021. Web designers have been talking for a while about Neumorphism on Twitter. Still, since Apple focuses its attention on it, we'll probably see it a lot more, even becoming normal for most of the apps and websites.
But what is Neumorphism? This concept is also called a skeuomorphism, something that retains ornaments designs from their original structures. Neumorphism stands in a style that combines background shapes, colors, highlights, shadows, and gradients, allowing achieving a soft, almost 3D look. So, the purpose of Neumorphism is all about the colors of the screen, delivering a unique experience for users. During the early 2010s, skeuomorphism went flat! If you take a closer look at the first types of iOS, you'll see more of a genuine look, containing paper textures and metal. But Apple felt free to explore and moved away from skeuomorphism to a more modern look, the flat design. Related to skeuomorphism, Neumorphism appears to be a trend made out mostly of whites, soft greys, and neutral color palettes.
This trend is about getting rid of the interface's glitzy aspects, making it more appealing and practical for users. There's a certain feature that makes Neumorphism look so appealing: it looks futuristic! Implementing Neumorphism in web design means adding outer glows, drop shadows, and 3D objects. But it really gets sophisticated when the system explores those digital spaces, making the user edges more approachable and beautiful. It's obvious that these designs will be increasingly improved over time, but until then, enjoy the overall appearance of these innovative website design trends for 2021. Undoubtedly, the same thing will happen with Apple's scheme into Neumorphism. Actually, this concept will definitely be exploited by a lot of designers, hoping to fit the company's viewpoint.