In this quick post, we'll see how to create a component's variants out of a series of buttons in Figma.
Watch Video Tutorial
Create Variants
In this example, I'll use a series of buttons that I've previously created.
In order to transform this series of button, we'll just select all our buttons.
Head to the top-bar menu and hit the arrow besides the Create component icon.
In the drop-down menu, select Create components set
Add variants properties
To begin, we'll add three variants properties to our button component: icons-button, dropdown-button, and close-button.
First, select the Component set.
Head to the Variants section in the right-hand sidebar.
Hit the three dots icon in the right corner of the Variants section, and select Add new property.
We'll create three properties and rename them with the following names: i cons-button, dropdown-button, and close-button.
To rename a property, just click on the property name and type your property name.
Here's our Variants Properties :
Next, we'll add our variants values. In our example, I would like to add Boolean values: True/False.
Add variants Values
Let's select our Component set and go back to the Variants section.
Double-click on the first property value which is Default and rename it to False.
You can repeat this process for all the other Properties values.
Apply Variants Properties
Next, we'll apply the properties we've created to our Variants.
We'll select the first variant.
Let's go back to the Variants section.
For our first variant, well keep it's properties to default
We'll move to our second component and change the first property icon-button to true.
We've changed our value icon-button to true because our variant has an icon.
Let's select the third variant and change the second property dropdown-button to true.
Again, the reason we've changed the value dropdown-button to true is because our selected variant is a drop-down button**.**
Let's select the last variant and change the third property close-button to true.
Now, head to Assets tap in the the left-hand sidebar to access our variant.
Let's drag and drop our component set from the Assets panel to our canvas.
Go to the instance section in the right-hand sidebar.
To access a specific Variant, we can switch the properties nobs.
Variant one:
Variant two:
Variant three:
Variant four: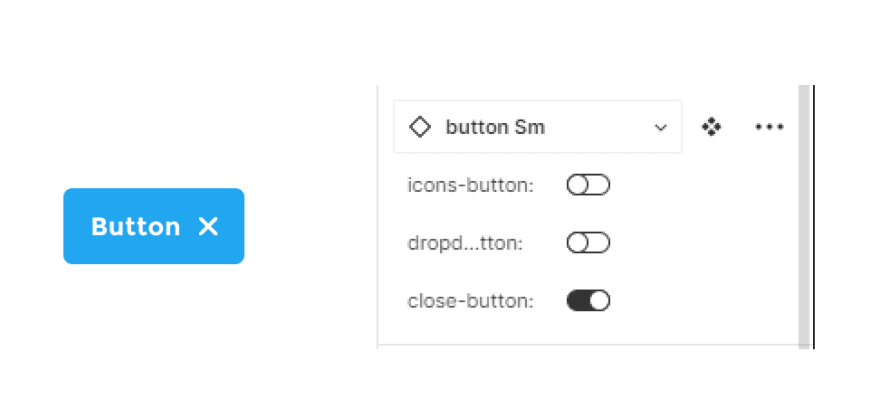 That's everything about component's variants in Figma. In the next posts we'll cover more concerning Figma components.
Before you go
Feel free to visit our website captain-design.com where we are sharing generously, ready for commercial use Figma and HTML templates.
You'll find three things to help you kickstart your next project's design :
Originally published at https://www.captain-design.com on January 2, 2022.