Oi! Fiz uma tradução dos conceitos do livro Código Limpo de Robert C. Martin (Tio Bob) adaptados para o JS desse repositório do Github aqui:
🛁 Clean Code concepts adapted for JavaScript
clean-code-javascript
Table of Contents
Introduction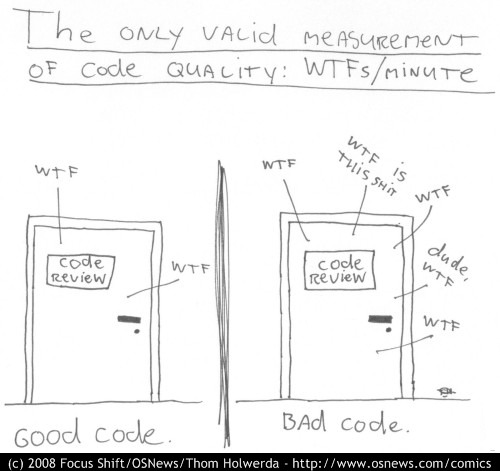 Software engineering principles, from Robert C. Martin's book Clean Code adapted for JavaScript. This is not a style guide. It's a guide to producing readable, reusable, and refactorable software in JavaScript.
Not every principle herein has to be strictly followed, and even fewer will be universally agreed upon. These are guidelines and nothing more, but they are ones codified over many years of collective experience by the authors of Clean Code.
Our craft of software engineering is just a bit over 50 years old, and we are still learning a lot. When software architecture is as old as architecture itself, maybe then we will have harder rules to follow. For now, let these guidelines serve as a touchstone by which to assess the quality of the JavaScript…
⚠️ AVISO!!! ⚠️
Sim, há várias traduções para o português desse repositório, mas essa é a MINHA tradução, portanto, não tem nada copiado aqui!
Isto posto, vamos lá!
São os princípios de engenharia de software do livro Clean Code, de Robert C. Martin, adaptados para o JavaScript. Não se trata de um guia de estilo. É um guia para escrever programas legíveis, reutilizáveis e passíveis de refatoração no JavaScript.
Nem todo princípio contido aqui precisa ser rigorosamente seguido e, em termos universais, pouquíssimas pessoas estariam de acordo. São diretrizes e nada além disso, porém foram sistematizadas, ao longo de muitos anos de experiências coletivas, pelos autores de Clean Code.
Nosso ofício de engenharia de software possui pouco mais de 50 anos e ainda assim aprendemos bastante. Quando a arquitetura de software é tão antiga quanto a própria arquitetura, pode ser que tenhamos que seguir regras ainda mais rígidas. Por enquanto, deixe com que essas normas sirvam de critério de avaliação da qualidade do código JavaScript que você e sua equipe produzem.
Mais um ponto: o conhecimento dessas regras não transformará você em um melhor desenvolvedor de programas em um primeiro momento e a aplicação destas não significa que você deixará de cometer erros. Cada pedaço de código começa como um primeiro rascunho, do mesmo modo que a argila molhada, que é modelada até adquirir a forma final. Por fim, nos livramos das imperfeições quando a revisamos com nossos pares. Não se maltrate por causa dos primeiros rascunhos que precisam de melhoras. Em vez disso, maltrate o código!
E aí? Gostaram? Até a próxima tradução! 🤗