eLearning platforms are online classes for education where the tutors and the students interact virtually with the help of the internet.
Due to the pandemic, schools across the globe had to shut down which left the students stranded in the middle of their academic year. The subsequent rethinking of strategies by teachers and educational institutions landed them in the current popular live stream classroom.
The live online classes offer real-time interaction between the teachers and students. In addition to conducting the online classes, it enables file sharing, chat, screen sharing, forum networking, etc to make the learning process more interesting.
The online class platform has not only revolutionized the education department to be more competitive but also reevaluated its service quality, features, and technical expertise regularly.
Here we will see the importance of such virtual classes, their major features, and the best online education platforms that are available in the market.
What is an Online Education Platform?
The top education platform is associated with a digital space where educational content is available in various forms such as live interactive classes, recorded videos, shareable files, etc. These are made available to students through free registration or mainly paid membership.
Such online video class platforms which were initially popular for the certification and degree courses are now used by regular schools and universities as well. Such wide usage has only managed to increase the importance and need for quality of these portals.
How Good is it to Have An Online Live Class Platform?
The virtual classrooms are available in two types- live-streaming classes and on-demand recorded videos. While the latter can be accessible at any time from anywhere, the online classes have more interactive value where the students get a semblance of being present in the lecture room.
Best Replica of Traditional Classrooms
Many advantages of online classes are found effective mainly due to their capacity to virtually replicate the brick-motor-model classrooms with the resource of a whiteboard. Live interactions, chats, polls, etc; can also be conducted during these classes.
Choose an Eco-friendly Solution for Learning
Virtual classes allow the teachers to share the learning material in an e-format and go paperless. As books are also available at online stores, there is no necessity for buying hardbound books, which can in turn reduce environmental impact.
Education Made Available for All
eLearning platforms are accessible for all, even learners and educators living in remote areas, as long as they have internet connections. Online tutoring eliminates several barricades to bring education close to those who are unable to physically reach the schools.
Recorded lectures to have often playbacks
Virtual interactive classes are the most effective mode in the eLearning industry. But for those who couldn't attend, can have options to access it once again that is available in video formats later. Most of the top live streaming class platforms do have this feature to record your lectures.
Knowledge-Sharing is Becoming Cost-effective
One of the most advantageous features of online classes is that it is more economical than attending classes 1to1 directly. There is no time for people and it becomes a bit expensive to spend money on traveling from home to reach the education center. The use of digital books and documents also reduce overall cost of education through virtual platforms.
Comfort zone is in high levels
Most importantly, be it video conferencing sessions or rigorous crash courses, it can be organized and attended at the comfort of your home irrespective of place & time as preferable or available.
Table of Content
List of Top 7 Best Online Live Class Platforms
1. VPlayed- Online Video Education Platform
2. Panopto- Video Platform for Education
3. Dacast- Education Streaming Solutions
4. Kaltura- Education Video Solutions
5. Muvi- Educational Video Streaming Platform
6. Livestream- Premium Live Streaming Video Solution
7. IBM Cloud Video- Enterprise-Grade Video Streaming Solution

Features of the Best Online Class Platform
Online classes require the assistance of professional video hosting platforms. Most of the platforms enable live interactions along with VODs. The broadcasting, uploading of files, sharing them, recording videos, access to the video library, etc; need specific technical expertise. The best video streaming class platform will have some specific features to make the teaching and viewing experience satisfactory which are given below.
Make your Platform Reachable Globally
The primary feature of online education platforms is that it should enable live streaming globally. It helps someone in a remote area of one part of the world to attend a class conducted by a person who is in another country. This worldwide reach enables more enrollment and also increases the value of these classes.
Manage Programmed Curriculum via CMS Dashboard
Organized CMS (Content Management System) dashboard is convenient for the teacher to schedule the classes, share the study materials, conduct tests, etc. There could be added USP on the dashboard to make the teaching process easier. On the other hand, the console for a student helps them find their classes, sort the shared files to make them more accessible and to check schedules for classes, tests, etc.
Platform can have 100% Customizable Templates
The customizable option for your online educational hub helps to create a unique brand for every company or managed all by a single person. With the availability of various templates and designs to choose from, one can easily build their online class platforms.
Get Accurate Data Through Real-Time Tracking
Video analytics tracking is a common feature seen with the best online classroom platforms. It helps tutors to track the number of views per class or video and other factors such as the timezone, and other characteristics of the viewership.
Creating Lecture Captures is now turned Effortless
This is one of the most key features of live class platforms that helps them to record the streaming videos for later access for non-participants. The 'lecture capture' feature automatically records and transfers content in the video library. It is also combined with the HTML5 video player for smooth playback.
Various means to Monetize Educational Curated Videos
Video monetization is enabled through subscription which is available in different forms. SVOD, TVOD, AVOD, etc; are the popular options. The subscriptions are open on a monthly, weekly, or annual basis. It also helps with the conversion of global currency into the native form for the user as needed, through a multilingual interface.
Develop E-learning Platform for Multi-Device Casting
The online portals must enable viewers to watch tutorial videos from any device remotely such as mobile, web, PCs, laptops, smartTV, etc. Most of the top live streaming class platforms have this amazing feature. This is one of those primary reasons why live stream classrooms have become popular with better reachability.
Defining security support for Educational videos
Security and privacy tools are essential for the eLearning classes as they mainly have restricted-access. Since it is not open for all, the security features should be top class with password protection, private hosting, domain restrictions, end-to-end encryption, safe upload, etc.
Top 7 Best Online Live Class Platforms in 2022

CONTUS VPlayed is suitable for educators and other professionals to conduct live streaming sessions. From the e-learning perspective, it supports one-on-one sessions, flipped classrooms, scheduling, etc. The 'lecture capture' feature automatically saves the live stream into videos in the library for future reference. This platform is appropriate for a real-time interactive session for a group or individuals. The additional characteristics include:
● Viewing on multiple devices
● Buffer-free live streaming
● UHD quality video on all bandwidths
● 100% customization
● Bulk upload and unlimited storage
● Reliable hosting
● Different live interaction options
● Offline downloads
● Closed captions and subtitles
● Analytics
● Different monetization models such as SVOD, AVOD, pay-per-view

Panopto offers a better-streamlined video management system than any other platforms which makes it ideal for universities and other larger institutions. Although it has state-of-the-art security features, video management features, and other added advantages, this does not come with a video monetization option. They also have specific software for 'lecture capture'. The additional features of Panopto are:
● White Label streaming
● APIs for integration
● Enables audio content
● Video analytics
● Brand customizing
● Document indexing
● Easy video search
● Full-text search
● Asset categorization
platform for your institution and further guidance do contact us.
For further guidance do contact broadcasting expertise of Panopto.
Dacast is the top education platform equally perfect for small institutions with limited number of students and that for larger institutions. It supports VODs and the live-streaming of classes. They provide a video library to suit the needs of organizations with a large number of content creators. The White Label plans, Monetization options, Zoom-Meeting integration to allow real-time latency streaming, etc are just a few of their many features. The other attributes available with Dacast are:
● Password protection
● Geographic restrictions on IP address
● Embeddable HTML5 player
● Videos streamed on multiple devices including iOS and Android devices
● Live stream recording
● Multi-bitrate ad-free streaming
● Secure video sharing with tokenized access
● Video paywall for secured monetization
● Monetization options include AVOD, SVOD, pay-per-view
● Unlimited viewers and live channels
Kaltura is the best online class platform for larger institutions. Their cloud-based services focus on security, privacy settings, monetization options, etc with White Label services. It allows the integration of various user-friendly programs to encourage fully customizable teaching and learning experience. The recording of the streaming videos and easy reachability of the same, indexing the videos, and providing transcripts are the major plus points. Other features include:
● Closed captioning
● Monetization options such as AVOD, SVOD, one-time transactions, etc.
● Video insights and analytics
● Video looping
● Live video recording, video messaging to email, etc
● Bulk upload of videos
● Password protection, watermarking, encryption
Muvi delivers a custom-support system for online streaming services with a rewind or forward the video options and recording the live sessions. One can also add the classes into the on-demand section with the help of the 'Catch Up TV' feature. It provides LMS support to enable the users to get a certificate after the completion of the course. Muvi makes downloading easy with PDF formats. The other components are:
● Schedule classes
● Social media sharing buttons
● Multi-device viewing
● On-demand or live streaming videos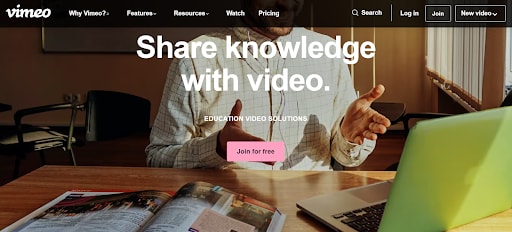 Vimeo's top educational live streaming class platform initially captured its audience with a consumer-grade approach. Currently, after the acquisition of Livestream in the year 2017 it includes a powerful video CMS solution where students and lecturers can manage for both real-time and on-demand hosting lectures seamlessly with most-inclusive plans. Some of its integral features include:
● Whitelabel branding
● Multiple monetization models
● Complete API Access
● Best Security Features
● Automated marketing flexibilities

IBM Cloud Video is an online-based streaming class platform that can be leveraged by academic tutors, subject matter experts, or curriculum instructors. IBM cloud uses video education as the prime foundation to imbibe the art of innovation which is built with best technologies. Since they have vast involvement with web-based solutions, their platform highlights numerous incredible choices and supports digital scholar communities with its live streaming and broadcasting services. Some of its exclusive features are:
● Cloud transcoding with HD streaming
● Password protection security protocol
● AI-based speech converting into text format
● Worldwide content delivery
● Video analytics with real-time monitoring
Conclusion
The importance of online learning is increasing under the current global health crisis. We need more and better education platforms to conduct smooth digital classes. They can be one of the best ways to generate revenue for educators and tutors as more and more people are opting for this mode of education in all fields. It is also important to build a quality virtual classroom. With various features on different portals, it may be a difficult task to pick the right one. For assistance in building a video education platform for your institution and further guidance do contact us.