Tailwind Nextjs Starter Blog V0.1.2 now comes with a project page.
Also fixed a few flex bugs on Safari.
Really enjoying developing on nextjs so far, especially with next/image which makes image optimization pretty straightforward.
The only difficulty is parsing the image dimensions. This is solved over here: https://github.com/timlrx/tailwind-nextjs-starter-blog/blob/master/lib/img-to-jsx.js where I used the image-size library to get the file dimensions.
Feature List
Tailwind 2.0
Near perfect lighthouse score
Preact in production build
Mobile-friendly view
Light and dark theme
MDX - write JSX in markdown documents!
Server-side syntax highlighting with rehype-prism
Math display supported via KaTeX
Automatic image optimization via next/image
Flexible data retrieval with next-mdx-remote
Support for tags - each unique tag will be its own page
Projects page
SEO friendly with RSS feed, sitemaps and more!
Here's how the new projects page looks like:
And here's how the current blog posts looks like: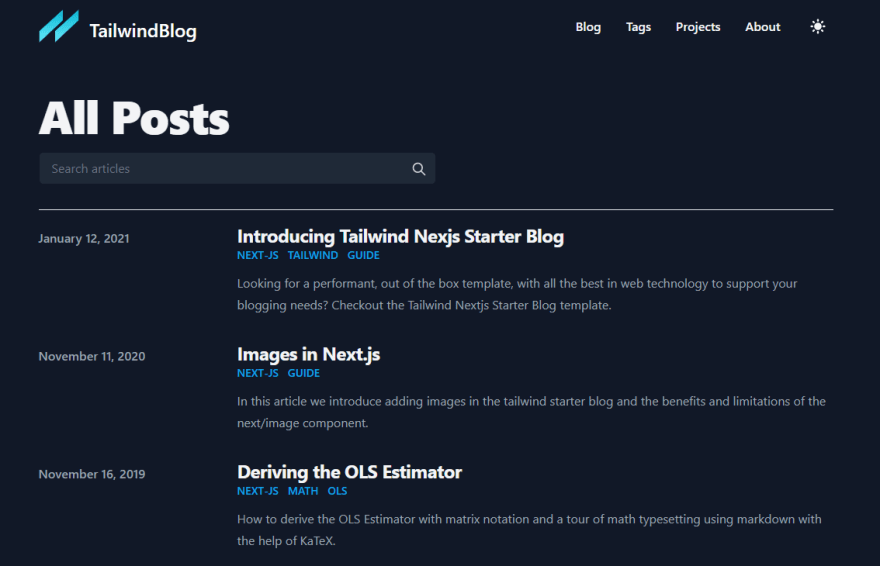 Let me know if you are using the template / planning to use the template and what other features would you like to see!