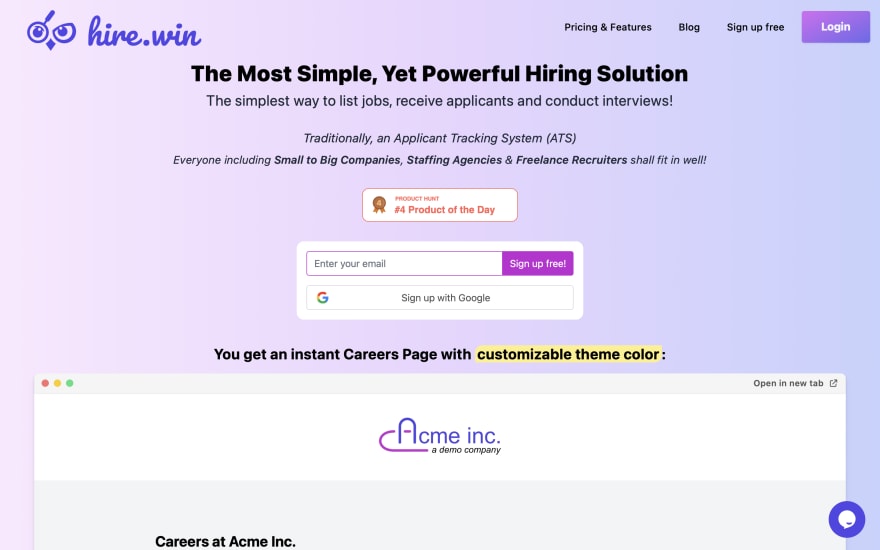 Being a freelancer has many Pros and cons. I have been into freelancing since the last 4 years now and have worked a lot on client projects.
Working for clients had been fairly simple in terms of earning. I utilised my coding and communication skills to make sure I make quality delivery and keep my clients happy. At the end, I was paid for the hours I worked. Simple, isn't it?
But I was always curious, while development costs are too high, how are my clients able to make up and earn from the products we developed for them? I wanted to be in their shoe and explore what the process of building a product from scratch feel like.
And here I am having built a full-fledged product having not many but a few paying customers and a lot of customers on the Free Plan — https://hire.win
I used to take a lot of interviews and interact with recruiting managers and I always wanted a simple tool to make the interviewing process simpler. So, I decided to build it myself and release it to the world!
Guess what, I listed the product on Product Hunt and it was ranked #4 Product of the day out of around 100 products launched on the same day! As they say, hard work does pay off some day or the other. I was happy, the product was welcomed well by the audience!
In simpler terms, hire.win is an Applicant Tracking System (ATS) which helps list job posts, provides an instant careers page, lets candidates apply to the job, and let interviewers and hiring managers handle the rest of the process from scheduling interviews to interviewing to submitting score cards.
Firstly, I learnt a lot of new terms like Product-Market Fit, Go to Market (GTM), and a lot more as I started to build Hire.win 😀
But, what I truly learnt from my product building experience was — making a decision. Whether to build a feature at this stage or to skip it? How urgent is this feature and what would be the impact on customers? There were multiple questions that I had to ask myself and then make a decision. Frankly, making the decision was harder then building the feature itself!
Deciding the monetisation strategy and to work on the subscription models was even more difficult. Designing the landing page of the product seemed like solving a math puzzle! Literally, all these things are more difficult than building the product itself!
Once I went through all the processes, building from scratch to launching the product, I had a lot of learnings to take from my product building journey!
Lastly, do check the product at https://hire.win and let me know your suggestions in the comments below. Also, if you are in need of any app to use in your day-to-day life and can't find it already on the web or app store, do let me know and I'll see if I can spend some time and launch a free version.
Thanks for reading!
—Vivek