Lockdowns, social distance, isolation, 2020 has been tough. Although the Covid pandemic has forced the entire world to slow down and hide at home, still, every cloud has a silver lining. However difficult situation may seem, there is always something good waiting around the corner. Thanksgiving is coming. That means be ready for Black Friday and Cyber Monday 2020. Indeed, if there's one thing that can make our day in such gloom and somberness, it is a good deal on our beloved tools.
This year Black Friday is one of the most anticipated events. After all, online shopping is our life now. The great thing is, the pandemic has pushed the start of the shopping season much earlier this year. Some brands are already treating their loyal customers with huge discounts. BFCM weekend promises to bring lots of good bargains and positive emotions. And we are here to spread the good news.
Buckle up all the deal hunters since we are going to shower you with some Steals on the Real. Website builders, email template builders, hosting plans, professional software, graphics of every kind are already waiting for you in the store.
Let's move to our list of the best deals for developers and designers in 2020 to get helpful stuff for streamlining your work for the best price. Hurry up; deals are available for a limited time only. The majority of offers end on November 27.
Changelog:
27.11.2020: Article updated with new deals!
26.11.2020: Article updated with new deals!
25.11.2020: Article updated with new deals!
24.11.2020: Article updated with new deals!
23.11.2020: Article updated with new deals!
2020 Black Friday Deals for Developers and Designers

All the web developers who want to simplify their working flow with a powerful yet handy website builder, check out Black Friday deals on Designmodo. The team offers a generous 30% discount on Slides.
As one of the most popular static website generators on the web, it comes with more than 200 slides, 100 examples, 30 panels, a hundred powerful modules, including sliders, sidebars, dialogs, contact forms, navigations, and dropdowns. There is everything you may need to build a modern website within minutes that won't cost a fortune but will look expensive and exclusive.

If you are one of those who can't imagine your next website without Bootstrap, then you will undoubtedly appreciate this exclusive deal on Startup.
The Startup helps to get the most out of this time-tested framework, even without coding and design skills. You can easily bring to life any idea inside a browser-based drag and drop editor within minutes.
Again, you can enjoy a 30% discount on a full pack including 300 blocks (headers, hero areas, content blocks, forms, showcases, teams, testimonials, contacts, pricing, features, CTAs, and footers), access to the editor, lots of customization options, easy integration with popular platforms and unlimited exports.

From website builders to HTML email template builders, we have got you covered. If you are a digital marketer or just an entrepreneur who wants to take his or her online business to the next level by improving email marketing strategies, then you will need the Postcards.
Coming with a handy playground, more than 100 handcrafted modules, and some extra bells and whistles like version history, cloud image hosting, team collaboration tools, more than 900 Google fonts and export to your favorite ESP, it will become your lifesaver in times when you need to build fully responsive good-looking email templates to nurture your target market or promote new goods.
Enjoy a staggering 30% discount and give your email marketing a tremendous boost this winter.

Receive access to all the great features for designing the most advanced WordPress website. Whatever you might need and then some more is available here in an accessible and intuitive package.
One of the best themes in the market discounted their price by 50%!

Illustrations of various kinds are a top trend this year. Both website and mobile designs capitalize on this tendency. To join the mainstream without stretching you too much financially, check out Absurd Design that comes with an attractive price these pre-Thanksgiving days.
Absurd Design features incredible illustrations that give food for thoughts and serve as an excellent tool for making an impression on websites, mobile designs, print media, and presentations. This week it has a special 15% discount that makes it affordable for everyone, use coupon code BF2020 during checkout.

Hunt deals on Iconscout this November as well. Several years in a row, the creative team indulges fellow designers in fantastic deals on the annual subscriptions. UI kits, wireframe kits, icon sets, fonts, and even presentation mockups come with reduced prices so that you can refill your toolset with fresh graphical assets and enhance your next project with modern features.
Both plans have drastic reductions. Thus, the basic plan that gives access only to vector graphics costs just under $100, whereas the pro plan that gives full access to the collection, including 3D graphics and a handy color editor, costs only $199.

From Photoshop to Bridge, if you want to use one of Adobe's great products, you will love this deal.
Much like the previous year, Black Friday sales are already on in Adobe. And they will last till November 27.
All the fans of Adobe Creative Suit can get 25% off on all apps. It means you can enjoy more than 20 desktop and mobile apps, services for designing images, graphics, layouts, user experiences, video, and audio. On top of that, you can get 100GB of cloud storage and access to the latest updates and features.
The offer allows you to choose an annual plan with a reasonable price to pay monthly or yearly.

Mockplus is famous for high-quality, realistic assets for presentations that will make any product display a winner in customer's eyes.
This year the team offers a mammoth discount on their plans. Instead of $100 for one user per year, all you need to pay is $29. With this, you will be able to use 600 pages per prototype.
The overwhelming 70% discount also applies to Cloud Ultimate Plan. As a result, you can get unlimited users, unlimited projects, Sketch/PS/XD/Axure design handoff, unlimited hi-fi prototypes, and unlimited pages per prototype for less than $60.

2020 saw Bluehost started their Black Friday campaign earlier to give all those of you who stuck at home a solid foundation for your projects. You can get up to 60% off this sale.
During this week, the hosting giant invites newcomers to enjoy website hosting with 60% discount for 36 months, CodeGuard Backup with 50% off for one year, WooCommerce stores with 40% off for 12 months, free multi-site management, free WordPress migration, and access to hands-on WordPress Experts just for $79. Sounds impressive.

When everything is set with hosting, it is time to get the domain name at the best price. For this, visit Porkbun.
Porkbun features one of the best deals on domain names, including first-year registrations and renewals, and even transfers. From A to Z to IDN, it covers all possible options that come with reduced prices. For example, you can get a popular "com" domain name for just $4.15 and trendy "XYZ" only for $1.00.
Along with that, the provider keeps your private contact information hidden, offers Free SSL Certificates and three months of free email hosting.


Black Friday is already in full swing in NordVPN. Their generous 68% will have everyone gasping for air.
NordVPN is a reliable and stable tool on the web. It offers a safe use of apps and private access to the internet, protecting your data when you use public Wi-Fi. You can get a 2-year plan for just $89 with three free months.
On top of that, you can add to your cart NordPass (a tool for securing your passwords) and Nordlocker (a 10Gb secure cloud for your files) for less than $3 per month.
PixelBuddha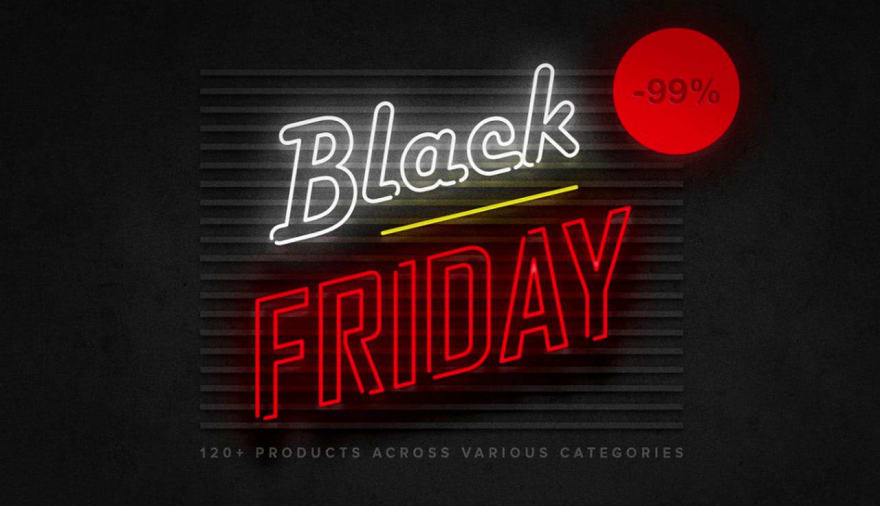 For all the designers out there, this year, PixelBuddha has prepared a special bundle that covers
Mockup templates such as business cards, stationery mockups;
Text effects such as transmission wrap effects, vintage comic effects;
Graphic design brushes such as pencil brushes;
Social media templates such as media booster kit;
Textures, patterns, and vector icons such as shadow overlays, Portuguese geometric patterns;
PS Effects
Actions such as Halftone Photoshop Effect. It is available for just 17$ for personal use and $21 for commercial use.
It feels like a real steal with such a good price for such a vast amount of high-quality graphical assets.

Get ready for a golden sales opportunity from PlaceIt that is one of the beloved scene generators with a ton of high-quality mockups from various niches and for different business sectors.
From November 24 to November 30, you can get unlimited access to all professional design templates, thousands of branding assets, and incredible video templates for just $12.7 per month or save 50% when buying an annual plan.

Last but not least. Self-isolation is an excellent opportunity for self-improvement. It is time to learn new skills and polish the old ones. Udemy is here to help you. Starting from November 20, it offers courses for as little as $9.99. The deal applies to all the categories.
Therefore, whether you are a web developer who wants to get higher in your career path by moving from front-end to full-stack or a digital entrepreneur who wants to grasp the basics of email marketing, you will find in here video lessons at the best price.
Hurry up; the deal ends on November 27.
Black Friday on Creative Market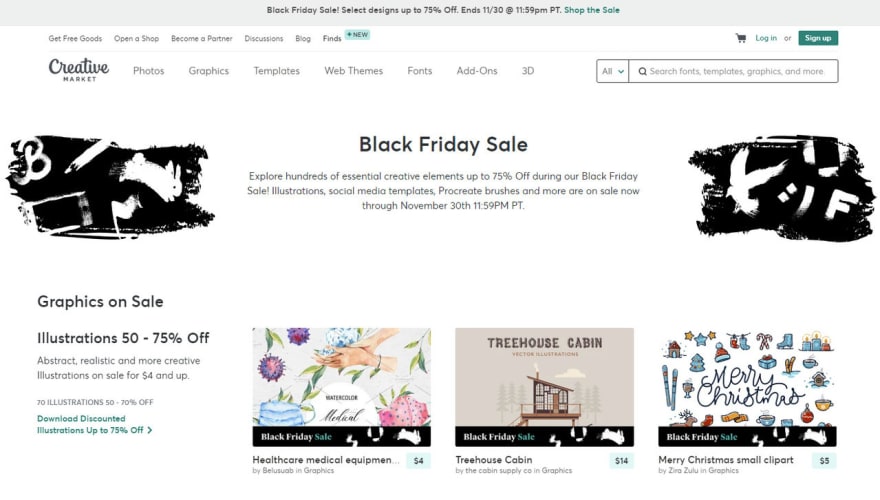 Black Friday deals 2020 are kicking off on Creative Market as well. Tons of high-quality graphics from artists all around the World are available for a reasonable price.
You will find in here illustrations with marvelous 50 - 75% off, textures starting at 20% off, scalable objects starting at just $3, seamless patterns great for fabric printing starting at $5, icons of various kinds ideal for web and mobile applications with a 75% off discount, highly-realistic mockups for creating killing presentations under $30, and much much more.
Black Friday and Cyber Monday on Templatemonster

Templatemonster has also released their Black Friday and Cyber Monday deals ahead of Thanksgiving Day, treating their loyal fans with competitive pricing.
Thus, this year you can enjoy some impressive discounts on website templates, presentations, graphics, videos, and audios and get unlimited access to 37400+ items through their membership plans. The basic plan costs just $5,75 per month, whereas the pro version with unlimited download, WordPress, and e-Commerce themes costs only $13,25 instead of $19.
Conclusion
While we are all struggling to get back to normal, waiting for the pandemic to be over, there are still some positive moments that help stick to the right direction and support our spirit. 2020 Black Friday and Cyber Monday weekend is one of them.
Whether you are a deal hunter or not, it is always a pleasure to get your special tools at the best price. More so, these days, when more and more brands migrate to online expanses seeking digital services of various kinds, it is always a great idea to fill your toolset with some extra instruments that can do all the heavy lifting for you like website builders, HTML email template editors or scene generators.