I am always super excited and super cool about my talks but kind of little nervous with the one planned on 25th Jan 2022 with Dasken IT as part of their DaWN India initiative. Wondering why nervous?
Because taking about technology is relatively easy and of course a cake walk for me. Even as non-tech, I do sessions on College to Corporate for budding engineers, Personal Branding for Arts, Science and Engineering students or even some kind of motivational talks in different forums at school and colleges.
Mrs. Jyothi have put me in soup to talk about My Journey. Not a great person to speak about self but let me try to do justice.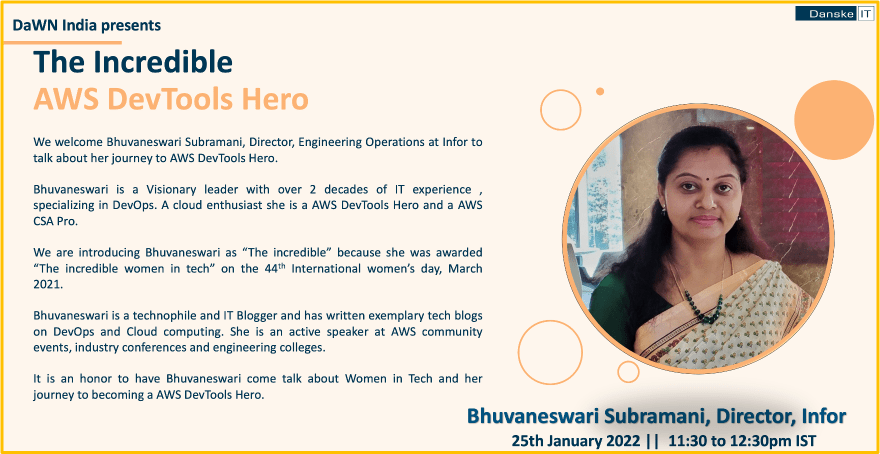 What a warm intro..
I enjoy trying different diagraming tools for different talks and this one was unique. Let me go with a MindMap with 6 diverse factors joining to depict my journey.
Embrace Change - From a Math & Science student in 12th grade to BA English Literature and finally became an accidental engineer. All through this transition, how did I embrace totally tangential subjects with few university ranks and distinction.

Lifelong Learner - In the age of digital transformation where the technology is undergoing a tremendous change, we need to be a lifelong learner to embrace new tools and technologies. How did I continued to be one such learner, built my brand and emphasised the advantage of having a mentor to guide you in the right direction when needed.

Community - Always over joyed to talk about my association with CSR, AWS Community, School & College Alumnae network to grow together. Most importantly be part of some self-love group which will help you work on your passion.

Honors - The most often asked question and I choose to answer it with the best interest of curious audience "What is an AWS Hero & How did I became an AWS Hero?"
What is an AWS Hero ?
o AWS Hero is an honorary award given to people from the community for their work and commitment towards the whole tech ecosystem/community.
o If you are passionate about cloud and AWS, and if you are someone who loves to "Unlearn, Learn and Share" then AWS would love to have you as a HERO.
It's not something you apply and get it or you take up an exam and clear it.
How did I became an AWS Hero?
o My passion for training and creative writing along with cloud knowledge & community spirit have paved the way to the tremendous honour, AWS Community Hero in June 2019 followed by AWS DevTools Hero in Nov 2020.
o Continuous contribution towards to AWS Community as an organizer of AWS User Group, Speaker and Blogger.
Mother as a Mentor
Working mother is always challenging and interesting. We as parents always nurtured them as voracious readers. My passion for blogging, writing poetry has also reflected in the kids and could help them to blossom as budding poets / authors.

WomenInTech
Let's not waste our time waiting for reservations or fighting for equality;
Trust me!!! It's not worth it any longer for two reasons
A. We have better things to do in life :)
B. We are certainly in an era where diversity & inclusion is felt more than ever.

Financial
Financial literacy is most important in your life which can never be over looked.

Lessons Learned
What if you hit upon an unexpected failure, which turned your life upside down ? It's quite natural to be unnerved or loose confidence in case of potential failure. You will not particularly be gentle or compassionate with yourself when you fail. Remember you have important strengths in this hard lesson: See the person you wanted to become and work towards that future, putting aside distractions and investing your energy wisely and strategically.
Here is the post by Dasken IT