Disclaimer !!: This post contains affiliate links... If you click one of the links to purchase, I will get a commission.
These commissions will help me a long way to sustain my blog, and for me to keep serving you with interesting articles
Not sure if Elementor is good enough? In this elementor review 2021, you will be learning about all the elementor benefits, pros and cons of elementor and why you should, or not use it.
Here is everything you need to know about the elementor page builder plugin for WordPress.
Table of contents:
What is Elementor ?
Features And Benefits
Elementor Pricing
How to use the elementor plugin
Round up about elementor page builder
What is Elementor?
Elementor is a Drag and Drop Page Builder for WordPress. This means a couple of things…
Elementor lets you create original-looking posts and pages that are unique, compared with the standard post/page templates that come with your WordPress theme.

It doesn't require any HTML/CSS/PHP/Javascript coding skills. Everything can be done in a handy user interface.

It works on the front-end of your website, meaning it shows you the outcome of your website right away in a WYSIWYG (What You See Is What You Get) manner.

You can use it to create any page layout you could ever think of.

One of the most important factors is that it works with all WordPress themes. So you can keep your current design and still get the best out of elementor.

By summing everything up, we can say that Elementor is a WordPress page builder plugin that enables you to create beautiful website designs and layouts through a simple drag and drop way.
By summing everything up, we can say that Elementor is a WordPress page builder plugin that enables you to create beautiful website designs and layouts through a simple drag and drop way.
Let's have a deep dive into some of the most interesting features elementor comes with:
Elementor Benefits And Features
Elementor comes equipped with more than 90 widgets to help you build amazing websites.
Some of these widgets include Image, Text, Image Galleries, Counters, Testimonials…. just to name a few.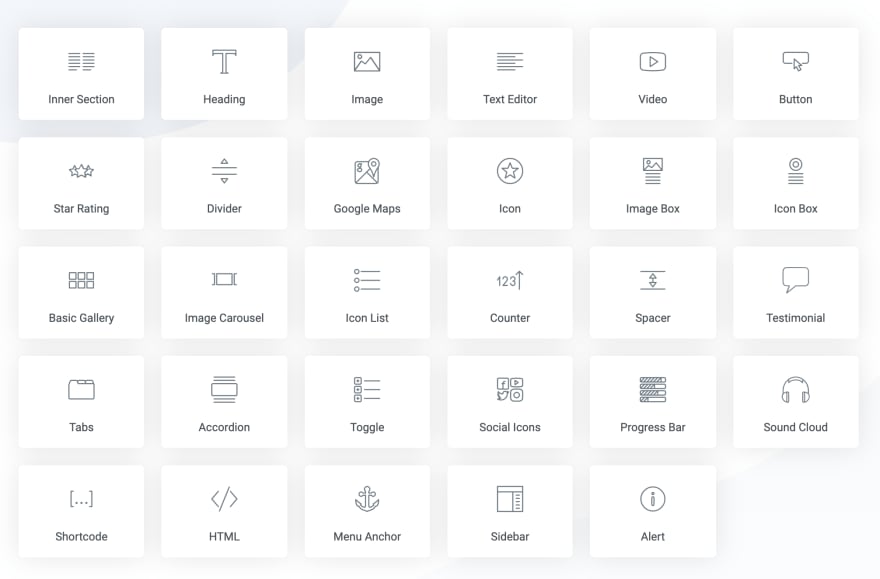 As I mentioned earlier, elementor is a drag and drop WordPress page builder that allows you to edit your website and see the results in real-time.
The live preview features mean you don't have to wonder what your page is going to look like because every change you want to see is in front of you in real-time.
Apart from that, Elementor gives you access to display settings. This is where you can change the backgrounds, margins and padding values, default colours, fonts, and so on.
Elementor comes with a full revision history, meaning you can revert back to any change, regarding you mistakenly mess things up.
With Elementor, you can also choose to do a preview on various device types and screen sizes (Mobile, Tablet and Desktop) by navigating to the bottom-left of the elementor page builder on your screen.
Elementor Pricing
This amazing page-builder plugin is also available for free, but of course, the free version doesn't give you all the options as compared to the paid version.
With the free version, you still have options like Image carousel, Google Map API, counter, animations, etc…
Now about the pro-version, it does have very interesting features that give it more power and it's advisable for you to have a copy of it from their official site.
50-plus additional content elements/modules.
300-plus additional page templates.
Theme Builder (the module where you can change the headers and footers of your current theme).
WooCommerce Builder (the module that allows you do rebuild your WooCommerce product pages).
Popup Builder (a module where you can build pop-ups and have them integrated with either an opt-in form or some special offer/discount).
Visual Form Builder (comes with integrations with popular marketing tools).
You can create Global Widgets and then reuse them throughout the site.
Add custom CSS to any Elementor block. Deploy Elementor elements in sidebars and widgets.
Here's the current pricing of Elementor Pro:

How To Use Elementor
In this section, I will be showing you how to use elementor after you have purchased, installed and activated the plugin on your website.
Once installed, go to your WordPress dashboard and hover your mouse on Pages, you will see Add New.
After you click on Add New, you will see another screen where you will need to put your page title and a button at the top where you can choose to edit the page with elementor.
When you click on the edit with elementor, a new screen will appear where you can now choose default built-in elementor templates
you will click on the icon in the middle to add a default template from the elementor library.
Once you click on it, you will see a variety of in-built elementor templates
As you can see on the screenshot, multiple templates which you can choose from. We decided to choose the third template as you can choose from the screenshot. You can choose any that looks appealing to you and customize it.
When you choose the template of your liking, click import to import it to your newly created page.
Elementor Review Conclusion
The question one may ask is… Is elementor better than the other page builder?
Well, it depends on the way you view it. But it's definitely one of the best out there for sure.
Still, there's one thing that puts Elementor significantly ahead of the others. That thing is the price.
While there's a Pro version of Elementor available, you honestly get more than 80% of the plugin's awesomeness for free. Other Page Builders like Beaver and Divi don't give you that. This makes Elementor the best first option for anyone looking for a page builder plugin.
Pros Of Elementor
It's free. And most new websites won't need to upgrade to Pro.
It has an exceptional range of features and is easy to use.
Again, the range of features that are available for free is more than impressive. I feel I should include that on the list twice.
It allows you to build custom page layouts and designs that may not be available in your current theme and doesn't require any HTML, CSS or PHP skills.
Features such as inline text editing and real-time previews give you a true 'what-you-see-is-what-you-get' editing interface.
The ability to adjust your desktop, tablet and mobile views separately.
There are very detailed settings for all of the alignments, margins and padding values. Literally nothing is outside your control.
Cons Of Elementor
-Adding custom styling to links doesn't always go as planned. You may be stuck with Elementor's default typography and color settings, which may not be what you want.
If something is misaligned on the page, it's often hard to locate the exact margin value that's the culprit. For example, you may have a primary block, a column inside it, and then a content element inside that. Each of them has its own margin settings.
Conclusion
If you need an excellent free drag and drop page builder, Elementor is definitely your Go-To destination.
You can click here to go to elementor's official website
NB: You can visit my blog, positivevibesmedia for many more interesting and related articles
Additional Resources
NB: You want your website to rank top on all search engines, get the best Plugin for SEO, RankMath
You can get premium and professional templates for WordPress to standout from other webite designs, from Templately

You can get Chaty, a chat widget plugin for WordPress on your website.


Also visit Premio, a store for many interesting WordPress plugins that might be helpful for your website and blog.