Managing emails is a huge drain on time and productivity. Spam emails plague most of us daily and it's not easy to unsubscribe from the ones you don't want.
This is why we created Leave Me Alone. It makes it super simple to see all of your spam, newsletters, and subscription emails in one place and unsubscribe from them with a single click.
Here is how to use Leave Me Alone to clear your Gmail or Outlook of spam.
Getting started
Simply connect your Gmail or Outlook account to Leave Me Alone

Sign in with Google or Outlook

Scan your inbox for spam received in the past 1 week, 1 month, or 6 months. The longer you scan for the more spam you'll be able to clear out! You can also scan the past 3 days for free. Sit tight, if you have a big inbox this might take a few minutes!

Purchase a scan
How does it work?
We never read the content of any of your emails but we do have access to some metadata - information about an email which you don't usually see. This metadata contains information on how to unsubscribe from the mailing list which we can use.
Most of the time there is a link at the bottom of an email which you can click to unsubscribe. This link is often in the metadata and we can use this to unsubscribe you.
Successful unsubscribe using an unsubscribe link
When you click to unsubscribe we use the link to remove you from the mailing list and determine the success rate by analysing a screenshot of the unsubscribed page. We can usually tell if it worked or not, but if we are not sure then we will let you know and ask if it worked so that you can still unsubscribe manually and tell us what went wrong.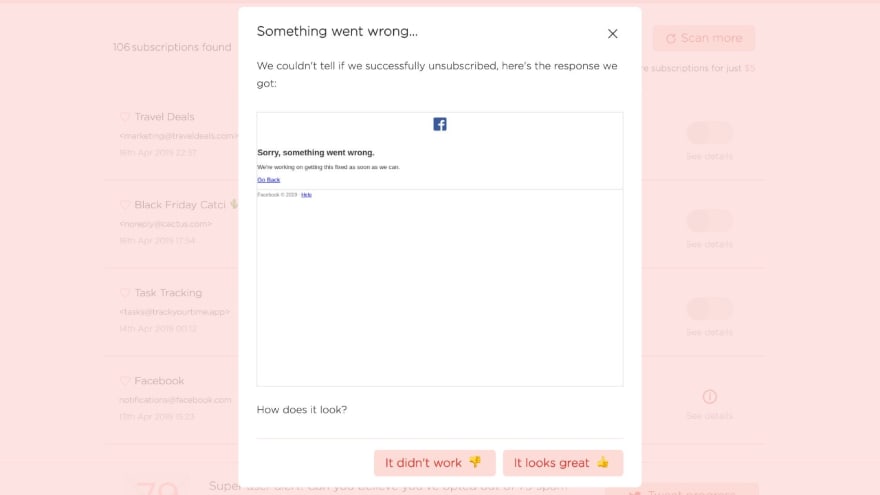 We think this unsubscribe failed and we show you the response to ask if it worked
Sometimes there's no unsubscribe link or the sender didn't add the link into their email. In these cases we can also send an email to the sender and ask them to unsubscribe you.
If the sender is behaving themselves then you won't receive any more emails from them!
Successful unsubscribe using mailto
We've got you covered. All you need to do is click the toggle to unsubscribe and we'll figure out the best way to get you out of that mailing list.
Why should I use Leave Me Alone?
Although not unique, Leave Me Alone is different from our competitors in two main ways:
When we scan your inbox we NEVER sell any of your data for marketing (it's been reported that Unroll.me sold user data to Uber). Since we never store any email information, we couldn't do this even if we wanted to, which we definitely don't!
We actually unsubscribe you from the lists rather than just moving them to trash or applying a label. Those subscriptions are gone forever, even if you decide to stop using our service your inbox will remain sparkly clean.
Leave Me Alone is a paid service (so that you know we don't need to sell your data to keep afloat), but we've tried to keep our pricing as fair and affordable as possible.
---
If you have any questions or suggestions we would love to hear from you - you can reach us on Twitter or send us an email.
Thanks for reading!