I've been using Firebase for a few months now, and the experience I've had with this has been amazing.
Quick definition:
"Firebase is a mobile and web application development platform."
Firebase provide us a lot of functionalitys, in order to reduce the development time and to make web/movile apps more maintainable. Must of the time Firebase works like a SaaS making easy and fast for us, things like handling authentication.
Want to see it?
Social Authentication cannot be easier than this...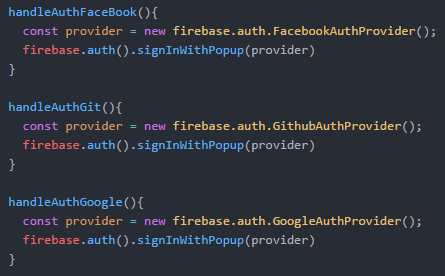 ---
To whom I recommend Firebase?
I recommend Firebase the most to entrepreneurs, startups and people on hackathons I say so because those particular markets, has requirement that constantly change during development phase.
Building a MVP with Firebase gives a greate adavantage agains others that are using other tools that takes to much time for example the analisys of a big database structure. If you have been in a Hackathon before, you already know that time is crucial; you have to spend time thinking on a good business idea, and then when you have something concrete in your mind, you have to document it and then the development time gets reduce to around 40% or less to create a functional MVP... If this is the case Firebase will be your hero.
If you want to learn more about Firebase, feel free to visit the official guide: https://firebase.google.com/docs/guides/
---
Have you used Firebase or plan to use it? Let me know in the comments.