Open Hours: A JavaScript plugin to generate an hours of operations table for your business website
Recently I had to schedule an appointment with my optometrist. On their site, I noticed that they had a list of hours of operation. What stood out to me was that the current day of the week and hours was automatically bolded. I thought that was a simple and yet useful design.
One of my current clients is opening up a restaurant. I thought it would be neat to add this little piece of UI goodness to their upcoming site, but also thought it could be useful for just about any other business. So I spent some time today writing a JavaScript plugin that allows you to define a simple JavaScript object with day and hours of operation and the plugin automatically generates a table and adds it to your DOM.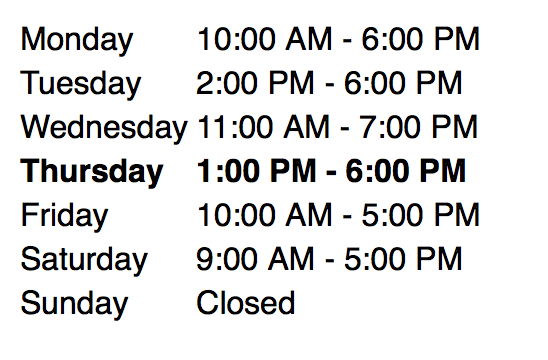 It's written in pure JavaScript so there are no dependencies whatsoever. If you think it'd be useful in a future project of yours, feel free to grab it on GitHub. There's a couple of more things I'll probably add to the plugin in the future, so if you'd like to stay in the loop about the plugin, sign up for my newsletter.
---
Originally posted on Michael Lee
DISCUSS
The software industry moves fast. But if you keep up, you can have an incredible career.
Classic DEV Post from Jun 30 '19