paper trading view repo on github
a few weeks ago when i was practicing price action method in MT4 i found out Trading View has a feature call Bar reply , you can cut the candlestick chart to the back , so i decided to buy a pro account .
but after a while i find out this feature does not prepare paper test . if you want to practice with Bar reply mode you should write your trade on paper and this was not a good idea.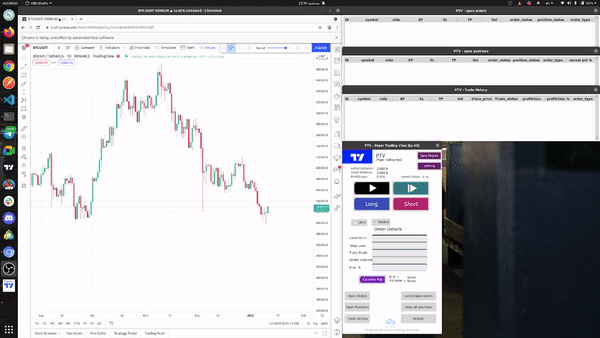 Quick installation tutorial video
so i decided to search i found another package on Git hub they call tradingview-trainer but this did not help me because it was not complete .
it's simple work with Selenium , tkinter
paper-trading-view Features
work with TradingView: For bar reply and getting price we use trading view.



Limit/Market orders: you can place a Limit or Market order in 2 side "long", "Short" .





SL/TP set: you can set stop loss and take profit for your market or limit order .





see Open orders: you can see list of open orders.





see Open positions: you can see list of open positions.





see trade history: you can see list of trade history.





Next/Play/Pause in bar reply: you can use this items in PTV and when price is changing open positions and open orders will be check.





initial setting: you can set your initial money / commission.





profit/loss of account: your total profit / loss calculate when your position close.





save report: you can save your trade history in a csv file.





paper-trading-view Github Source


https://github.com/xibalbas/paper_trading_view.git
The installation instructions can be found on project page! If you have any questions or comments, feel free to leave them down below! Good luck on your practice trading, hope this tool helps!
if you like it give a start :)))
designed with love