E-Commerce HTML UI Kit is perfect for all kinds of eCommerce websites because of its distinct features and page options. This kit can help you build an attractive and easy-to-use interface in no time. It offers more than 120 sections, several HTML templates and more than 300 UI elements. It is highly professional and can work perfectly for your next eCommerce web project.
The following sections will offer more details about the key features, pages, elements, pricing and other important information. So, you can decide if this UI kit is the right one for your purpose.
Key Features

This UI kit is loaded with all the necessary features to make your eCommerce website a versatile one. The main focus of this template is to help with web applications for eCommerce. Let us check out the features one by one!
HTML5 + Bootstrap 5

It contains all the latest Bootstrap 5 features so you can take advantage of all its internal features as a part of HTML5.
Fully Responsive

Each and every elements are fully responsive and compatible with all kinds of web browsers and smart devices.
Essential Plugins
You get all the important plugins without any problems. All you need to do is plug it and play it.

You get more than 300 UI elements that are crafted specially eCommerce websites. So, you can use the Copy-paste feature and build your template.
Top-quality Design
The designs are of the highest quality, so it helps in offering a great user experience and highest possible conversion rate.
Fully Customizable
There are no limits to customization for this UI kit. It is coded on a block-based structure, and you also get the CSS/SCSS files for all the sections. Moreover, it is based on Bootstrap5 so you can customize as much as you want.

9 sample templates can be used directly or can be used for inspiration to start the customization.
You can build the user interface of your choice with the help of more than 120 sections that are directly focused on business and eCommerce.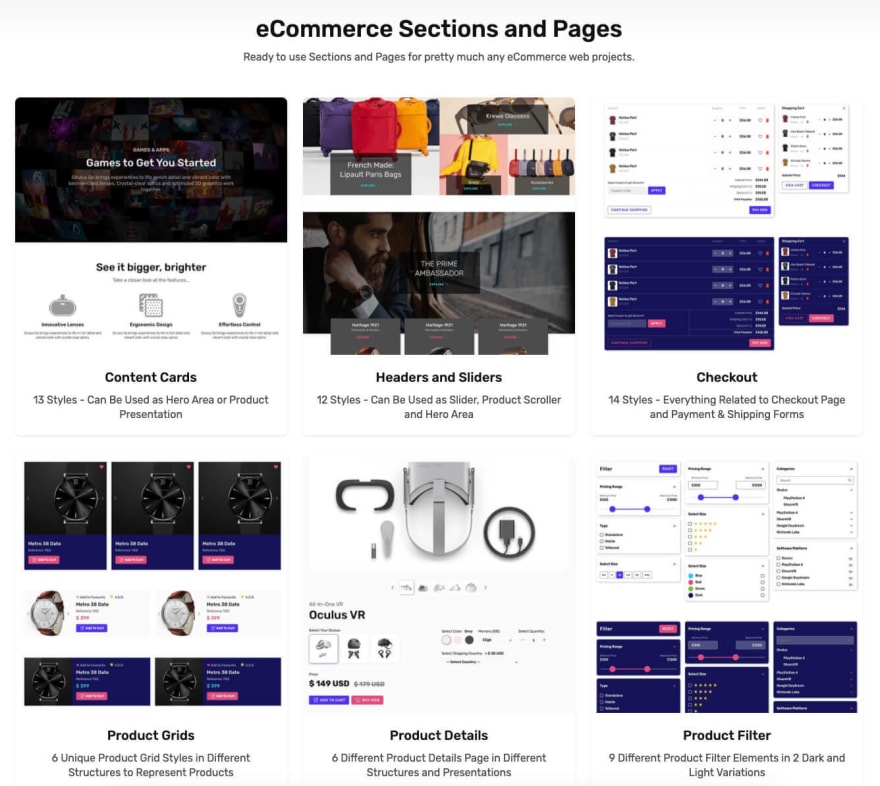 As mentioned above, there are more than 120 sections at your disposal. You can get various options for headers and sliders, registration page, login page, product details, product sections, order pages, product pricing and much more. With so many sections and pages, you will definitely find the one that is perfectly aligned to your eCommerce website idea.
Elements

This UI kit is loaded with ecommerce HTML elements that make your website more stylish. It has a range of options for Typography, dropdowns, progress bars, color lists, form elements, alerts, navbars, buttons and much more.

You have the options to opt for a starter, business or extended package. With the current offer, you get the starter pack for $39, but it comes with a single user license. The second option is for $69 and is ideal for a team because it comes with a license for four users. The final one is for $999 and an unlimited license. The features included in all three packages are the same except the starter package does not have Design Source File or Figma. So, you can choose the package as per your requirements.
Final Verdict
To sum up, it is a great UI Kit and has all the essential features that you need for building an eCommerce website. The best feature is that it is easily customizable, and you also get some sample templates. So, you can get started with your eCommerce website in no time.