Need a UI kit for your startup website? Looking for the best but have no idea which one to choose. Ayro UI Kit is there for you that has a High-Quality design, based on Bootstrap and Saas business-focused UI kit for startup and SaaS business websites and landing pages.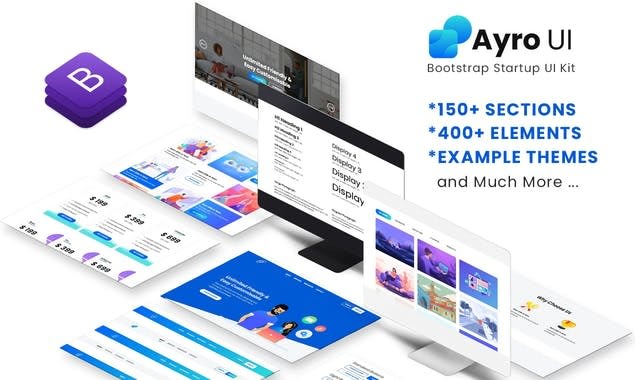 Ayro UI includes all required features, sections, and elements to create and generate web UI efficiently. This Kit comes with 400+ UI elements, 150+ sections, tons of example pages, and everything you need to build your startup website or landing page in minutes.
Without any further ado, let's check all the features of this UI kit.
Startup Focused
This new UI kit is extremely focused on startup and SaaS business to assemble your web project closer to launch. It'll make up the time and fit the best extraordinary ideas for your project.
Bootstrap 4 Based
Ayro UI built with latest version of bootstrap 4 and HTML5 that makes it more responsive and powerful. This UI Kit has a bunch of extensive prebuilt components, and powerful plugins. The form makes it super easy to get a great layout no matter what device you're using. Moreover, it's super customizable.
400+ UI ELEMENTS
In this Kit, you can get a full crew of user interface elements that can use for your web project, Saas landing page, startup, and many more. Following Interface elements include but are not limited to:
150+ Sections: hero area, sliders, cards, navbars, portfolio gallery, footers, team, testimonial, blog, call to action and much more ...

UI Kit Elements: Typography, forms, buttons, alerts, tabs, progress bar, tables, counters and much more


Ready to Use Templates: Packed with 8+ ready to use templates.
Refreshing Design
Fed-up by junk, complex, unnecessary designs? Ayro UI Kit can assist you with that. Ayro's designs are Clean, extraordinary, pixel-perfect, intense typography, and impeccable UX to implement the most satisfying experience.
Fully Responsive
Many designers try to find it hard to create responsive designs and adopt a mobile-first approach. Responsive design means that it is flexible and can adapt to any screen size, and mobile-first means that you start designing for the smaller resolutions first. Ayro is fully responsive to any device and compatible with all modern browsers. So whatever the device will be Ayro can give that a smash with its responsiveness.
Essential Plugins
Using this UI kit you will get all essential plugins, libraries, add-ons such as icons and libraries to make the task of designing a business website smooth and straightforward. All you have to do just plug-and-play.
Example Templates
Ayro bundled with multiple full-featured Templates and pages comes with the download package and more will be added. It makes use of vibrant colors, elegant typography, bright assets, and vast arrangements. This will take your personal projects to the next level by helping you design consumer-grade interfaces within no time.
150+ Sections
It features 150+ business sections, specially crafted for SaaS, startup, agency, and any kind of business site. This is the perfect option for your next web project.