I attended AWS re:Invent for the first time in 2019, and I had no idea what to expect, or how to pack. But having spent a whole week in Vegas last week, I now know what I should and shouldn't pack for next time! Here are tips on what to pack and what to know for your first AWS re:Invent!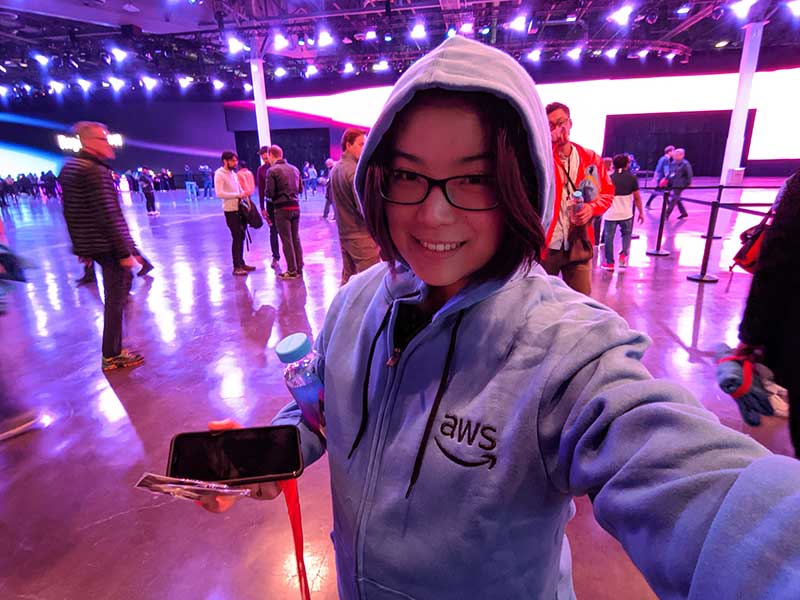 Packing 🎒
Pack a small, lightweight backpack for daily use. It can even be a draw-string mesh bag! Something easily to transport when you're not using it, but very useful to keep both hands free and walk around crowded spaces.
You don't need to pack enough shirts for the whole week, because you'll get enough at the Expo Hall to last you a lifetime! (Ok, maybe not that many, but I promise you'll find 1 or 2 that you'll be ok with wearing in the later part of the week.)
Pack a light jacket! It's a desert, so it gets a tad chilly in the morning or night. (Though for re:Invent 2019, they gave us a sweater!)
Wear comfortable walking shoes. No, not the kinda-ok Vans or fancy heels or dress shoes. WALKING SHOES. I wore my pair of usually-pretty-comfy Vans, and I really regretted not wearing legitimate walking shoes. I was walking 6~8 miles a day!
Compression cubes save the day! I finally bought some before this trip, and I was amazed at what they can do! It helps to compress the swag shirts, sweaters, and jackets they tend to give out for the trip home, too! There are tons of compression cubes available on Amazon, so I highly recommend checking them out before your next trip! I was impressed!
Pack a charging block for your phone! You're going to be on the go for most of the week, so it'll be rare for you to be next to an outlet that you can sit by for half an hour as your phone charges. Make sure you have a portable charger to keep your phone alive all day! If you aren't sure which to buy, the Anker brand always has solid batteries!
Pack a light, packable Duffel Bag, and make sure you have an extra luggage tag. You'll definitely end up coming home with more things than you started out with, and the last thing you want to do is to have to go purchase a new piece of luggage just so you can take the loot home. I went to AWS re:Invent with a backpack and a rolling luggage.. No checked bags... I returned from re:Invent with a duffel, backpack, and a checked-in rolling baggage 🧳
I actually recorded a "Packing for AWS re:Invent 2019" video and uploaded it before I left, but there were definitely things I packed that I didn't need, and things I wish I'd brought, but didn't.
Eating 🍔
You get fed lunch, and a lot of venues and events have food or snacks. Keep yourself fed, because it's easy to miss meal times when you're roaming the Expo Hall or going to panels.
Bring or buy snacks to munch on throughout the day. You'll be walking... A LOT. There are also snacks all over the convention venues for free at certain times. I'd sneak in a bite or two whenever possible to keep your caloric intake positive.
Bring a light water bottle. There are not as many places to refill your bottle as you think there would be for convention centers so large. Remember to hydrate 💦 If you forget to take water back to the hotel, at mine, they were selling bottles of water for $4 each... Yikes. At re:Invent 2019, they gave us a water bottle, but I don't think that's an annual thing. I would personally go with a Foldable Water Bottle or a Collapsible Water Bottle so you can slip it into your backpack when not in use without taking up too much space.
I thought I would be spending A LOT on food over the week. In reality, yes. Food is expensive in Vegas, but you have so many opportunities to eat for free that I only had to pay for few meals. Coffee, however, is another story, and oh boy. The prices on those puppies are more than Disney World of New York City...
Recommendation: If you can, go off the Strip! There is Chinatown close by with delicious food, and I had amazing Japanese and Vietnamese food. The price is much lower, too!
Transportation 🚘
Free Shuttles are NOT available to all hotels! Only "campus venues" (aka: hotels where there are re:Invent events going on) have shuttle access. Make sure you check out the campus map beforehand to know where the closest shuttle is! I didn't realize a hotel with a shuttle was right next to my own, so I spent a lot of money on Uber! You can find the Shuttle schedules and routes here: AWS re:Invent Travel Options.
Make sure you have a ride-share app downloaded just in case you are at a hotel without shuttles, or in case you want to go somewhere or come back late at night. Hopefully, you don't have to use it very often, but it's good to have at the palm of your hand.
Other Stuff 📝
Print business cards! I know, I know. You can just share your LinkedIn/Twitter/E-mail address! But there's something nice when you are all in a rush, and you can just hand them a card with your contact information on it so they can get back to you later!
Be picky about the swag you accept! Chances are, no matter how choosey you are, once you get back to the hotel and go through your loot, or once you go home after the long week, you'll wonder why you bothered taking that really ugly shirt home. Prevent waste and just don't pick up things that you aren't sure you'll use or want!
Also be picky about what events you attend! It's hard to say no when everyone's going, or it's a huge event like re:Play or Keynotes, but listen to your body! It's an extremely overwhelming week, and it's impossible to hit everything. I missed a few major events (like re:Play), but I don't regret it one bit, because it allowed me to sleep, recharge, and get ready for the rest of the week!
Get AWS Certified! It doesn't really matter what certification it is - as a matter of fact, go get your AWS Cloud Practitioner Certification - I can help with that! If you have any active certification, you get special swag and ability to go into the AWS Certification Lounge at most AWS events (including the Summits). This means you'll have food, drinks, and place to chill for a while as you charge your phone.
I said no to a lot of swag, but in all, I received 1 Eddie Bauer winter jacket, 2 thin sports jackets, 1 sweater, 2 t-shirts, 1 water bottle, 1 charging block, 2 pairs of socks, 1 stuffed animal, 1 duffel bag, 1 pull-string backpack, 1 collapsible straw, and 2 hot sauces. Along with some miscellaneous small things like pins and stickers and thin books.