This article was written by Tracy Wang and Jen Looper
As a student, it's very important to explore the world, broaden your horizons, and to establish your own circle. The AWS Academic Advocate team has as its mission to help more students expand their career options, increase their technical social circles, and discover ways to engage with AWS as a technical platform.
TODAY we're launching a brand new program at AWS that is tailored to meet students between the ages of 18 and 28 where they are and introduce them to AWS technologies and communities. After more than half a year of curating and planning, our AWS Cloud Club program is opening in selected regions.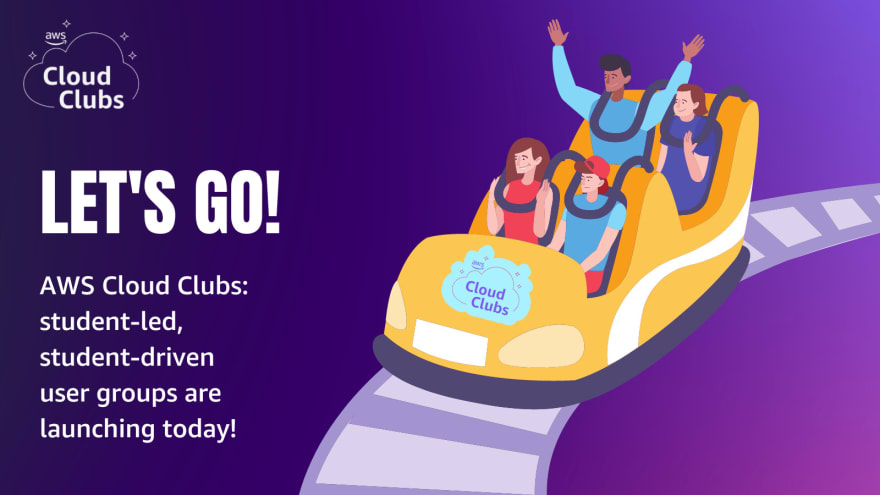 AWS Cloud Clubs are student-focused, peer-driven user groups for post-secondary level students worldwide. As a new initiative run by Developer Relations at AWS, Cloud Clubs are open to any learner age 18-28 whether or not they are enrolled in a given university. Today, we will be opening the AWS Cloud Club application for a short time, inviting applications for Cloud Club Captains. These are student leaders who partner with their local educational communities to launch these clubs on the platforms that they prefer, with our help and support.
Run by Cloud Club Captains across the globe, Cloud Clubs are regionally-based clubs that serve the needs of students locally. Potential Captains will apply for admission to the Club leadership and, after an assessment process, will be onboarded to AWS Developer Slack where they can meet peers and skill up in AWS technologies. They will have access to learning opportunities exclusive to Clubs, including AWS credits, AWS exam vouchers, bespoke swag, a Learner Library with leveled workshop content for reuse, and other benefits that they can use to help students learn from each other in an effective way.
Cloud Clubs are student-run and student-driven and are designed for tech curious people ages 18-28. While many folks would like to join a Cloud Club as Captain, our selection process is rigorous and bar-raising, and a basic requirement is that a Captain MUST be a student. AWS Cloud Club Captains take on the responsibility to gather their local student audience and launch initiatives locally. We will help them along the way with connections to various communities to help them level up.
"I want to be a Cloud Club Captain! But what's in it for me?"
Great question! We are offering a suite of benefits to Captains. These benefits will include AWS exam vouchers, AWS credits, exclusive experiences in partnership with AWS employees, opportunities for speaking and workshops, special Cloud Club Captain swag, professional coaching, and more.
If you would like to join a Cloud Club in your region or to become a Cloud Club Captain, visit the the AWS Student Hub where you'll find the application form. Don't forget to also follow @awsdevelopers on Twitter for more updates about Cloud Clubs.
FAQ
How can I submit my application if my region is not on the launch region list?
We are planning to open the next batch of regions later this year. In the meantime, fill in the Cloud Club interest form to express your interest, and we will consider your region based on the information in the interest form. Your application is very important to us. At the same time, we invite you to continue to keep an eye on updates of our Student Hub.
What information do I need to prepare before the application?
Please fill in your application information truthfully and describe your understanding of AWS technology and previous community experience in detail. We are looking closely at your motivation for wanting to open a Cloud Club.
How long do I have to wait before I receive news of whether my application was accepted or not?
We will send out application results around the middle of March via the email that you used to apply.
Can I apply to the Cloud Club program if I'm not enrolled in a school?
Yes, of course, whether you are enrolled in a College or University or learning on your own, we welcome you to apply. You need to be over 18+, eager to build community, and based in a region where we can open Cloud Clubs at present.
What's in it for me after becoming the Cloud Club Captain?
Based on your Cloud Club activities, you can earn perks such as AWS credits, certification vouchers, swag, bespoke learning and networking experiences, and more. We want to work with you to make your Cloud Club a great experience for everyone, so help us understand your needs and we will try our best to meet them.
If I was not selected in this round as the Cloud Club Captain, what can I do?
We plan to open the application window twice a year, and welcome you to apply for the next cohort.