Introduction
DScan is a chrome extension that uploads the content to IPFS and generates decentralized QR codes. It is compatible with chromium-based browsers.
One of the most significant benefits of decentralization is the transformation towards being able to access the data from anywhere and is mainly driven by the heavy usage of smartphone and cloud applications. The vision is to ensure the user can have access to information as much as possible from anywhere in the world.
Benefits
DScan allows you to quickly upload images, audio, video, and any type of files (including NFTs and static websites) to IPFS and get a QR code with IPFS CID and hosted Infura link. Later you can share the QR code or Infura link with everyone for easy and decentralized file sharing.
✅ Decentralized
✅ No upload limits
✅ Permanent storage
✅ No compression (original quality)
✅ Private
✅ User friendly
Note: Large-size files may take a longer time to upload (we're working on this).
Use
Step 1: Install the extension from Chrome web store.
Step 2: Click on the "upload file" button and select the file that you want to upload.

Step 3: It'll show generated QR code, IPFS CID, and infura link.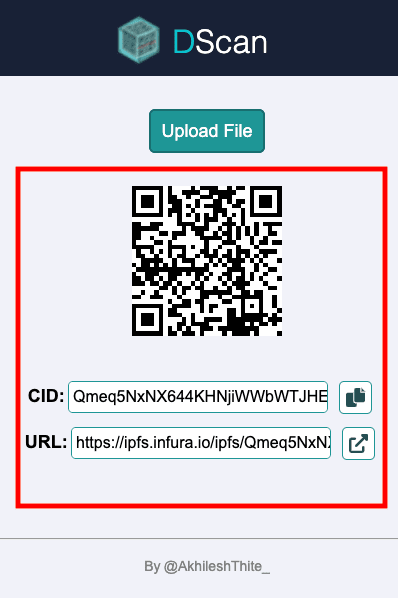 Working
Future goals
We're working on version 2.0, which will contain text and multiple directory uploads.
In upcoming releases, we will upgrade from IPFS to Web3 Storage.
Want to contribute?
We highly encourage you to add new features. Here are some issues to get started.
Have any questions and suggestions? Leave a comment down below.
Thank you!