Register Cart2Cart account
Set up your Source & Target carts
Select entities and additional migration options
Proceed to Free Demo Migration
Launch Full Data Transfer
Needless to say that ecommerce migration is really a big challenge expecting a high level of skills and expertise. In most cases, the differences between various versions of the same platform are so huge and substantial, that it is more of migrating, not just upgrading. Therefore, when you want to switch across various versions of the same shopping cart, there is no "one-click" button to upgrade all the estore data right away.
If you are searching for a way how to upgrade Magento 1 to Magento 2 but don't know where to start, your search ends here. Read the post about the main reasons and means of upgrading Magento 1 to Magento 2 and get ready to go through the upgrading process stress-free. So, let's get started.
What is the latest version of Magento?
Being around since October 8, 2019, Magento 2.3.2 provides users with new features aiming to save time and simplify project development flows. The release includes over 170 functional fixes to the core product and over 75 security enhancements. Besides, there are over 200 contributions from the community members.
Why Upgrade from Magento 1 to Magento 2. The Main Considerations
Magento 1 will stop being supported in June 2020. Therefore, not to be stuck with the abandoned platform, it is strongly recommended to upgrade to the newer version. You should treat Magento upgrade as not a very challenging matter, but a good opportunity for improvements instead. Now discover when it is critical to your online business to update Magento 1:
Slower performance
If your current online shop has performance issues, it is often treated as one of the first and most significant signs that upgrading is on the horizon. Otherwise, broken pages and poor users' experience will inevitably spoil your reputation.
Decreasing conversion rates
In case you see the conversion rates on your current estore are continuously decreasing - this is another prompt for you to seriously consider upgrading. If you update Magento to the newest version, you'll get the same structure and functionality as if you've re-platformed to another shopping cart.
Low scalability
If Magento 1 doesn't meet your evolving business needs anymore and you find it difficult to extend the shop functionality as required - update Magento 1 to Magento 2 should necessarily be considered.
Your competitors are breathing to your back
Because you don't upgrade, it doesn't mean that your competitors don't move as well. In most cases, they've already updated their Magento 1 and offer greater user experience to customers.
Still not sure whether the timing is right? Check our recent blog article Magento 1 vs Magento 2: How do I know it's time to upgrade?
How to Upgrade Magento 1 to Magento 2. 3 Basic Migration Scenarios
In fact, there are several ways how to update Magento to the latest version:
Manual,
Assisted,
Automated.
To be more specific, you can try to perform the Magento upgrade by yourselves, which means manually copying every piece of content off your current store and pasting it to the new one. It is considered to be quite a labor-intensive job, expecting a high level of tech skills to perform it.
Those merchants having no proper level of expertise should necessarily consider hiring an IT specialist or even a team of experts for the job (assisted method). They will perform the store data migration precisely and accurately, taking into account your specific business needs and requirements. However, as human work is costly, get ready to pay a solid amount of money (depending on the size of the store) to get the job done with your minimal involvement in the process.
The option of automated ecommerce migration is clearly the most attractive one if compared with the previous ones. It involves little to no manual effort, slashing significantly the time and resources needed for conducting the store migration. There are many online services/tools/converters (like Cart2Cart) that are currently floating around the web that perform the migrating/upgrading of the estore data across various platforms/versions in a fully automated manner.
All in all, which way to go depends mostly on how much time, money and resources are you ready to spend. There are many ifs-and-buts to each migration way, but generally, the days of copy/pasting the store data are gone.
How to Upgrade Magento 1 to Magento 2. Why Cart2Cart?
The automated method of ecommerce migration is becoming more and more popular with each passing day due to the advantages that it provides its users with. Specifically, there are no tech skills expected to perform the upgrade automatically. The process is extremely intuitive and expects just filling out a few text fields on a form, selecting some options or pressing the Go buttons.
Dut to the fact that Magento is the platform with the most intricate structure, it is recommended to turn your store data to high-skilled specialists of the Cart2Cart Team and get the job done with no data loss and business disruption. Cart2Cart guarantees 100% data security and what's more, your current store will remain up and running during the whole transferring procedure.
How to Upgrade Magento 1 to Magento 2. Cart2Cart Route
As it has been mentioned above, updating Magento to the latest version is rather a migration of data than a simple procedure of e-shop upgrade. You will transfer entities from one store to another, therefore, it can be called Magento to Magento migration.
Magento 1 to Magento 2 upgrade involves store database migration, reinstalling the necessary extensions, and recreating the design of the current online shop (if required). Cart2Cart provides you with a possibility to import the store database from Magento 1 to Magento 2 in a fully automated way and focus on business running instead of performing the whole job manually. During the whole Cart2Cart journey, you'll get useful tips provided by online Migration Wizard, besides the Support Team with a human behind is available 24/7 in case you got stuck.
Now, when we've decided to upgrade Magento 1 to 2 automatically, let's go through the whole process of Magento upgrade steps one by one.
Step 1. Get Magento 1 and 2 stores ready
From the drop-down list of the Cart2Cart migration wizard, select Magento as your Source Cart and insert its URL in the appropriate field. Download the Connection Bridge (it aims to establish a connection between two stores), unzip and upload it to Magento 1 root folder. When ready, choose Magento as your Target Cart as well and do the same procedure with the Connection Bridge one more time.
Once you have successfully installed the Connection Bridges to both Magento stores, it's time to proceed with the next step.
Step 2. Specify data & additional migration options
With Cart2Cart it is possible to either transfer all of the store data or choose only the required ones. The list of currently supported entities that can be transferred across different versions of Magento includes:
Product,
Product categories,
Manufacturers,
Customers,
Taxes,
Orders,
Coupons,
Reviews,
CMS Pages.
Besides, to make your Magento 1 to Magento 2 upgrade process even more seamless and trouble-free, you can take advantage of the additional options like:
Preserve order and customer IDs on Target Store,
Create 301 redirects on your target store after migration,
Migrate customers' passwords,
Create product variants based on the combinations of options,
Migrate categories and products SEO URLs,
Migrate images from product descriptions, categories descriptions and blog posts descriptions, etc.
What's more, it is also possible to map order statuses and customer groups during this step. Select the necessary descriptions and all the data will be transferred respectively.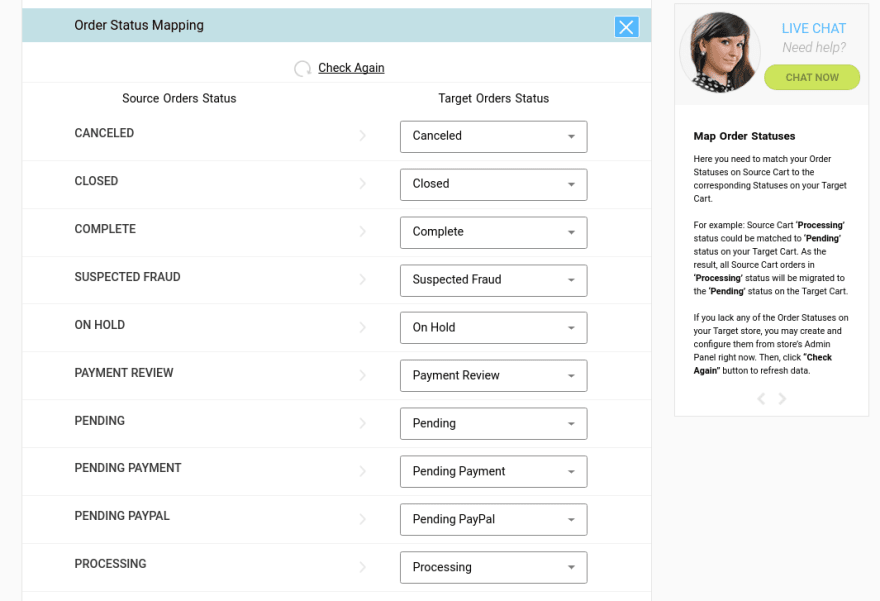 Besides, you can take advantage of the Cart2Cart Online Estimator and calculate the exact cost of your specific Magento 1 to Magento 2 upgrade.
Note: with Cart2Cart you pay only for those entities you actually transfer. Therefore, the price of the Magento 1 update depends on the total amount of data to be imported.
Step 3. Run free Demo migration
Cart2Cart provides its users with a great possibility to see how it works. So, take your time to go through the Demo and evaluate the results on your new Magento 2 store. If you are happy with the Demo results, you can launch Full migration.
Step 4. Initiate Full migration
Full Migration usually takes from a couple of hours (depending on the number of entities that need to be moved). Once you launch the transfer, you can close your browser window and come back to managing your business.
That's it! Automated Magento 1 to Magento 2 upgrade runs automatically.
Once all entities are transferred to Magento 2 by Cart2Cart service, you'll get an email with the results. In case you want to have a 360-degree view of the Magento migration process - watch a video tutorial presented below:

Wrapping-Up
With all that being said, it's becoming obvious why more and more users all over the globe gravitate towards the automated way of ecommerce migration. So, if migration fuss is exactly the thing that keeps you off the "Go" button in upgrading your Magento 1 to Magento 2 - give a try to Cart2Cart service to get the job done absolutely hands-off.