Business Transformation
Uncertainty is the new normal today, with no clear end as well. Businesses, small and large, have been besieged with unprecedented challenges. Any business is constantly in a state of improvement, upgrade and transition. This is necessitated primarily by the current pandemic, then changing market economics, customer preferences, government policies etc. Business transformation is inevitable. It can be defined as changes or modification to business operations necessitated by the need to improve or due to external factors such as Covid. Digital transformation is one of the key steps in Business transformation
What is digital transformation?
Is it simply the adaptation of technology in an organisation?
Using software, tools and other systems to replace manual work?
Does adding more softwares and state of the art hardware transform a business digitally?
Far From it! Adapting technology makes the job easier for sure, but digital transformation is an entirely different subject.
Digital transformation can be defined as a time bound, holistic change in the business culture which involves people, process and physical aspects, driven by technology. It is a mindset that needs to be adopted by a business. To break it down, Digital transformation redefines a business operation, how employees work, how management perceives data and makes decisions. It alters the way of working in a more systematic and automated way with the singular goal of improving the business at all target levels. Digital transformation is not simply adding technology. Like replacing a software with another. Its planning, analysing, conducting & supporting business operations via technology. IDC has predicted that digital transformation will take up 50% of IT budgets by 2023
Need for Digital Transformation
Before we start on defining the need for digital transformation, why does an organisation need digital transformation? Is it mandatory? The answer to that is simply where does the business see itself in a few years down the line? If the goal is to scale, constantly get better, outrank the competition, diversify etc, then digital transformation is a must. Customer experience is being driven by digital mediums at a rapid pace. Cheaper hardware, faster data speed also drive the need for digital transformation. In the post covid world, uncertainty is written large. No one knows for sure if the old ways of working and doing business will return. Take for example RPA or Robotic Process Automation. Gartner has predicted the spending on RPA services to grow to $2.4 billion by 2022
Core Changes across business areas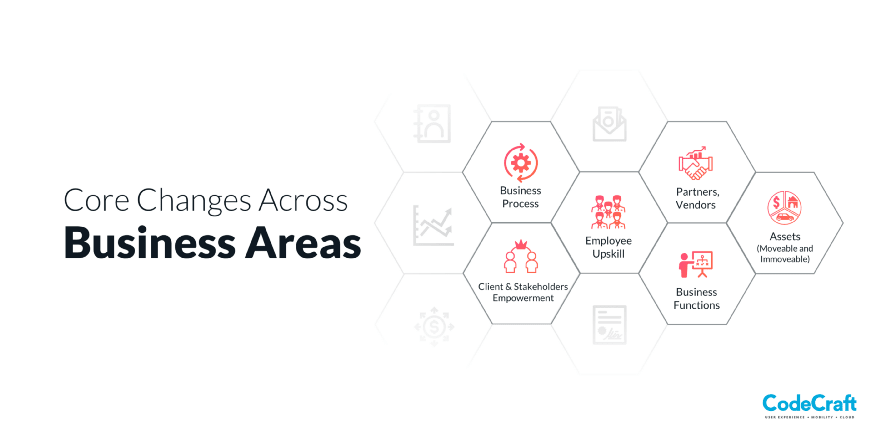 1. Employee upskill
2. Business Process
3. Client and stakeholders empowerment
4. Partners, vendors
5. Business functions
6. Assets(Moveable and Immoveable)
Digital transformation helps customers, employees and management get information as and when they require. Frictionless experience goes a long way in retaining customers
With information available all the time, efficiency is achieved in process, output and decision making
Digital transformations biggest plus point is the data driven feedback which is priceless when it comes to planning. In a digital work environment, companies can pinpoint which areas, depts are bleeding, which are thriving, which need optimisation
Ease of operations invariably drive lower costs and improved bottom lines
Tools and Frameworks
Digital transformation is applied across a wide array of business functions such as sales, marketing, HR, administration and operations via
1. Cloud Computing for data storage
2. Big Data tools to mine data for analytics
3. Mobility to give customers omni channel experience
4. Mobility to give field staff best access to resources and sales
5. CRM tools and process for operations and administration
Digital Road Map
Any organisation that wants to radically change its course of working with Digital Transformation needs to have a Digital road map. This should be time bound and it should clearly list out the aims and objectives of the company in a short period of time frame and long period of time frame.
Prepare a team and leadership that defines the current state of capabilities and builds a road map for the transition. This will be based on company values, shared goals, budget and objectives. List out the benefits, list out the goals, list out the time and levels of transformation desired
Across verticals, identify opportunities, bottlenecks, pivot points and evaluate. Ask questions in this stage. For e.x In a delivery department, try identifying the most time consuming activity for delivery. Or in a marketing department, what's the average time taken to respond a inquiry email
Identify vendors, evaluate solutions, measure the pros and cons of solutions. Make a comparative study and evaluate which is better. Compare over a large time frame and wide data set
Implement tech driven solutions like automation, RPA, cloud based backup etc at the basic level. Train the employees and field workers on how to adapt to this new mode. Take feedback and incorporate
Update processes to Agile on a per project basis. At each project constantly evaluate the time and efficiency of execution.
Digital transformation for the future
The UK Govt has a beautiful slogan "Digital by Default" which summarises the importance of digital service consumption whether private or public in an increasing digital world. As mentioned above, Digital transformation is not limited to mere adoption of technology in the existing work culture of the organisation. It is a change in the mindset of the organisation in an holistic manner across functions and departments