In this article I share the results of the "State of OSS Monetization - Survey 2022" I conducted in March 2022. The survey was sent to nearly 10k authors of JavaScript packages in the NPM registry, of which 120 completed the survey and three were excluded as outliers. This article now presents the results of the 117 maintainers who responded.
Intro
Motivation for the survey
My goal with the survey was to get a better picture about the monetization of OSS to satisfy my own curiosity - specifically, how many maintainers really are interested in working part- or full-time for their projects, whether there is a desire to monetize their projects, and what payment would be sufficient to fund them.
Population of the survey
As mentioned earlier, the targeted population were maintainers of open-source software packages from the NPM registry which were contacted via email either using my own Gmail account and the email services Mailjet, EmailOctopus, and sendinblue using their free offers.
Technicalities
The survey itself was created using Google Forms and consisted of 16 questions that could be answered in about 5 minutes. The use of Google products was criticized for privacy concerns by four people who did not complete the survey.
The email asking to fill out the survey was sent between March 18th 2022 and March 31st 2022 to the email recipients. The survey recieves few answers in the beginning of April but was closed on April 5th 2022.
The Survey questions
The survey's 16 questions were divided into four parts, each presented on a web page:
P1: Context of the OSS project
Q1: "What is the name of your OSS project? (to handle duplicates, please use the handle on a registry - such as "react-native")

Q2: How many maintainers does your project have? (Average Number including you)

Q3: How many contributors does your project have? (Average Number excluding maintainers)
P2: Amount of work
Q4: How much time do you invest in programming your project? (Average hours per week)

Q5: How much time do you invest to manage your project or maintainers / contributors? (Average hours per week)

Q6: How much time do you invest to raise funds / monetize your project? (Average hours per week)
P3: Monetization status
Q7: Do you want to monetize your project?

Q8: Would you work full-time on your project, if you could find a stable monetization mechanism (i.e., get a full salary)?

Q9: How much money would you need to comfortably work full-time on your project? (please convert roughly in US-Dollar per month)

Q10: In which country do you live? (to give a context to your money need)

Q11: How do you currently (try to) monetize?
P4: Views on Monetization
Q12: What's stopping you from monetizing your OSS project? (if you are interested at all)

Q13: Would you accept corporate sponsorships that funds a full-time developer for your project?

Q14: How much of their Revenue (in Percent) should companies contribute to OSS?

Q15: Would you force companies to contribute money (e.g., via Dual Licenses) if it was easy for you?

Q16: Do you have any tips, comments, suggestions, or criticism about monetization or this survey?
The Survey Results
Results of part 1: Context of the OSS project
Since Q1 was only used to exclude duplicate responses for the same project and no duplicates were found, the responses to Q2 and Q3 are more revealing of the size of the projects and supervisors that responded.
The responses to Q2 and Q3 show that mainly projects with only one maintainer and few contributors answered. Only 21.4% had more than one maintainer on average. The total mean shows 1.33 maintainers per project with a median and mode of 1.
As for contributors, more than 53.4% have more than one contributor and 27.6% even have four or more contributors in their projects.
Results of part 2: Amount of work
The workload for developing and managing open source projects was the second part of the survey.
Responses to Q4 to Q6 show that 25% program between 4 to 16 hours a week while 7.7% even work more than 16 hours - bordering to a part-time job. On average the participants develop 4.46 hours per week with a median of 2 hours per week.
The time to manage a project and other maintainers as well as contributors requires more than 1 hour per week for 32.7% while 12.4% even need more than 4 hours a week. The total mean shows 1.7 hours per week to manage an open source project.
Finally, only 1.7% spend more than 1 hour to monetize their project - with an average of 0.13 hours per week.
Results of part 3: Monetization status
In the third part, I wanted to find out if maintainers are at all interested in monetizing their projects and what it would take to fully fund them to work on their projects full time.
The responses to Q7 and Q8 show that 41% want to monetize their projects, while 59% would rather not. However, only 41.9% prefer to work on their project in their spare time, while 24.8% would do so part-time and 33.3% full-time.
The minimum salary expectation was the focus of Q9 and Q10 and reflects the varying salaries around the world. From the 117 participants 14.5% would be OK with less than 2k USD per month while 23.1% expect more than 8k USD per month. The average salary expectation of reasonable salaries above zero and below 40k per month is 6.7k USD.
The final question of part 3, Q11 looks at current approaches to monetizing open source projects. While 42.7% have no plans to monetize their projects, 28.2% are interested but do not monetize yet. That leaves 23.9% of the participants who already utilize monetization approaches. The main approaches for monetization are donations (33.3%), sponsorship (14.5%), and paid support (13.7%).
Results of part 4: Views on Monetization
The last part 4 examined maintainers' views on the monetization of open source software.
When asked about the acceptance of corporate sponsorship, 57.3% tended to accept support from an entire software developer, while 26.5% would rather not accept corporate sponsorship.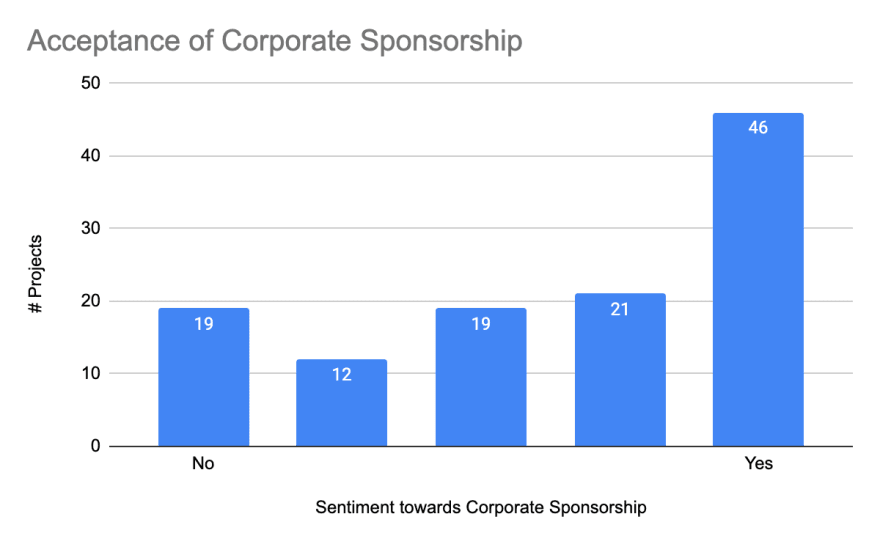 Another question targeted the expectation of how much money companies should contribute to OSS based on their revenues. On average, participants thought it was appropriate for companies to contribute 3.81% of their revenue, with a median of 3% and a mode of 1%.
Finally, question Q15 was intended to be polarizing and asked whether companies should be forced to donate money. While 58.1% of respondents answered no, almost a quarter (23.1%) leaned toward yes.
Please note that question Q16 was a comment field and was not evaluated - as was question Q12, which was too complicated to present in any meaningful way (but feel free to evaluate the data in the Github repository).
Conclusion and Interpretation
While fewer maintainers answered than I hoped for and the survey is in no means representative, my takeaway is that many maintainers (40%) want to monetize their projects and could decide it on their own (most projects have very few maintainers). If monetization would work it should yield an income of about 6.6k USD per month or 80k USD per year to enable the maintainers to work part-time (25%) or full-time (33%) on their projects. Furthermore, almost a quarter of the maintainers (23%) would even agree to force/pressure companies to dedicate 3% of their revenue to open source projects.
If you want to make your own analysis you can find the anonymized data in the following repository:
If you want to stay informed about further explorations and approaches to find a satisfying solution for the Monetization of OSS you can follow my ideas here: