Three bricklayers are asked: "What are you doing?"

The first one says, "I am laying bricks."

The second says, "I am building a church."

![brick layerer](https://dev-to-uploads.s3.amazonaws.com/i/o98dkysce26ymkwkot67.png)

And the third says, "I am building the house of God."

The first bricklayer has a job.

The second has a career.

The third has a calling.

"Grit: The Power of Passion and Perseverance" by Angela Duckworth (pg. 159).
Most years, I start out thinking that I'm going to kill it. Whatever "it" referred to. I spent months trying to figure out what kind of new goals and resolutions I'd like to have in my life.
As the third month rolls around, hopelessness sets in—still, nothing. No defined action I wanted to pursue, no purpose I tried to revolve my life around, no reason behind the rhyme as they say.
One year, I tried to revolve my year around a single word: "courage." For the most part, this helped me quite a bit, but there were other years I couldn't even think of a single word the entire year.
There were years I would wake up and look out my window, excited for the day to end so I could go back to sleep again. What kind of life is that?
"Massive Action is the Cure-All" - Tony Robbins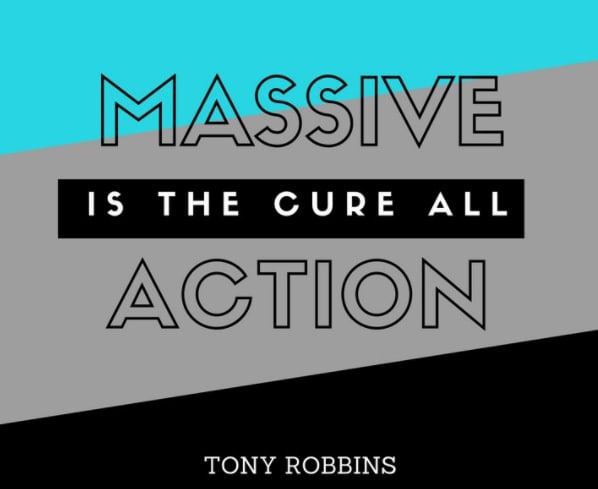 In 2018, before the clock struck midnight on December 31st, I had already taken action against the horrible habits that I developed throughout the year. I merely made a decision and had enough. I found money lying in various investment accounts and savings, put it towards my debt, cutting it down to nearly half. What a way to start my year, eh?
I read an entire book in one day, making it a goal to read fifty books that year from my collection of unread books. Best of all, I realized the importance of a morning routine, but I also took action and committed to it (morning routines indeed change your life, get one!).
Why is massive action the cure-all? Because taking small, itty-bitty steps to your goals isn't going to set that crazy incredible momentum that'll you need to change yourself.
To move a bolder, you need to push full-force with all you got and get moving!
Your Habits WILL Define You
A few years ago, I slept around 12:00 AM to 1:30 AM each night while looking at my phone watching Snapchat news and Youtube highlights on the Joe Rogan podcast. I set no alarm and woke up whenever with no plan for the morning. When I wanted to read, I kept my phone nearby with the volume up for those "just in case" moments.
I became lazy, irritable, and on the brink of depression, again. My horrible Youtube binge-watching led me to learn about what your poop is telling you.
In your mind, think of swimming against a rushing river's current. That's the situation we put ourselves in when we're in this constant cycle of bad habits while our hearts have this strong urge to fight against it. It's tough, yet we end up going nowhere.
Setting the directions in your "good" habits earlier on, mixed in with an intention and genuine purpose in your life, will help establish a much better foundation for happiness and motivation in your life.
Walking up at 6:00 AM every morning for the past week to work out, meditate, and read has set an incredible trajectory for my entire day. I feel motivated, happier, and even had an incredible small talk with my dental hygienist.
Find Your Calling
Have I defined my calling clearly? In a way, yes. But I'll keep that to myself for the time being.
Going back to the story on these three builders, I found myself to be the first worker. I was laying down bricks. The day set up to be merely tasks. The bigger picture was never apparent to me, and I just went day by day hoping to find it.
I know that these hard times make all of this a bit unsettling. Although, sometimes, these obstacles are moments of opportunity and ponder.
Define your "why" and change your habits with massive action. You'll be surprised how far you'll go.
Classic DEV Post from Aug 6 '19