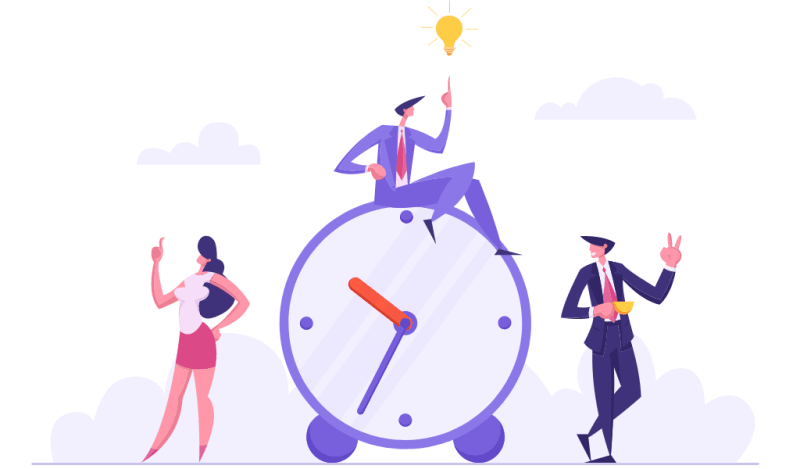 Is your team finding it difficult to deliver projects on time? Do you miss your deadlines quite often? If yes, I would like to tell you that you need to ramp up your time management skills.
Working within the defined time frame is probably one of the biggest challenges that teams have to face. Time management becomes more complicated when working on complex projects with significantly large numbers of tasks.
To help your team manage time effectively and accomplish tasks promptly, you need to take advantage of a sophisticated time management tool.
Today, hundreds of time management tools are available that your team can use to keep track of all their time and figure out how they can make the most of their working hours.
In this article, I've assembled top-of-the-line tools that will assist you and your team with better time management.
Importance of Time Management
Time is limited, and if you want your team to become successful, your team must manage their work hours smartly. Being poor at time management will not only degrade your team members' performance, but they are also likely to feel dissatisfied and stressed. Apparently, 26% of work has to be done outside work hours due to diminished productivity.
Time management mostly circles around planning, scheduling, and prioritizing tasks. By having a clear idea about what you need to do at a particular time, it becomes possible to stay focused and productive.
Still unsure why you need to emphasize time management for your team? Take a look at the following benefits that you and your team will get by becoming good at time management:
Improved quality of deliverables
You can do more work with less efforts
It becomes easier to capitalize on new opportunities
Reduced work stress and anxiety
Promotes self-discipline and minimize procrastination
Faster career growth
Keep in mind that while these are time management techniques you can use to help in the present, there is also time management that requires a little groundwork initially but can save hours for everyone down the line. One such method is creating standard digital course material or hosting webinars or other educational virtual events that can ensure that everyone is on the same page and understands their work clearly.
7 Most Reliable Time Management Tools for Your Team
Now, let's check out the time management tools that your team can start using to become time-efficient and deliver work on time:
ProofHub

ProofHub is a comprehensive project management software that comes with built-in time trackers that enable your team to be boost time efficiency. You can create timesheets to keep all the time data for your projects, tasks, and teams in a single place. The software also lets you make manual time entries to ensure that you keep a record of every minute spent across different tasks.
With ProofHub, you can set time estimates to let your team members know the time within which they must complete the work. Moreover, the software also comes loaded with various other features that allow you to allocate tasks to team members, define task deadlines, schedule and prioritize tasks, communicate with the team, and much more.
Best Features:
Track billable and non-billable hours for projects
Archive timesheets to access them whenever required
You can export timesheets and use them for client invoicing, payroll, and better time management
Bird's eye view of all the time data makes it possible to see how each member spends their daily work hours across different projects and tasks
Best Plan:
Ultimate Control - $89 per month when billed annually with unlimited projects.
Clockify

Clockify is among the best time tracking tools that teams from industries use to manage time. The most remarkable thing about this tool is its simple interface, making it easy for anyone to get used to its functionality. The one-click timers allow you to start tracking time instantaneously.
All the time entries are stored within Clockify, and you can even add & edit time entries manually. It can automatically track your activities, like visiting a website, using an application, and converting them into time entries. The tool also comes with the ability to track time while you are offline and sync all the time data with its servers when you get back online.
Best Features:
It provides you with invoices based on your requirements.
You can get all the essential insight into your team's time data using detailed and scheduled time reports
Tracking reminders ensure that you never forget to track time
It allows GPS tracking.
Best Plan:
Pro - $7.99 per user month.
Tmetric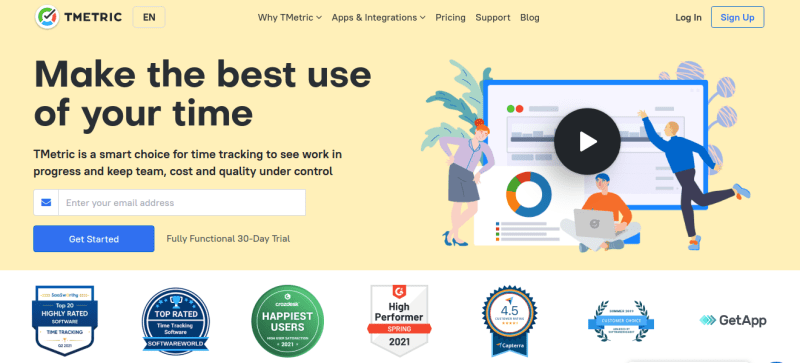 Tmetric is a time tracking software that comes integrated with several advanced time management features. It is a great tool to track and monitor the activities of your team members. The team as well as task management along with time tracking makes Tmetric a preferable choice when working with remote teams.
You can visualize what each team member is working on and check if they are not wasting their time scrolling through irrelevant websites or apps. It provides you with idle detection whenever there is no activity on any team member's screen.
Best Features:
Team and task management
Website and app activity tracking
Idle detection
Generate summary time reports
Project management
Best Plan:
Professional - $5 per user per month.
WebWork Time Tracker

WebWork is a time tracking and employee monitoring software for complete remote work management. As a time tracker it offers 4 screenshot modes that can be used for different types of projects and privacy levels. WebWork also gives you information on your employees' attendance and most used apps and websites so that you have an idea on how much of their time is spent on work.
As an employer or client you track not only time spent on work, but also get detailed reports with employee attendance, activity level, productivity and more. If you are a freelancer, you will have the ability to set hourly rates and automatically generate invoices for your clients.
Best features:
4 screenshot modes (Screenshot, Background, Blurred, No Screenshots)
Availability across all platforms (Web, Desktop, Mobile, Chrome Extension)
In-Built Task Management System
App and Website Usage
Best Plan:
2.99 $ per user/month
Hubstaff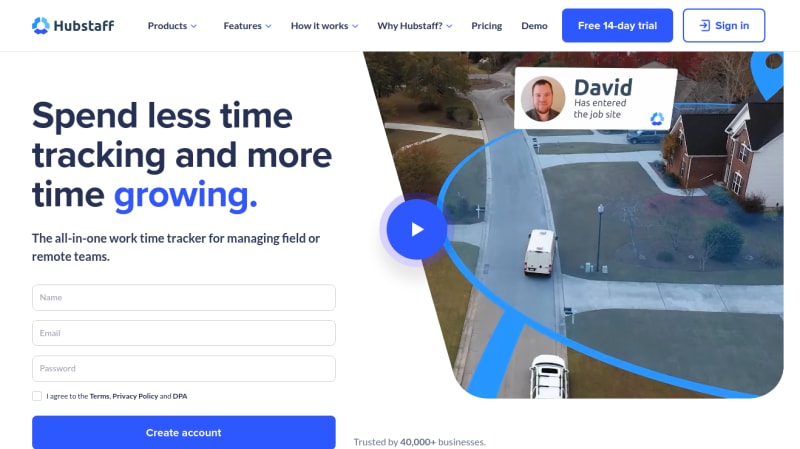 If you want a premium time tracking and productivity monitoring tool, Hubstaff makes a great choice for you. It gives you the flexibility to track time for individual projects, tasks, and team members. Its smart time tracking and management capabilities make it easier for teams to boost their productivity and finish tasks right on time.
Hubstaff's detailed dashboard lets you visualize all the time data in a single place. You can see how each team member is splitting across multiple projects or clients. To assess your team's productivity, you can track whatever they are doing during their work hours by randomly taking screenshots of their monitors.
Best Features:
Geofencing provides alerts whenever team members leave or enter their assigned job sites
Manage your team's schedule and track attendance of team members
Create detailed and actionable time reports
Best Plan:
Enterprise - $7 per user per month for a minimum of 2 users.
TimeCamp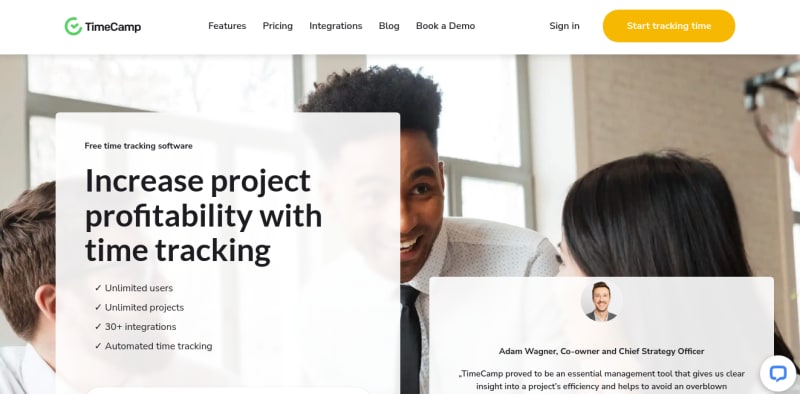 Time is a simple yet power-packed time tracking tool for all types of teams. With this tool, you can track your team's performance and eliminate challenges that prevent the timely delivery of projects. Additionally, the tool comes in handy in assessing the profitability of all the tasks that your team is working on.
TimeCamp's intuitive interface and minimalist design let you use all its features without the need for any professional help. The tool allows you to track time as either billable or non-billable hours to make the billing easier. Moreover, the timesheets in TimeCamp eliminate the need for spreadsheets for easy work tracking.
Best Features:
One-click timesheet approvals
Attendance tracking simplifies the way you manage your staff's attendance
Generate invoices for projects with a few clicks
Best Plan:
Pro - $7.50 per user per month.
RescueTime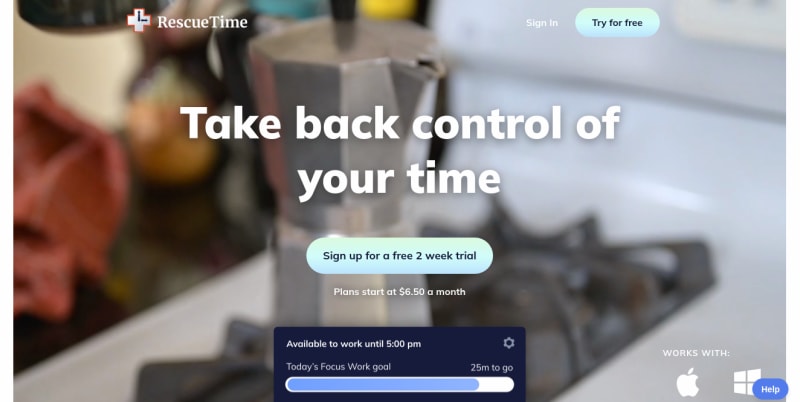 RescueTime makes you more productive and focused by helping you to keep all the distractions at bay. It tracks all your members' activities and lets you visualize how they allocate time to different tasks and projects. Moreover, you can also keep records of the time spent in meetings and calls.
The software comes with FocusTime distraction blocking that allows you to turn off distractions caused due to social media and news. Also, the real-time focus alerts keep you updated with both your productive and non-productive hours.
Best Features:
Create time and productivity reports
Track time spent on documents and apps
Customizable work hours
Pricing:
Premium- $12 per user per month.
ClickTime

Click is another popular time software for teams to manage time and track project expenses efficiently. It allows you to track time on different devices, including smartphones and laptops. You can control the project budgets and predict profitability by using the advanced project insights technology within the software.
With ClickTime, it is also possible to manage and approve your team members' time off. For getting work done on time, you must distribute work among the team smartly. The time tracking tool assists you with workforce management to ensure that you make optimal use of all your human resources.
Best Features:
View and approve project expenses
Time and expense reports with insightful analytics
Export data in CSV or Excel files
Pricing:
Team - $12 per user per month.
To Sum it Up
One of the most common things evident among high-performance teams is their ability to manage time effectively. The tools listed above will help you and your team to master the art of time management. Besides, these tools have several additional features that allow teams to become prolifically productive.
It's better if you don't waste any more time, pick a time management tool, and start delivering quality work.