How to organize a kick-ass company hackathon — Pt.2: Making it memorable
In our last blog post, we (Shir Peri, Developer Relations and Elay Gliksberg, a developer) talked about putting together a winning hackathon-planning team. This time we'll cover the topic of how to make your hackathon a memorable event.
Say Yes
At our hackathon team's first meeting, all we did was throw around wild ideas for things we might want to do during the hackathon. We decided on one rule: to say YES to all ideas with no negativity and then we put all these ideas in a shared doc.
We knew that once we'd start working on the actual event, we'll have so many tasks that all our creative juices will be replaced by checklists and deadlines, so documenting our ideas beforehand was extremely important. This way we had a go-to doc when we needed some fun creative ideas (like sunrise yoga, night time massages, and special equipment), at a time when our frantic minds were filled with logistics…
Eventually, our company hackathon at Soluto, included barely 5% of the ideas from this original brainstorming session, but it helped us get the ball rolling.
Surprise effect
All hackathon participants had a "planned surprise schedule". This means they had a known, pre-planned schedule, but there were still a lot of surprises along the way (we'll go into creative ways of making the schedule accessible in the next paragraph). There are a lot of cool, non-expensive, things you can add to a standard hackathon that will make a huge difference to the energy level, and increase the fun meter.
For example:
At 11:00 PM when everyone's tired and energy is low — we announced a massage session. The extreme joy on people's faces was priceless.
We gave a boost of energy with bottles of fresh health juices served in buckets of dry ice for a dramatic effect.
We decorated the location like a mad scientist laboratory (the hackathon theme was "Mad Science").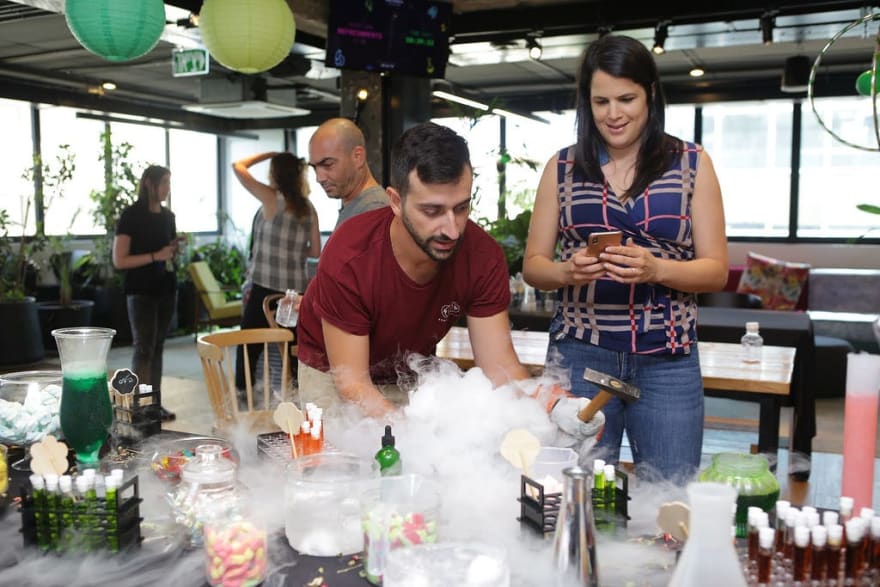 Alcohol shots in test tubes after lunch for fun and better coding 😉.
Giveaways and activities
I admit it, I'm a swag junkie. When I get great swag it makes me happy and gets me excited. Giveaways are an important part of the hackathon experience. There are three basic rules to follow:
Don't hand out all the presents at once, spread them out over the course of the hackathon.
Surprise them — don't let participants know when and what is coming.
Make the giveaways and activities fit into the hackathon's schedule. For example, in the morning we had sunrise yoga so everyone could start the day with a relaxing stretching session.
Here are some examples for giveaways and perks we used:
Starter kits — from toothbrushes, toothpaste and towels, to socks, T-shirts, and sleeping masks for a quick shuteye, we gave participants everything they'd need to make it through the day.
Robes — around bedtime (though no one was going to sleep anytime soon), everyone got a branded Soluto robe, to help them get settled in for the night.
Doughnuts — nothing beats a good sugar rush when you're working an entire day into the night. These late night treats did the trick.
Theme
Picking a theme for the hackathon is important. It sets the vibe for the entire event, it gets everyone excited and motivated, and it inspires a mood of creativity. In this last hackathon, our theme was "Mad Science" — we wanted the people to think of crazy projects and this was a way to open up their minds. The theme also sets the subject of the projects, whether it's things for the office, company, product-related, or global warming.
Some inspirational ideas for themes:
"Around the world" — solving worldwide problems through tech
"Closer to the sun" — a hackathon about global warming
" 2030" — building your company's future products
How to apply the theme in the field
Decorations
Imagine walking into the office and the first thing you see is nylon curtain strips, creating a lab-like entrance. You immediately feel like something wild is going to happen. Who wouldn't get excited?!
The decorations are super important for getting people in the right mood. The entire hackathon team worked on creating, designing, and bringing all the decoration ideas to life. From our experience, the UX team member should be the main lead, but the rest also have to contribute.
From past experience, we realized that it's best to focus on the main areas of the office (lunch area, presentation hall, and office entrance). Planning and making good decorations is really time-consuming, and the more space you cover the more work you have to do. Focusing on the main areas helps you achieve the ultimate time-to-value effect.
Try to make the decorations playful. We noticed that people were having a lot of fun during the hackathon thanks to the small things they could do around the office. In last year's hackathon, we used dry ice as part of the decorations — everyone loved it! It creates great effects and participants love to play with it, break it, and watch the smoke and bubbles it makes. Another cool thing we had is a photoshoot wall. We put some accessories and a polaroid camera next to the wall — it was a hit, going strong day and night.
Try to also include edible decorations. Use gummy candy, juice, or other colorful sweets.
Schedule
While organizing the hackathon we ended up with a pretty packed schedule. We had to think of a nice way to share it with the participants, without including the surprises that we wanted to share only 30 minutes ahead of time.
We came up with a simple techie idea. We created a website that served three purposes:
Showed the next event
Showed how much time was left until the presentations
Put everyone in the mood with its theme-related design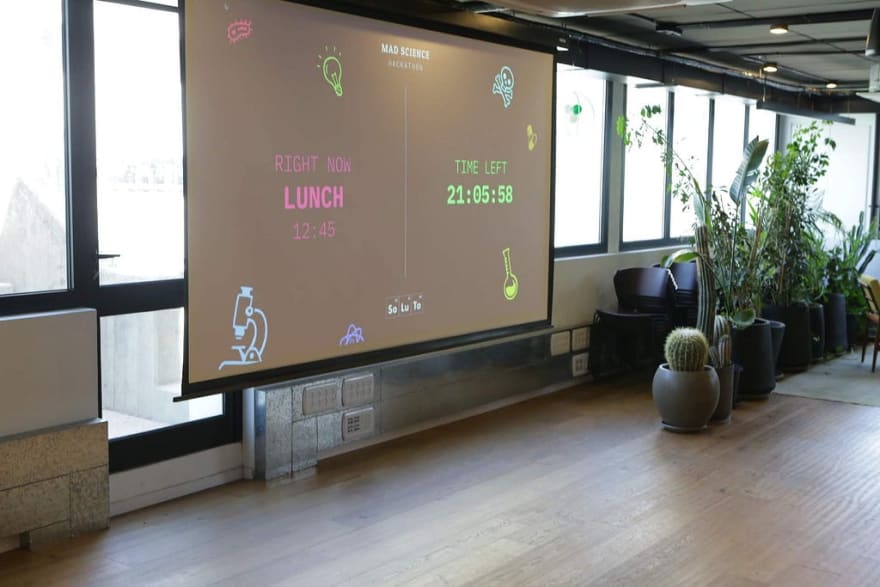 This website was on all the screens in the office and we also shared its link so everyone could open it on their computers.
We received super positive feedback on it!
You're welcome to check out our version of the schedule's website here: https://github.com/elaygl/hackathon-schedule
Feel free to clone it, edit the schedule, and deploy it in Firebase.
Prizes
One of the biggest challenges when planning a hackathon is getting everybody to work hard. Sometimes a passion for the project or new technology is enough, but for some people, a great motivator is the prizes for the winning team. The prizes should be something that's greatly desired and valuable. We wanted them to be something fun and techie. So, we decided to offer a range of options, from Airpods to iRobot vacuums, and let the winning participants pick their own prize. People loved it that there were several options and they were really motivated to win the prize.
In the next blog post, we'll fill you in on how we managed all the tasks (and there were A LOT of them), including some winning tips on what you should pay extra attention to and how to stick to a fixed budget.
'Til next time,
Elay & Shir
---