The 7 Best WordPress Plugins to Help You Create Killer Content
Backed by an extensive repository of over 55 thousand plugins, WordPress is by far the most popular and widely used content management system, powering more than 34% of the web.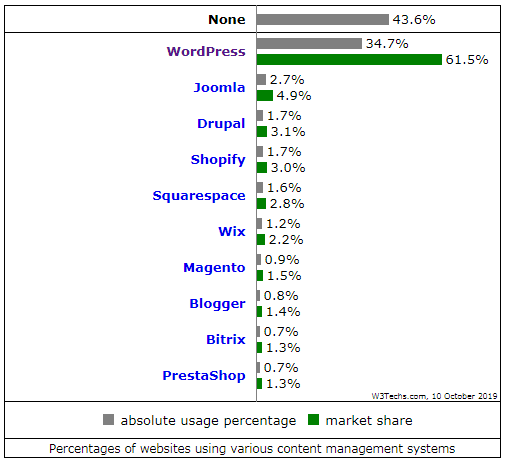 While it allows you to do several things with a website, it still can't produce high-quality content for you. This is something that you have to tackle on your own. However, with the help of various WordPress plugins, you can surely improve your content creation process.
To make your job easier, we have researched and picked out the 7 most useful WordPress plugins that you can use to improve your current approach. Whether you're a self-established blogger running multiple blogs or a multinational web development company offering top-notch quality WordPress SEO services to its clients, these plugins will surely help you create better and more engaging content.
Yoast SEO
Yoast SEO is one of the best WordPress plugins to properly optimize your content for search engines. Often people misunderstand that it is just a plugin to add metadata and tags, but it is indeed a complete suite with tons of features to help you create the best and most search-engine-friendly content possible. The two most powerful features of Yoast SEO are:
Readability Analysis
SEO Analysis
For each post you create, it analyzes your content against these two parameters and then provides you with suggestions on how you can improve it.
You can even choose a Focus Keyword and disperse it through the entire post.
Plagiarism Checker by SST
One of the biggest concerns for bloggers is to ensure that the content they are going to publish is not plagiarized and this plugin is built to solve the same problem. As soon as you install the plugin, it automatically checks all your new and old WordPress posts for Duplicacy and Plagiarism so that you can check and fix the plagiarized content accordingly. Key features of Plagiarism Checker by SST include:
Checks content for both Duplicacy and Plagiarism
Sentence wise checking
Excludes URL for a blog/website
High-quality, reliable plagiarism checking
You can even check your old posts

To understand how Plagiarism Checker works, you can check out the demo here.
SEMrush SEO Writing Assistant
As the name explains itself, SEMrush SEO Writing Assistant is a WordPress plugin that provides instant recommendations based on the best-performing articles in Google. Thus, if you're a blogger, content professional, or marketing expert, you can check if your content follows the best SEO practices in just a few clicks using this plugin. Key features of SEMrush SEO Writing Assistant include:
Overall content quality score
Readability score
Tone of voice
Target keywords with their volume and difficulty
Shows semantically related keywords
Checks for Plagiarism and possible linking errors
To use the SEO Writing Assistant, you must have a free or Pro SEMrush account!
PrePost SEO
As the name suggests, PrePost SEO helps you optimize the content of your post for search engines before you hit the publish button. The plugin synchronizes with the WordPress editor to help you produce high-quality, original, SEO-friendly content.
Using PrePost SEO, you can become a better professional writer over time as it helps you learn what your content should entail and what SEO mistakes you should avoid in the writing process. A few notable features of PrePost SEO include:
Checks content for Duplicacy, Plagiarism, Grammar, and Spelling
Warn you if there are any broken links in your post
Calculate Keywords Density in your post
Analyze Meta tags in real-time
Counts words and characters in your current post
Link counter with do-follow and no-follow status
Display SEO score of your current post
Checks images with their alt attributes
Provides suggestions on how to improve your post SEO
Editorial Calendar
Content creation should be a well-organized process for every blogger and content marketer. However, due to too many chores, it sometimes gets chaotic and this is why you need the Editorial Calendar plugin!
Providing you with all the necessary tools to manage your content processes efficiently, Editorial Calendar helps you stay organized with your content creation and publishing system. With this handy plugin, you can get an overview of your blog as well as can see when your next post should be published. Some of the top features of the Editorial Calendar plugin include:
You can see all of your posts, including their publishing schedule
You can drag and drop posts to change their dates
You can quickly edit post title, content, time, and status of a post right in the calendar
Allows you to manage posts from multiple authors
Edit Flow
Similar to Editorial Calendar, Edit Flow is another editorial workflow management plugin with even more powerful features. Enabling you to collaborate with your other editorial team members inside WordPress, this handy plugin helps you execute your content strategy like a pro. Some of the best features of Edit Flow include:
Custom post statuses
Threaded editorial comments
A convenient month-by-month Editorial Calendar
Keeps track of the important Editorial Metadata
Timely notifications on the content you're following
Insight into the upcoming content budget
You can create user groups to keep your users organized
The Edit Flow plugin is especially useful if you're running a multi-author blog.
LuckyWP Table of Contents
Table of Contents (TOC) is a great way to help users easily navigate across lengthy blog posts. With this amazing plugin, you can create a highly customizable, search engine friendly table of contents for your pages, posts and custom post types.
Key features of this plugin include:
Automatical insertion of a Table of Contents
Fully compatible with the Gutenberg editor
Skip headings by level or text
Hierarchical or linear view
Pretty hash in URLs
RTL support
DISCUSS
Classic DEV Post from Mar 1