The TikTok social network today has more than 800 million active users per month, a young audience full of creative challenges.
In this article today, we will tell you everything about the famous brand TikTok; that young platform today is ahead of Facebook and Instagram in terms of popularity.
But how about we start talking a little bit about....
The famous story of TikTok
Well, it can be said that in 2016 the internet technology company ByteDance, based in Beijing (China), launched Douyin for the first time: an application to create short videos. In just one year, this App reached 100 million users and was introduced to international markets under the new name "TikTok ".
Differences with Musical.ly?
As it happens, by 2014, a similar app called Musica.ly existed in the United States, a platform that allowed users to create a 15-second dance or lip-sync videos.
By 2017, the Chinese tech giant, ByteDance acquired Musical.ly for a billion dollars, which is why both platforms started to live side by side, Musical.ly in the US. And TikTok in other foreign markets. But this does not end here; in just one year, the ByteDance company officially announced the merger of both platforms with the sole objective of establishing a community where all its users can become creators and, incidentally, create various types of content and add more enthusiasm to your posts.
Characteristic
On top of everything, TikTok brought with it new features:
Creation of 15-second videos.
He attracted the attention of Generation Z, one who appreciates art, entertainment and authenticity.
A lot of creative tools like stickers, masks, filters, visual effects, and hundreds of tracks for copying videos.
More ways to express yourself through fun videos, duets, reactions to popular clips, challenges, and contests.
Unlike other social networks, TikTok encourages users to be consumers and content creators. The service bills itself as the most democratic, enabling the audience to be natural and shoot videos with smartphones.
Let's talk about hidden meaning behind the TikTok logo
The brand has not changed much during the years of its existence. The colourful note shows the relationship between the App and music, which has been its logo from the beginning. But let's talk a bit about TikTok logo.
Colours
The logo represents a note of three colours (pink, blue and white) against the black field. It was no accident: the designer was inspired by a rock concert with a dark room and a lighted stage. The distinctive feature of the emblem is that it looks 3D: neon colours are superimposed on each other, which means musical vibrations.
Apart from the classic version, there are three more colour palettes with a white, pink and blue background.
Typography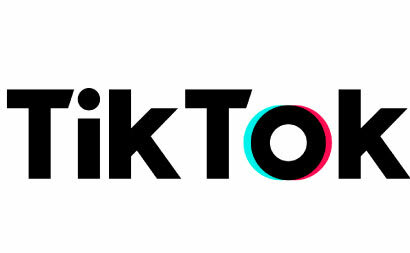 The creators of the logo decided to go for a simple sans serif font. Initially, the name consisted of two separate words, Tik and Tok. Later, the space between them was removed, but both parts of the word are still capitalized.
Then, when the words were put together, the font became even more rounded, and the dot "i" was no longer a square type.
Correct use of the logo
favicon
The TikTok symbol consists of a brand and an image. To the extent that the logo is used for a favicon in low resolution, the text was removed. The icon looks like a note on the black field.
In conclusion
Every element of a brand identity, from colours to icons or symbols, represents the concepts of a brand. Therefore, it is easy to adapt to various media and applications when making a logo. Moreover, here we specify it quite clearly in the 2021 logo trends. So please give it a checkout!