Did you know Brave has their own cryptocurrency?
My brain automatically filters out all popups, promotions and otherwise unrelated distractions that the internet is plagued with these days. But it's 2022, I can't be the only one.
Anyway, while I've been using Brave for over a year now, I haven't even noticed the occasional popups notifying me of the "tipping" system that is apparently baked right into my browser. But after finally seeing the little "tip" triangle that quietly appears on Reddit posts, I started to look into it. And it's pretty awesome.
Basic Attention Token
They're calling it the Basic Attention Token (BAT), and it's essentially a coin that is rewarded if you choose to activate some ads on your Brave Browser. The ads aren't nefariously injected into the sites you visit, like you might initially think. Rather, you just get those Chrome-style text notification popups occasionally. Your browser then becomes a wallet to store your coins on your local machine, but you can link it with Gemini (or Uphold, but what even is that?) to sync your accessible BAT within Brave across devices.
But the cool part is the integrations with third party sites. You can visit their creator portal and set up your Reddit, Twitter or even your personal sites to accept BAT tips, so when someone visits your page (whether it be your Tweet, Reddit profile, or website) the BAT icon on their browser will show your tag. Want an example? Check out my personal site on Brave: shaneduffy.io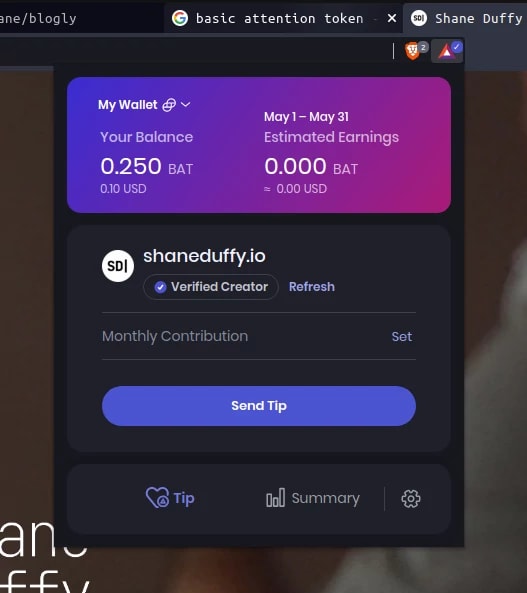 But Why?
A lot of the new decentralized apps are introducing their own tipping systems, and even their own cryptocurrencies for achieving this. But the issue with this is the difficulty of use: in order to "tip" on Steemit, for example, you'll need to create an account, link your wallet and transfer funds.
This isn't so bad in one case, but once every website and app starts doing this I can see it becoming pretty cumbersome. Having your crypto wallet automatically built into your browser with integrations for easily contributing to creators in a platform agnostic way is a brilliant idea, and I'm excited to see where Brave goes with it.