According to Google, Search Console is a web service that allows developers, SEO professionals, and website owners to check indexing status (i.e., the performance of the site) and optimize the visibility of their websites, while Google Analytics is a web analytics service offered by Google that tracks and reports website traffic and other related marketing activities.
In the search niche part of digital marketing, it's more of like informing Google algorithms ahead that here I am boy, this is my website and I would like it to be listed on the largest virtual space cos of visibility.
However, before I continue, this article is meant for SEO beginners and enthusiasts. Also, everything will be done from your analytics dashboard. So, you can sip in a glass of water and calm your nerves...let's shoot our shot!
For the practical aspect of this tutorial, one of my clients, [https://huaoubricks.com/] consented to the use of their Console dashboard, so we're in for a real-time and engaging experience.
Step 1: Go to the Home page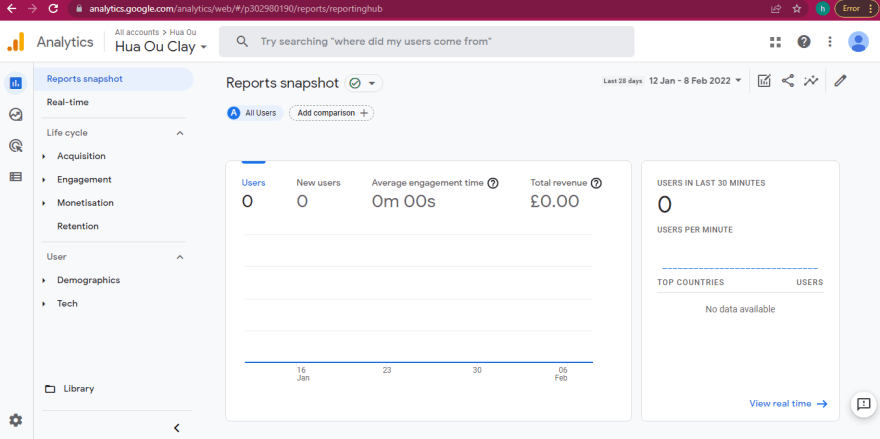 Step 2: Click on "Admin" (left-bar)
Step 3: Click on "Property Settings" under the 'create property' tab
Step 4: Scroll downward (left-bar) under the 'create property' tab, then click on "Search Console Linking"
Step 5: After performing step 4, you will be asked to type in your domain (website URL) in the "Search Bar" right beside 'Link'
Step 6: Expect to see the below-attached modal (a new prompt) box. Then click on "Choose accounts"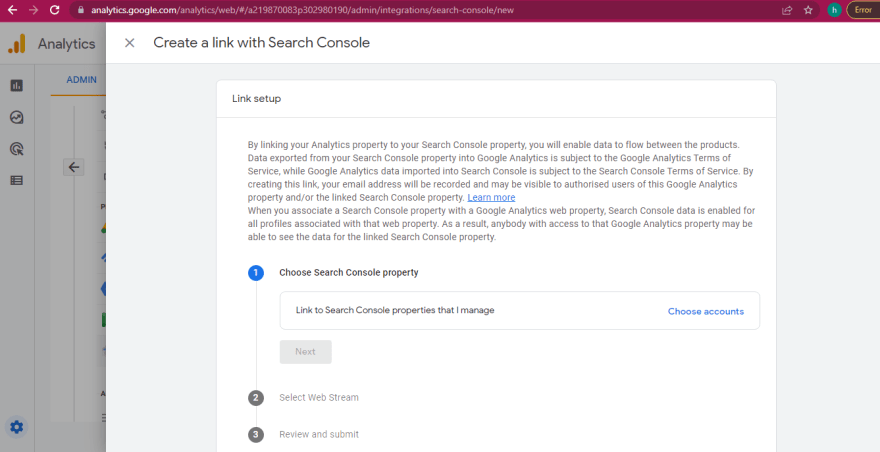 Step 7: Since you had earlier typed in the preferred URL to be linked during step 5, just select the icon showing the URL, then click "Confirm".
P.S. You can only add one URL at a time for the proposed linked Console property.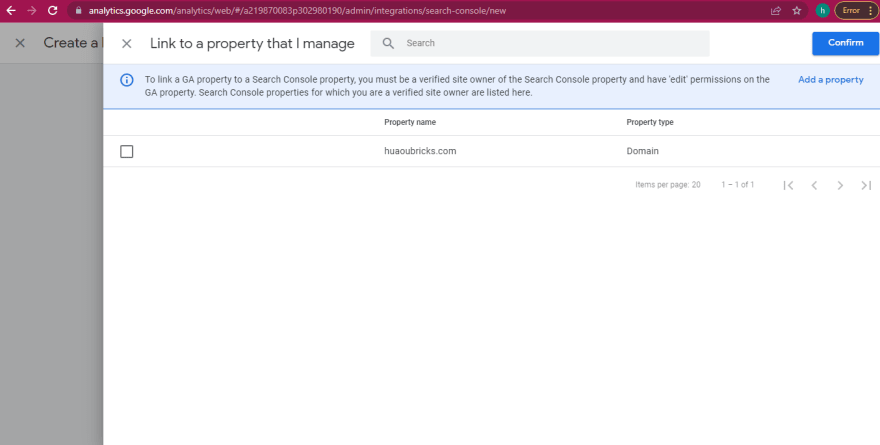 Step 8: Click on "Next".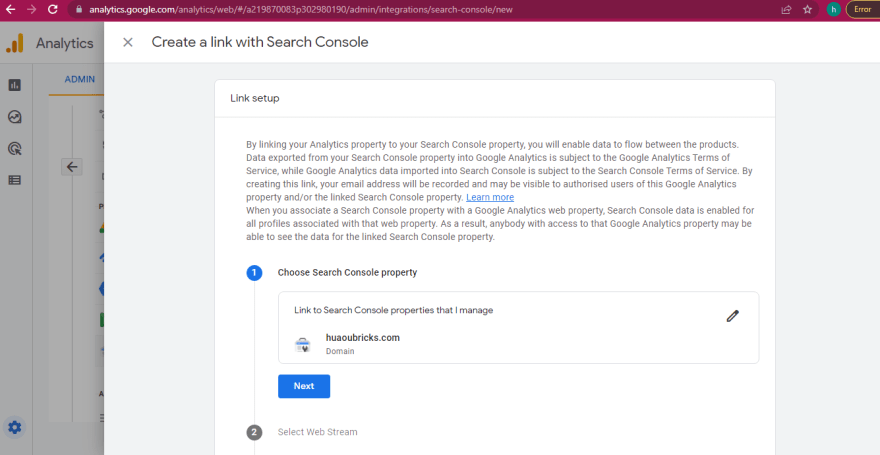 Step 9: You will be asked to select a Web Stream.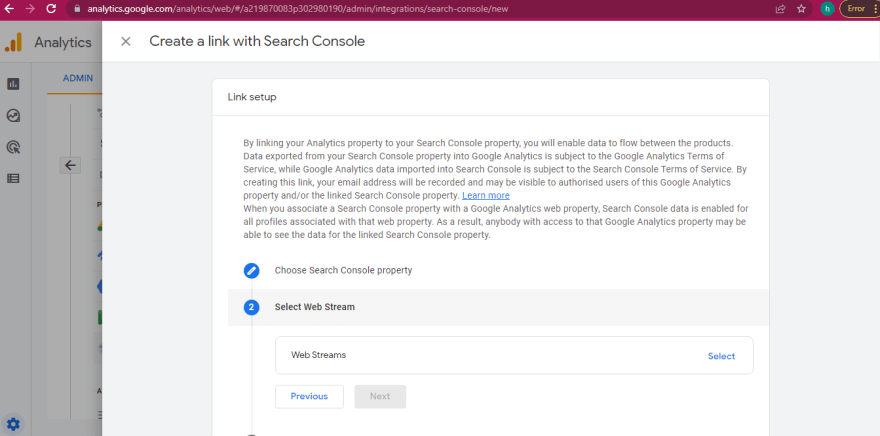 A web stream is otherwise referred to as where you want data (traffic) to be compiled from. It could be from a website, landing page, an app, etc.
Using this example, I will choose the earlier attached [https://huaoubricks.com/]
P.S. Make sure to hover your mouse on it so as to be able to see where to click.
Step 10: Select the linked Web Stream where you want traffic to be fetched. In this case, I selected Hua Ou's Clay Bricks website.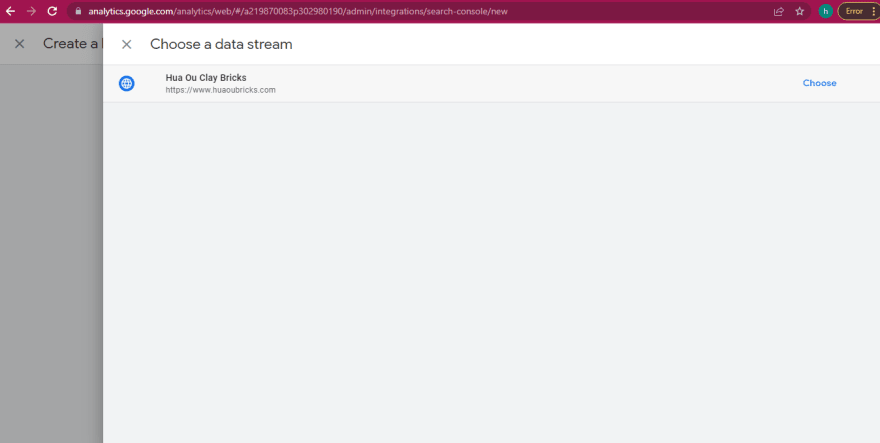 Step 11: Click on "Next" for review.
Step 12: Click on "Submit".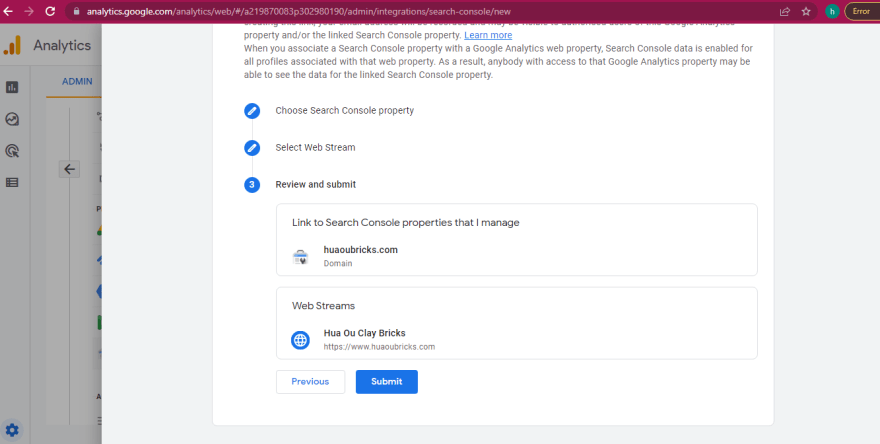 Step 13: Congratulations, you have successfully linked the two accounts.
Bonus tip: Refresh the page, then navigate through the previous steps until you get to step 4. You will be able to see the below
Let me know what you feel and stay tuned for more relevant Digital Marketing posts.
Thank you.
You can always reach me via opeyemiakintunde10@gmail.com