Time Flies! There was an era wherein only TV used to entertain the entire society, a black and white TV used to add colors of entertainment, with the passage of time TV, has been a compulsory family member of every house!
The living room is incomplete without a TV, and now the trend has completely changed; Black and White TVs are being replaced well with Smart TVs.
Not just our homes, Smart TVs are ruling markets also, no one ever imagined that a TV can be so vital and it will develop as a completely different industry!
The global Smart TV market is valued at 109540 million USD in 2020 is expected to reach 124280 million USD by the end of 2026, growing at a CAGR of 1.8% during 2021-2026.
The reason a wide preference and acceptance is given to smart TVs is that it allows viewers to completely customize their entertainment experience, Smart TVs can work with PCs and notebooks to expand their usability.
Not just for users but even for the developer, Smart TVs are serving great deal & value.
Let's Have a Quick Look as to Why People are Highly Interested in Smart TV App Development: 
Searching Content is Easy & Convenient : 
A major reason that supports the boost of Smart TV apps is to upgrade the experience of users. The TV app developer ensures that users can search their desired content by entering the title, genre, time, and other relevant details in the search field.
Connectivity in a minute:
Not only with others, but the connectivity tasks also relates to viewing your favorite content on a TV screen, and then making a switch to it by viewing the same on your Smartphone while going off to sleep!
Revenue Models are tempting: 
The revenues one can yield from developing smart TV apps are tempting, it's a developing field with widespread opportunities, also smart TV apps are gradually becoming an inseparable part of the entertainment industry, therefore, the earning opportunities are wide open! 
Convenient for everyone: 
One of the major reasons why smart TV apps are preferred by everyone is because it ensures the element of convenience, who doesn't like to be entertained in their customized way?
Moreover; the option of connecting to social media apps is always open that eases the factor of convenience. 
Features that enhance the usability of  a smart TV application:
User-Centric Applications: 
The application should be completely user-friendly, if it is too technical then the user may not be interested in using that application, as one must remember that people of every age group are going to be end-users. Hence it has to be easy and user-friendly. 
Preference of User should be kept in mind: 
The applications so developed shall be talking about the user's wish list, the applications should be customizable for easy installation of add ons or applications. If the element of customization is missing, people will not find it relatable.
Security is the key point: 
In absence of security will you use an application? No!
The answer remains the same for every user, as no one will like to use an application that doesn't provide security or doesn't keep their data safe. Security is the first priority of every user.
Integration and Segregation of Content should be proper:
The word " Content" has a lot of attributes, therefore it can be segmented in multiple ways, e.g. Language, Genre, Trending, Ratings, and other variants, If the content is segmented, it will be easy to use the application, ultimately resulting in an increased number of smart tv apps users. 
Keep social media connected!
There are so many smart TV apps that keep you connected with social media also, you can just relax and watch TV, enjoy smart TV apps and you don't need to keep your phone with you! 
So, now the question that arises is How to build a Smart TV app?
 
Quick Guide To Create Smart TV App For Samsung/ LG/ Sony/ Panasonic/ Roku & More
Video Streaming comes first: 
Video streaming is not as easy as just uploading a video. Video streaming involves a detailed process, not everyone can stream a video just like one uploads it on their social media profiles. Video files aren't inbuilt or automatically designed for streaming. i.e you can not directly stream a video file. You first need to download it.
To enable online video streaming platform functionality, you need to use a video streaming protocol that delivers content in the best quality with minimum buffering. Some popular streaming protocols are MPEG-DASH, Microsoft Smooth Streaming (MSS), HTTP Live Streaming (HLS)
Without a Host, the process is incomplete: 
Just like a server, there is a host. In absence of a host, you can not regulate the data, as the uploading or removal of the content from your online video platform will be regulated by the host. 
Defining App-Architecture is mandatory: 
While developing an application it is necessary to decide how it is to be designed, without developing a perfect structure for the same, one can not proceed with the designing of the Smart TV applications.
In nutshell, An application architecture describes the patterns and techniques used to design and build an application.
Customization keeps your application Unique!
If the smart TV app doesn't have something unique or different, then it will be the same as the other apps that have already captured the market, smart TV apps used or preferred by an individual depends on their preference, therefore customization is the key to stand out different in the league.
You can customize the feed for each user or can customize the theme of apps as per users' criteria. 
Table of Contents
13 Applications that are the best for developing Smart TV Apps:
Check out the curated list of Best TV App Development Companies
1. VPlayed - End to End Smart TV App Development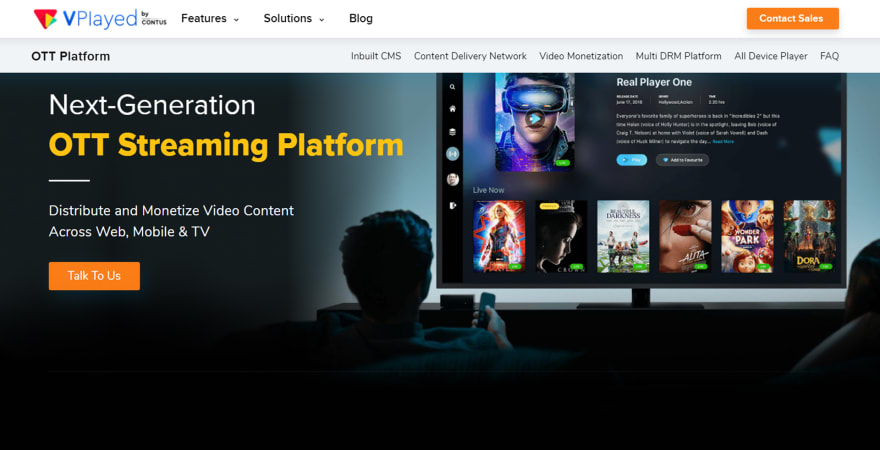 Smart TV Applications are an entirely new and booming industry, and VPlayed OTT Platform is one that makes the entire process of developing applications easy, it has been the gold standard since its inception. Also, it makes smart TV applications backed with customizations.
Who should prefer it?
Those who are looking for smart TV apps to be developed with perfect customization with all the latest features that also suit their budget shall prefer VPlayed.
Check out this VPlayed's latest guide on Smart TV App Development
Highlighted Features:
100% Customizable
On Cloud/ On-Premises
Multi-Device Support
End to End Content Protection
Multiple Monetization Models
HTML5 video player 
2. Contus VPlay - Custom Smart TV Application Development 
The gigantic future of smart TV applications is bestowed on the companies making applications that are worth incorporating. Contus is into developing the applications that serve the best algorithm and also uses upgraded architecture. 
Who should prefer it?
One who needs a detailed focus on architecture shall without a doubt prefer Contus. 
Highlighted Features:
Inbuilt Video CMS platform
Multi-DRM Support
Complete Ownership
Cloud Transcoding & Encoding
Video Delivery & Distribution
All Device Player
Versatile Video Monetization Models
Inbuilt Video Marketing
Analytics & Reporting
3. Zype - App Development For Android & Smart TV
Our next pick is a little different from the other companies developing the Smart TV Applications, whether you want to build a subscription video network, offer ad-supported content, or sell films and video a la carte. Zype is best for you! 
Who should prefer it? 
Anyone who is looking for applications that are multidimensional or that matches the dots with various up-gradation shall prefer Zype. 
Highlighted Features:
Content Delivery
Multi-Output Encoding
Video CRM
Easy Monetization
4. Uscreen - Specialized TV App Developers 
Uscreen is the world's best online video platforms that allows you to seamlessly launch and manage video streaming apps for mobile devices and TVs. 
Who should prefer it? 
If you are looking for a company that globally deals in developing smart TV apps, they shall connect with Uscreen.
Highlighted Features:
Centralized CMS
Monthly & Customizable Subscription Plans
Enables Platform Branding
Apps for all devices
Scheduled Content Delivery  
5. Muvi - Complete Smart TV App Builder 
Muvi offers you a completely White-Labelled Platform to cater to all your video streaming needs in no time, also it develops the applications for a smart TV that customizes your entire experience of watching TV. 
Who should prefer it? 
If you are looking for a complete white-labeled platform that develops smart TV applications, then Muvi is an apt choice.
Highlighted Features:
CDN Video Delivery
Video Hosting
Partner Portal
Video Transcoding
All Video Formats & Codecs
6. Oxagile - Customized Video Solution For Smart TV Apps
Oxagile helps to transform progressive businesses with data-driven solutions in various verticals like custom OTT video platform development, real-time communication, data intelligence.

You can also enliven your real-time or VOD app content in smart TV with distinctive monetization models.
Who should prefer it?
As a telecommunication company, content owners , smart TV app development companies, broadcasters, you can have your own tailor-made web apps, or TV apps just like Amazon TV, Fire TV, etc.
Highlighted Features
Custom UI/UX
CDN-based delivery
Encoding & Transcoding
Ad-supported Monetization
Live Streaming
7. Maz Systems - World-class OTT TV app builder

Maz creates a branded solution that can be customized across all devices without the need for designers or engineers. The world's leading media brands trust Maz because of their superior quality delivered , with more than 8X personalized sessions, and 150% solutions delivered faster to the market.
Who should prefer it?
Some of the finest smart TV app developers can make use of Maz, in order to develop OTT TV apps for Roku, Apple TV, Amazon Fire TV, Android TV,etc to publish streaming content & achieve incredible results.
Highlighted Features
Paywall Subscriptions
Custom Rich layouts
24*7 customer support
Flexible Ad Integrations
Live Streaming
8. Zemoga - Personalized Smart TV app platform with digital Products

Zemoga, which was established in the year 2002, helps brands to evolve with current digital products and experiences. We know what it takes to make your business successful on OTT, as Zemoga has acclaimed end users and some of the world's largest media firms on board. They have been the keen player to multiscreen consuming trends using TV app development for more than 150 devices including smartTVs, gaming consoles, tablets, android, iOS, Roku, Apple TV, Amazon etc.
Who should prefer it?
If brands want to compete in the smart TV industry, they must link their OTT apps with the platform. Smart TV app development necessitates a knowledge of: smart, user-friendly apps, as well as engaging viewers with navigable menu screens.
Highlighted Features
User-friendly UI
Ad-Free Subscription Model
Multi-device streaming compatibility
Highly Secured
9. TOTHENEW - A Digital Engineering Platform

TO THE NEW is a digital technology company that was founded in 2008 and provides digital transformation and product engineering services to end-users and large businesses all over the world. They work on cutting-edge technologies to design and construct digital platforms and solutions with Cloud and Data at their core.
Who should prefer it?
Design and development of cloud-native online and mobile solutions can benefit internet-based enterprises and product companies. As media broadcasters you can give a rich, seamless experience to your users across digital channels by creating android TV app, apple TV, etc. to produce better engagement, efficiency, & profitability.
Highlighted Features
Cloud-Native Engineering
Plug-n-Play Architecture
Omni-Channel Experience
Modern Architecture & Design
Highly Secure Streaming
10. Lightcast - Multitude Platform for Online Content Delivery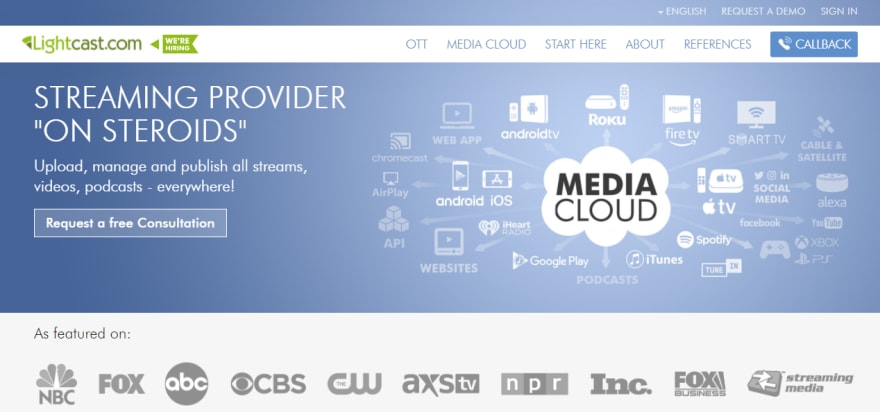 Lightcast MEDIA CLOUD is a cutting-edge OTT platform that provides a packaged solution for all your live & VOD deliveries. Publishers can maximize their viewership development with its user-friendly Media Management System and high-end transcoding solution for rapid multi-platform delivery. The Lightcast MEDIA CLOUD's strong suit and focus is maximum device compatibility and viewership growth.
Who should prefer it?
Those who are looking to build their audience by panning viewership across several platforms such as Smart TV, and provide extensive growth in the organization, will find viable solutions. To name a few target audiences like Vlogers, Film Producers, Corporate businesses, Educators, Telcos experts and many more would prefer building smart TV development services.
Highlighted Features
Multi-Platform Publishing
Meta Data Management
Premium Video Encoding
DRM Security
Content Delivery Network
11. 24i - End-to-End OTT Solutions Customized For Every Screen

24i was founded in Amsterdam with the goal of creating the best video experiences possible. Vividly gaining 12+years of app development expertise 24i has been at the turning edge of the ever-changing streaming media sector. Martijn van Horssen and Hans Disch created 24i in 2009 with the goal of changing the future of television. As one of the world's leading front-end smart TV app developers, 24i is spearheading the worldwide OTT revolution.
Who should prefer it?
Working with 24i is a collaborative effort. They proudly assist both large and small customers in seizing opportunities and achieving their business objectives.
Highlighted Features
Launch Whitelabel apps
STB Streaming & beyond
Ingesting & Transcoding solution
Third-Party Integrations
Video infrastructure with VOD & Live
12. Zibtek - On Demand OTT TV app Developers

Zibtek's Smart TV app development expertise allows e-commerce, e-learning, OTT platforms, and many other sectors to enter the television arena. While Developing a Roku, Apple TV, or any other Smart TV platform-compatible software you would need an appropriate tech partner who develops them with great precision at unparalleled quality. That's where Zibtek comes into picture, carrying with Flamboyant experience with its design team understanding the nuances of optimizing the product for optimal viewing on a variety of devices with varied sizes and capabilities.
Who should prefer it?
The main goal of creating a Smart TV App is to give clients with media content that they can consume, such as music, movies, and photographs. Similarly, the business apps they create for Smart TVs allow professionals to indulge into interactive video conversations and provide effective presentations. Additionally, touch-enabled Smart TVs can be utilized to interact with the information efficiently without having to download the mobile app.
Highlighted Features
live Streaming
Hybrid app creation
Web Development
UI/UX Design
QA & Support
13. Elinext - Custom Smart TV Application Development with Advanced Solution

Elinext's software experts provide high-quality smart TV app development solutions while revolutionizing television experience through carrier-grade cutting-edge technology. Their video streaming services cover a wide range of needs because they have various tech stacks that can meet all of the modern & niche streaming industry's needs. They are particularly interested in, but not limited to, providing the following services. Elinext carries about 25 years industry business experience delivering upto 1000 projects.
Who should prefer it?
With the use of high-quality TV applications, Elinext allows TV professionals such as content service providers, telecommunications professionals, and service distributors to communicate with millions of consumers.
Highlighted Features
Cloud Architecture
Web Development
UI/UX Design
Support & Maintenance
QA & Software Testing
Summing Up: 
TV viewing habits and preferences of viewers have shown a completely diverse graph in the past several decades. Especially with the launch of Smart TV applications in the frame, Smart TV became the preference of every family, every office, every living room! 
However, the entire concept of smart TV application is welcomed by the viewers on different quantum, as it gives a completely different experience.
But it will be effective only if the correct platform is selected to develop the application if the company fails to match up the requirement of developing smart TV apps as per specification then it will be a major setback. 
Therefore, select the company for developing smart TV apps in an apt way!
Frequently Asked Questions(FAQ) For Smart TV App Development
1. How to create a smart tv app?
Before creating a smart TV app you need to finalize UI/UX designs for your TV app, prepare content structure with playlists that can be showcased across various other platforms like Smart TVs, iOS, Android, Fire TV, Roku, PlayStations, Xbox, etc. If you need core development resources, you can choose OTT app builders who can navigate your smart TV app business strategies and assist you to empower globally.
2. What are the factors to consider while Developing Smart TV Application?
When planning to develop a smart TV application, checkpoints are different from developing a mobile app. The most relevant factors come into play are: Know platform-specific SDKs, comprehensive knowledge of OTT software's like HTML, CSS, Microservice Architecture, Multilingual support, perfect Search findability, etc.; for creating rich & immersive smart TV app viewing experience.
3. How to make money from smart tv apps?
Realizing your alluring app platform's prime objective you can take guidance through smart OTT TV app developers, who assist you to deliver innovative digital-first experiences to your target audience and transform your goldmine of content into an unstoppable cash zone. You can choose the best monetization models like SVOD, AVOD, TVOD, Catchup TV, Server-Side-Ad-Insertion, Coupons & Promotions, etc.
4. How to select the best platform provider to develop smart tv app?
You can take a look at loads of industry competitors for you to start with what is being expected. Later you can check out the best OTT service providers with what kind of features and tech stacks they provide to content owners. Likewise you can even make a difference by having your own unique brand USPs, and new customization in order to entice your customers in an over-the-top competitive market.